"Cruising the Crunchy-Catalog" explores the contemplative 2002 TV anime written by Yoshitoshi ABe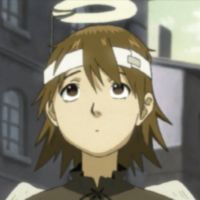 Cocoon Dreams.
When it comes to watching anime, sometimes it's tough to determine which series to try. "Cruising the Crunchy-Catalog" is here so you'll have more to go on than just a wing and a prayer. Each week we provide additional info and cultural context, so fans can decide whether or not they'd like to stretch their wings and soar with an unknown series.
What's Haibane Renmei?
Haibane Renmei ("The Charcoal Feather Federation") is a 2002 TV anime with direction by Tomokazu Tokoro and animation by Radix Ace Entertainment. The series is written by Yoshitoshi ABe and based on his series of doujinshi comics and illustrated art books, The Haibane of Old Home. Crunchyroll describes Haibane Renmei as follows:
After a dream of falling, Rakka emerges from a cocoon into the walled town of the Haibane: enigmatic youths with halos and flightless, grey-feather wings. With no memories of her past, questions of her existence cloud Rakka's mind. She struggles to learn the ways of the Haibane and to help her new mentor, Reki, escape the Circle of Sin.
This description is a bit of a spoiler since the idea of Haibane being "Sin-bound" and the metaphor of the "Circle of Sin" are introduced late in the series. The bulk of Haibane Renmei revolves around the daily lives of these mysterious, angelic beings as together Rakka and her new friends attempt to unravel the mysteries of their cocoon-dreams and to discover what it means to be a Haibane.
Since all of the Haibane emerge from their cocoons with no memories of their former lives, the audience learns about Haibane culture and about the strange world that they inhabit at the same speed as the principal characters. As a result, Haibane Renmei takes on an episodic narrative structure with a deliberate sense of pacing and a strong focus on the internal struggles of its characters.
Soft-Boiled Wonderland.
As Daryl Surat points out in his 2006 podcast review, the story of Haibane Renmei is heavily influenced by the "End of the World" segments of Haruki Murakami's 1985 novel, Hard-boiled Wonderland and the End of the World. Both stories involve a walled city inhabited by people with unusual customs, both involve themes of memory and identity, and both involve mythological creatures made material, although Murakami's novel involves unicorns rather than angels.
Setting and Symbolism.
A meticulously realized sense of world-building is perhaps Haibane Renmei's greatest strength. As the show progresses, the audience learns that the Haibane have their own customs and codes of conduct, their own mythology and religious rituals, and even their own secret sign-language with an accompanying written script.
The series also cloaks its messages in layers of symbolism and metaphor, such that even seemingly innocuous details – such as the kanji characters that compose a Haibane's name – take on a deeper meaning once viewers begin to interpret their true significance. Walls, birds, and charcoal-colored feathers all serve both literal and figurative roles in the story.
The Heart of the Matter.
Haibane Renmei is mostly a low-key drama about characters living and learning in a fantastical environment, but viewers should be aware that the series also deals with some serious themes. Memory and identity are central to the story, but Haibane Renmei also explores dark emotional states such as grief, depression, and self-loathing. The show also contains one of the most realistic depictions of suicidal ideation in modern anime, so viewer discretion is advised.
Day of Flight.
Thanks to our partnership with Funimation, Crunchyroll currently streams Haibane Renmei in the United States, Canada, Puerto Rico, American Samoa, the US Virgin Islands, Guam, the Northern Mariana Islands, and the United States Minor Outlying Islands. The series is available in the original Japanese language with English subtitles. An English dubbed version of Haibane Renmei is available via streaming through Funimation.
Haibane Renmei was originally released on DVD in North America by Geneon Entertainment in 2003 – 2004, but this version is out-of-print. The series is currently available on DVD in a "complete collection" set published by Funimation.
Haibane Renmei is a very special show, one that is gentle and reassuring even while plumbing concepts of dark despair and tragedy. If you're in the mood for a quiet and contemplative anime designed to warm the hearth and to soothe the wounded spirit, please consider giving Haibane Renmei a try.
Special thanks go out to all the fans who participated in the Twitter poll that chose Haibane Renmei for this week's episode of "Cruising the Crunchy-Catalog." Is there a series in Crunchyroll's catalog that you think needs some more love and attention? Please send in your suggestions via e-mail to [email protected] or post a Tweet to @gooberzilla. Your pick could inspire the next installment of "Cruising the Crunchy-Catalog"!
Paul Chapman is the host of The Greatest Movie EVER! Podcast and GME! Anime Fun Time.