Pop Team Epic isn't just a silly gag anime, it's also the opportunity for many new creators to get their head-start in commercial TV anime!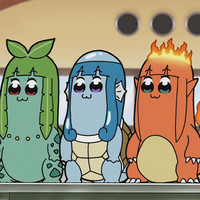 It shouldn't come as a surprise to learn that Pop Team Epic isn't really a standard TV anime. In fact, they originally tried to announce it as "Hoshiiro Girldrop", a new idol series created at "Soyokaze Douga" and produced by "Citizen Records". The announcement prompted anime journalists around the world to write up articles about the upcoming series only for Pop Team Epic to steal the show instead.
Today, the Hoshiiro Girldrop Twitter account and website have been hijacked by the cast of Pop Team Epic, now created at Kamikaze Douga and produced by King Records. Although even though the show now boasts a proper staff listing, if I had written this article before it aired, I would have been entirely off the mark. Pop Team Epic is not a consistent series where the series directors work on everything together. Instead, it's split into segments like a comedy sketch show with different staff working on different parts. The two directors are Aoi Umeki from Kamikaze Douga and Jun Aoki from his own studio, Space Cat Company. They are the supervisors for Pop Team Epic at large, but they take a back-seat role on many of the segments of the show that they're not credited for.
HOSHIIRO GIRLDROP (Produced by Kamikaze Douga)
Pop Team Epic weren't ready to just let Hoshiiro Girldrop go, instead starting the episode with a fully animated opening sequence for the fictional series, including credits for Soyokaze Douga and a fake production committee. This was animated at Kamikaze Douga, but it was director Aoi Umeki who went above and beyond for this opening. She directed it, drew storyboards, drew the character designs, supervised the animation and even provided key animation herself. Even knowing I was about to watch Pop Team Epic, I was taken aback by how impressive the fake opening was. There's a decent handful of real idol anime that would've killed for an opening as well animated as that.
POP TEAM EPIC (Produced by Kamikaze Douga)
Pop Team Epic #1 is a production split between three different studios and two other directors working in a freelance capacity. The show actually does credit each of these separately both in the credits and in the title-card for each piece. Each of the Kamikaze Douga parts of the episode are directed, designed and storyboarded by Aoi Umeki. Like most of the staff of Pop Team Epic, this is Umeki's first foray into TV commercial anime, previously having worked on Kamikaze Douga's OVAs and commercials as a designer.
Umeki's skits were "Are you upset?", "Beef or Chicken" and "I am God!"
Also, I'm fairly sure the shading on Popuko's fist in "Beef or Chicken" is a reference to Jojo's Bizarre Adventure, a show that Kamikaze Douga creates the openings for.
POP TEAM EPIC (Produced by Space Cat Company)
The other team making up the core staff of Pop Team Epic is Space Cat Company, owned by the other director, Jun Aoki. Aoki has been involved in recruiting artists and compositors who have never worked in anime before. One of the compositors was CAxisKISEKI, an illustrator who works on creating the visuals to vocaloid cover (utaite) videos on NicoNico. He thanked Aoki on Twitter for giving him the opportunity to work on commercial anime for the first time.
Aoki's skits were "Damn you, lightning!" and "Masashi Super Dry!"
POP TEAM 8-BIT (Produced by Makoto Yamashita)
Not only has the director of Pop Team Epic's 8-bit sequences never worked on anime before, he is actually still in university! He says "I'm in my fourth year of Uni and I'm working hard before society makes me vanish". As an arts student at Tokyo Zokei University, he produced the short film, "Dot Bit Beat", a music video made up of retro game-inspired animation and sounds. The film won several awards, one of which being from the legendary anime studio, Studio 4°C. It's no wonder why Pop Team Epic recruited him to produce their video game-inspired sketches.
You can follow Makoto Yamashita on Twitter here: https://twitter.com/chiemin1063
ENCOUNTER (Produced by Space Cat Company)
If all you've seen of Pop Team Epic #1 is gifs and clips, you've probably at least seen this electric sequence of pop culture references. Like with the Space Cat Company sketches, "Encounter" is directed by Jun Aoki. But here's the part where it gets weird. There are two Jun Aokis credited for this part. Jun Aoki no.1 directed it, storyboarded it, composited it and drew the character designs. Meanwhile, Jun Aoki no.2 helped out with the character designs and animated it. Whether this is two Jun Aokis or one Jun Aoki, all we can say is "Thanks Jun Aoki!"
You can follow Jun Aoki no. 1 on Twitter here: https://twitter.com/aokijun
BOBUNEMIMIMMI (Produced by AC Department)
AC Department are absolutely bizarre and produced the weirdest part of Pop Team Epic with their special "Bobunemimimmi" segments. They're generally recruited to produce bizarre TV commercials and kids shows, but were brought on specially for Pop Team Epic. They even had AC Department members voice the characters. A great example of how crazy their work can get is this online commercial for Domino's Pizza Japan. The company has gathered a cult fanbase around their bizarre animations and I'm sure those people are very happy to see them here.
You can check out AC Department here: http://www.ac-bu.info/
JAPON MIGNON (Produced by Thibault Tresca)
Most of Pop Team Epic #1 is adapted from the manga, but French animator Thibault Tresca's "Japon Mignon" is original. Tresca makes up the only fully 3D and the only live action segments of this episode, starting with a live action scene where he sits at his computer and introduces the segment in French. To top it off, his 3D short scene about the cast visiting Paris is also voiced by French language voice actors. French voice actress Fanny Bloc played Popuko, whilst Canadian TV actress Christine Bellier played Pipimi.
You can check out Thibault Tresca's demo reel and Youtube channel here: https://www.youtube.com/watch?v=AVJu2wqqfx0
Why Different Voice Actors?
Although Pop Team Epic is odd in many ways, the biggest curiosity is in how the show only goes for 15 minutes and then repeats with a new voice cast. There's actually a segment of the original manga in which the characters muse about who they would have voice them if they ever get an anime. They decide on two famous male voice actors with the punchline being how absurd it would be if that actually happened.
It happened. And so Masashi Ebara and Hochu Otsuka voiced the cast for the first half, whilst the regular voice actresses Yuji Mitsuya and Noriko Hidaka voiced them in the second half!
Pop Team Epic's two directors. Left: Jun Aoki, Right: Aoi Umeki.


Pop Team Epic isn't just a silly mashup of bizarre comedy, it's also a chance for many creators to have their work seen on TV. You can watch Pop Team Epic here on Crunchyroll!
---
Callum May is on an unending quest to make the anime industry seem cool and interesting. You can follow his journey on The Canipa Effect Youtube channel or follow his Twitter.