This week, we preview "Maerchen Maedchan" and "Slow Start"... stories of two very different high school girls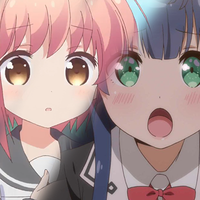 High school isn't easy, even under the most normal of circumstances. In the world of anime, it's extremely rare for circumstances to be anything approaching "normal." Most protagonists find their school life unconventional at least, and downright paranormal at most!

This week, we're taking a look at the premieres of two winter anime with protagonists starting school under less than normal circumstances. From the slow start of Slow Start to the nightmare circumstances of Maerchen Maedchen, here's why we think you'll get hooked!
Slow Start
Starting high school is always nerve-wracking. Starting it with absolutely nobody you know, even more so. Then there's Hana... and things are extra awkward for her.
As the title suggests, she's a year behind the other students. The "how" and "why" of it all come to pass later in the series. Nonetheless, she's already feeling out of place in a school full of new faces, all of whom seem to have known each other at least somewhat from before. Not to mention she's far from home, meaning she doesn't even have her parents nearby for moral support.
It's an awkward beginning, and cute at first glance, even though much of it is focused down on Hana's general embarrassment.
The Hook: Fortunately for Hana (and the rest of us), she quickly finds herself absorbed into a new friend group.
Slow Start quickly falls in line with shows like Lucky Star and Azumanga Daioh, with pleasant conversation and general everyday antics. In addition, though, it's a wonderful little look at friendship and acceptance, and just how much kindness can do for a shy or anxious person. The story of Hana's interactions with them unfolds more as the series goes on... but even in the first episode, her sheer personality change just from being accepted by new people for who she is is heartwarming.
Who Is It For: This is in no way an action show (as you can probably guess). If you're into slice-of-life school shows, especially the kind where you're watching the cast sit around and chat about inconsequential things for long periods of time, this is a sweet and gentle little piece. That's not to say it's low energy, though: the fanged Tamate and Hana's busty cousin Shion are regular sources of upbeat humor.
Maerchen Maedchen
So, what's your scariest high school nightmare? Having no friends? Getting lost in a new town? Ending up naked in the middle of school? Hazuki has all of those covered, and more.
Hazuki is a shy high school girl, with no friends or love interests, who retreats to the safety of books when she gets nervous -- a condition she calls "Story Syndrome." She wishes for the world of her books to be real... and when she catches sight of a real mage, that seems to have happened! But following that mage, whom Hazuki has decided to become friends with, leads her through a library into an alternate world of magic... and eventually, she finds herself naked in the middle of a school full of magical girls.
The Hook: And she's one of them.
Well, that's probably not a surprise at all, if you're at all genre savvy. Hazuki has formed a bond with a book she found, meaning that she is a "maedchen," or mage. While answers for her strange circumstances are not easily found, she knows that the maedchen of this world form contracts with books called Originals, and those books give them their powers. All we know as the episode wraps is that Hazuki is in for a new life, and potentially some wild education.
Who Is It For: Up front, Maerchen Maedchen is probably not for those who want zero fanservice in their anime. (Like I said, she's naked in the middle of school -- sure she's got a book covering her, but books are only so big.) So if that's a deal breaker... this might night be for you.
However, if you're in the mood for some magical girl alternate world fun, and you're a lover of anything with a fairy tale theme, you might get a kick out of this series. It looks adorable... plus Hazuki is voiced by new voice acting talent Tomori Kusunoki, so it's a great opportunity to hear her shine in her first role!
Get started on Maerchen Maedchen.
-----
Kara Dennison is responsible for multiple webcomics, blogs and runs interviews for (Re)Generation Who and PotterVerse, and is half the creative team behind the OEL light novel series Owl's Flower. She blogs at karadennison.com and tweets @RubyCosmos. Her latest stories can be found in Whoblique Strategies.