Check out more of the real-world locations of Laid-Back Camp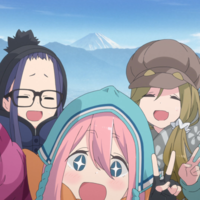 We're now four episodes into Laid-Back Camp, and the show's charming portrayal of the great outdoors has made heading outside and setting up camp look so incredibly enticing that I'm getting dangerously close to ordering a tent and a new sleeping bag. The anime's cozy atmosphere, its relaxing soundtrack, and the simply gorgeous-to-look-at landscape shots all successfully manage to convey the appeal of camping, but it's actually Laid-Back Camp's strong sense of place that really makes me want to spend a night out under the stars. The show's locations have a strong identity and a distinctive feel to them, which at least partially stems from the fact that they're all meticulously modeled after real life locations. Knowing that all of the camping grounds featured in the show actually exist—and seeing how Rin, Nadeshiko, and the others have such a pleasant time there—makes camping look all the more tempting. But for now, let's just enjoy the show's real-world locations from the comfort of our homes. Since I already wrote about the locations of Laid-Back Camp's first episode here, let's run down all of the new places from episodes two to four.
*All images were taken with GOOGLE STREET VIEW
Laid-Back Camp really works to depict the whole camping experience from start to finish. We don't only watch the highly detailed process of setting up the camp; we also get to see lengthy segments of how the girls actually get to the camping grounds. Rin is an experienced solo camper, just riding her bicycle all the way to the Fumotoppara Camping Grounds.
Nadeshiko on the other hand, gets her older sister to drive her to the camping ground, which is at least a one-hour drive from Nanbu.
They first follow the 128km long Fuji River down south, as they have to go around the Tenshi Mountains to get to the camping ground.
I always appreciate it when characters take a plausible and logical route, and don't just hop around from place to place, as it makes finding these locations a lot easier. It's also nice to see that the show's backgrounds and their real-life counterparts match up almost perfectly.
credit: @q87dt
Nadeshiko and her sister have already reached the Asagiri Plateau here, located at the southwest base of Mount Fuji at an altitude of 800m.
And finally, the campsite from the second and third episode.
Fumotoppara Camping Grounds is a relatively large and plain farmland camping site, offering a magnificent unobstructed view of Mt. Fuji, which is always a sight to behold. The area is known for its many dairy farms and pasture lands, which you can also see in the anime.
Let's move on to the latest episode, in which Rin and the outdoors club both seek out different camp sites at the same time. Nadeshiko, Chiaki, and Aoi all head to Yamanashishi Station in Yamanashi City, from where they head off to the Hottarakashi Camping Ground.
The camping ground is about four kilometers or fifty minutes from the station on foot, just as Aoi correctly states in the episode.
It's again nice to see the difference between the experienced Rin and the three novice campers here. While Rin even has got a motorbike driver's license to reach even more remote campgrounds, the outdoors club chose one that's fairly easy to reach.
The three girls decide to take a quick break at Fuefuki Park, a spacious fruit park on a hillside overlooking the countryside—and with views of Mt. Fuji's peak. Japan's sacred mountain has accompanied the girls on their camping trips in every episode so far, and while we haven't seen Mt. Fuji from the camping ground where Rin currently is at, it's theoretically possible to also see it from there.
There are three large glass domes in the middle of the park, containing a fruit museum and the café that we saw in the latest episode. From there it's still 1.7km to the camping ground, which we'll probably get to see more of in the next episode.
Meanwhile, Rin is on her way to Nagano Prefecture.
It's a nice touch that she's driving down the lesser frequented National Route 17, since she only just acquired her driver's license.
I was lucky to have found this intersection here first, as I only had to follow the road to find the remaining locations.
Rin's destination is the Kirigamine highland area, northwest of Lake Suwa in Nagano Prefecture. Those of you who watched the just as relaxing and outdoorsy second season of Encouragement of Climb might be able to recognize this spot, as Mt. Kirigamine was also featured in that show's fourteenth episode.
However, we don't see the camping ground just yet, as Rin heads down to the nearest gas station to inform Nadeshiko and the others where she's currently at, in one of the most creative ways I've ever seen.
Instead of simply sending a picture or Google Maps screenshot, Rin sends them a link for one of the nearby livecams monitoring the street, where she's casually waving into the camera. If you want to have a look at the actual livecam yourself, here's the link, just don't expect anyone to stand there and wave.
Part 1: Laid-Back Camp's Thousand Yen View of Mt. Fuji
Which of the camping grounds featured in Laid-Back Camp so far did you like best? Sound off in the comments below!
---
Wilhelm is an anime tourist who loves to search for and uncover the real-world spots he sees in anime. You can talk with him on Twitter @Surwill.