"Sanrio Boys" and "IDOLiSH7" are here... are they for you?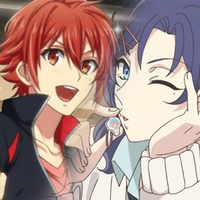 With a new season of anime comes a new conundrum: who is Best Boy? This winter has plenty of cool guys, but two shows in particular are full of potential candidates for your new fave.
Are you a Sanrio fan looking to share the love? Or are you looking for some new music? Either way, one of this week's shows is sure to get you hooked!
Sanrio Boys
Adorable multimedia franchise Sanrio Boys has been winning over audiences long before an anime series was announced. The simple story of classmates who share a friendship and a fandom has been celebrated across different media for quite some time now. But what about the anime itself?
We start with Kouta, a high school boy who's had a lifelong love of Sanrio character Pompompurin. Understandably (and sadly), he's had to shelve this to avoid being teased by other kids. Via an awkward encounter, he crosses paths with Yuu (who makes no secret of his love for My Melody) and Shunsuke (a stoic athlete who likes Hello Kitty). More Sanrio Boys are on the way, but this first episode helps Kouta find a friend group and help being okay with what he loves.
The Hook: Sanrio Boys isn't a show of twists and turns and shocking plot points. It's five boys who share an interest. But it's how that interest is presented that makes so much difference.
Via Kouta, we get reassurance that it's okay to love what you love and be proud of it, even if it's a little outside the norm. We all struggle with that a little already as anime fans, but it's wonderful to see it put out there in a cute and friendly way.
Who Is It For: Well, if you love Sanrio, you'll probably love Sanrio Boys. But even if you're not completely up to date with which cute little character is which, you'll probably still get some enjoyment out of it. It's less about the characters and more about people finding fun, friendship, and strength in their own way. And nowadays, we can all use a little of that.
IDOLiSH7
There's never any shortage of idol anime -- and this season, we get to see another "side M" style group in action! Smartphone game IDOLiSH7 comes to life in the new idol series, matching up seven talented performers from all walks of life with a determined new manager.
As in the smartphone game, the new group is managed by a young lady, who serves as the audience association character. She's also the agency president's daughter, which means she's working extra hard to prove her worth and that of her new charges. Fortunately, she can tell easily that her group of seven is off to a good start...
The Hook: ... until she's told to hold an audition and cut four of them.
Fans of idol anime probably know how things will end up. Actually, fans of anime in general probably know how things will end up. But our characters, of course, don't.
The audition leads to tensions within the group, but it leads our manager to make some interesting observations. And to stick up for the talents of the new band she's been introduced to. It may be a fairly predictable end to the first episode, but it's also a sign that she's willing to work through every difficulty with her new charges. And not to give too much away, but there will be a few.
Who Is It For: Naturally, this will be a great fit for idol show fans. But if you're a fan of shows like Full Moon o Sagashite or Kamikaze Kaitou Jeanne, you might want to give this a look, too. The character designs for the original smartphone game came courtesy of Arina Tanemura, the creator of both; and the series's character designs are adapted from her work!
-----
Kara Dennison is responsible for multiple webcomics, blogs and runs interviews for (Re)Generation Who and PotterVerse, and is half the creative team behind the OEL light novel series Owl's Flower. She blogs at karadennison.com and tweets @RubyCosmos. Her latest stories can be found in Whoblique Strategies.