Find out which of the season's lineup people in every part of the United States are watching!!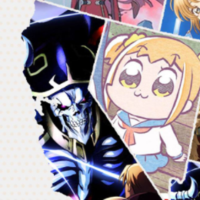 Hello everyone!! The Winter Season is officially one month old now, and people are comfortably settled into their favorite shows. It's at this time in the season that we here at Crunchyroll like to share some viewership data with everyone, so you can get a better sense of what your neighbors are watching and see which anime you may have been missing out on!
A quick note on methodology: this map is looking at which show has the most current viewers as of the most recent episode by state, excluding any continuing titles from the previous season. That's why sequels like Overlord II are included here, but anime such as Black Clover, Dragon Ball Super, or BORUTO: NARUTO NEXT GENERATIONS are absent, despite their popularity.
Without any further delay, here's our map of the United States!
While it's not surprising for those who are keeping up with the chatter on AniTwitter, DARLING in the FRANXX is the most well-represented anime on the map, claiming the most viewership in 12 states. The A-1 Pictures / Studio TRIGGER co-production is a marvel to look at, showing off some of the best talent from both respective studios under the supervision of The [email protected] Director Atsushi Nishigori.
However, Overlord II's hype was not for nothing - the Trapped-in-an-MMO-But-For-Real-Though sequel is the top pick in the Union's three most populous states - including California, the home of Crunchyroll HQ!! Following Overlord is an entirely different take on the isekai premiese, Death March to the Parallel World Rhapsody - but the trend of ridiculously overpowered central characters keeps up with this slot, which is only slightly bucked by the fourth most frequent winner, Record of Grancrest War.
While I was hoping to see more love for my personal favorite, A Place Further Than the Universe, I'm happy to report ahead of time that it shows up on some of the other maps we're working on!
No matter what your state chose, between all 53 simulcasts this seeason, there's almost a full day worth of anime added to Crunchyroll every week! For a full line-up of what's available this season in your country, check out the Crunchyroll lineup page or get a calendar-shaped view on our Simulcast Calendar!!
What are the biggest surprises to you? What anime did you expect to see more or less of? Let us know in the comments, and please look forward to more maps of other parts of the world coming soon ~