"Mitchiri Neko" and "How to Keep a Mummy" are here, and they're adorable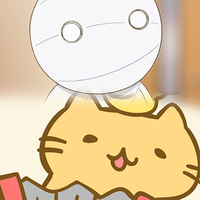 Need something ridiculously adorable to watch after a long day? So do we. And this week in The Hook, we're exploring easy-to-watch shows that reel you in with their cuteness. So if you need something fun to offset the action and drama, dive in!
How to Keep a Mummy
Sora is your typical anime latchkey kid. He lives alone with his sister while their dad travels around the world and sends back the absolute worst possible mementos. Most recently, he's sent Sora a literal sarcophagus from Egypt, which apparently contains a mummy.
And it does. But the mummy is extremely small. And extremely adorable.
So begin Sora's attempts to care for the clingy Mii-chan, while trying to figure out why exactly his dad has sent this strange little souvenir his way.
The Hook: The real hook of this show is what it isn't. It isn't a harem show, it isn't a monster girl show... it's literally a boy and a tiny adorable mummy thing that (for reasons explored in the first episode) barks like a dog when it wants attention. The OP teases more tiny mystery beasties in the near future, but that's really it. It's daily life with an adorable little toilet paper ball who really likes noodles and doesn't like being left alone.
There are, of course, what appear to be little plot points forming. Sora's friend from school seems to have a morbid curiosity about Mii-chan, and looks ready to try and unwrap it (something Mii-chan's massive instruction booklet says you absolutely must not do). But other than that...
Look. I cannot overstate how freaking cute this mummy is. Seriously. No. It's so cute it'll make you angry. It's so cute you'll want one. It's ridiculous.
Who Is It For: Do you have a strong tolerance for cute? No, do you really? Are you sure? Find out. Try this. We dare you.
Get started on How to Keep a Mummy.
Mitchiri Neko
Don't have a lot of time to watch something? Don't feel like concentrating on a story? That's okay. Have some cats.
Mitchiri Neko is this season's low commitment show. Four minutes per episode, and you get to watch adorable cats do weird things. That's it. That's all this show asks of you. Watch these cats. Protect them.
The Hook: Oh, yeah. If they look familiar, this is why:
The Mitchiri Neko characters are from an existing franchise, and you've likely already spotted them in this sweet little marching band video (or one of the numerous parodies thereof).
Who Is It For: Got four minutes? Like cats? Grab a snack and take a little mental break. The Mitchiri Neko are here to entertain you.
-----
Kara Dennison is responsible for multiple webcomics, serves as community manager for (Re)Generation Who and PotterVerse, and is half the creative team behind the OEL light novel series Owl's Flower. She blogs at karadennison.com and tweets @RubyCosmos. Her latest stories can be found in Whoblique Strategies.