We (try to) choose the best of Sakura's fighting gear from the original anime and manga!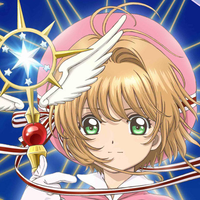 When CLAMP started putting together their own magical girl series, they decided early on against limiting their heroine to one outfit. They thought magical girls should be able to choose from a variety of cute clothes. Since then, shows like PreTear and Uta~Kata have made that possible -- but Sakura is the OG costume-change queen!
With Clear Card in our sights, we're looking back at some of her best Card-hunting costumes from the previous series and films. Here's our Top Ten. Has your fave made our list?
10. Episode 42, "A Strange Intermission"
Sakura's school play costume may not have been intended for Card-capturing, but her acquisition of The Light and The Dark still saw her sporting this outfit. It gives her a nice Princess Knight look, too... we need more princely magical girls, don't we?
9. Second Movie
This Tomoyo original features massive coattails and some interesting trim, but doesn't go quite as wild as some of her other designs. It also features cute little wings on the hat, collar, and boots. Best of all? She gets to be twinsies with Syaoran, who has a green trousered variant of this outfit for himself!
8. Episode 36, "Stormy Weather"
Maybe we're a little biased because it's really chilly in the office right now, but this red and yellow bunny costume looks nice and snug. Sakura wore it, appropriately enough, to catch The Snow. And she's covered from head to toe, including stockings and some nice toasty looking boots. Did we mention we're a little cold at the moment?
7. Episode 59, "Trapped"
Sakura sported this lovely outfit during an adventure in the school, when she used Shadow to track down Tomoyo. The pink dress itself is fairly straightforward, but it's the trim on the blue hat and gloves that really makes it for us. Sakura's high-contrast outfits can be hit-or-miss but the pinks and blues are perfect together!
6. Episode 3, "Allies"
The jester costume has a lot going for it. Not only is it absolutely adorable, it's also waterproof -- notable considering Sakura was going after The Watery when she wore it. Anything that's both cute and functional is a bonus in our books. It's a great reminder of just how far ahead Tomoyo is thinking. Yeah, she absolutely wants to see Sakura in cute outfits, but she's keeping her safe at the same time.
5. Manga Chapters 43-46
This gorgeous outfit never made it to the anime, but the unique design mixed with the familiar pink-and-black coordinates and star motif makes it especially eye-catching. Sakura wore this when she went to meet Eriol at Tokyo Tower, and learned the truth about his identity.
4. Opening 1
Well, of course! How could this not be in the Top 5? The iconic outfit appears at the beginning of the first 35 episodes, and appears in the first OVA as well. As mentioned before, Tomoyo thinks ahead -- and she made this outfit specifically so it could be in the opening! That was... er... savvy of her. Right?
3. Episode 4, "An Unexpected Find"
Besides being cute and sporting a futuristic flair, this "space cadet" outfit was made of elastic, making it easier to move around in. That made it even easier to catch The Wood and The Rain -- but the costume was originally made for a completely different purpose! Sadly, Tomoyo's epic film Sakura Dances in the Jungle had to take a back seat to chores and Card hunting. But at least the costume got a workout!
2. Episode 24, "No Problem Too Small"
What better way to catch The Little than in an Alice in Wonderland-themed costume? CLAMP, of course, has done their fair share of Alice tributes, and this ruffly pinafore dress is just as frilly and adorable as you'd expect of the group. It suits Sakura, too, doesn't it?
1. Opening 3
It's not easy to pick a First Place, but this beautiful pink and white ruffled dress from the third season OP may just be it. We love everything about it: the layered skirt, the ribbon streamers, the asymmetrical stockings, the star theming, and (of course) the wings! It's both beautiful and evocative of the character -- which could be why it's what she's wearing in the Magical Battle Area fighting game.
Honorable mentions go to Princess Tsubasa and Sakura Li's beautiful gowns in Tsubasa: Reservoir Chronicle, but considering the star system/alternate universe nature of the characters, it isn't quite right to throw them on the same list. Still, it's nice to know that all Sakuras across the multiverse are assured of a beautiful wardrobe.
A new story arc means new costumes, so we could have a new Top Ten before much longer!
CardCaptor Sakura: Clear Card is coming soon to Crunchyroll. In the meantime, you can catch up to the original series right here!
-----
Kara Dennison is responsible for multiple webcomics, blogs and runs interviews for (Re)Generation Who and PotterVerse, and is half the creative team behind the OEL light novel series Owl's Flower. She blogs at karadennison.com and tweets @RubyCosmos. Her latest stories can be found in Whoblique Strategies.