Find out which of the season's lineup people in Canada, Australia, and France are watching!!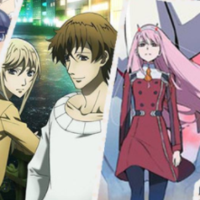 Every season, we like to explore the new season country by country, state by state, and let you know what we find. Since we're about halfway through the Winter simulcast season, and we've shared maps of the most popular anime by region from the United States, Germany, and Europe. Today, we'd like to share three more with all of you: Canada, Australia, and France!
A quick note on methodology: this map is looking at which show has the most current viewers as of the most recent episode by state, excluding any continuing titles from the previous season. That's why sequels like Overlord II are included here, but anime such as Black Clover, Dragon Ball Super, or BORUTO: NARUTO NEXT GENERATIONS are absent, despite their popularity.
Canada
Australia
France
What are the biggest surprises to you? What anime did you expect to see more or less of? Let us know in the comments, and please look forward to more maps of other parts of the world coming soon ~
Previous Winter 2018 Anime Maps:
---
Full Data
Canada
| | |
| --- | --- |
| Province / Territory | Anime |
| Alberta | Death March to the Parallel World Rhapsody |
| British Columbia | Overlord |
| Manitoba | DARLING in the FRANXX |
| New Brunswick | citrus |
| Newfoundland and Labrador | citrus |
| Northwest Territories | A Place Further Than the Universe |
| Nova Scotia | DARLING in the FRANXX |
| Nunavut | Pop Team Epic |
| Ontario | Overlord |
| Prince Edward Island | A Place Further Than the Universe |
| Quebec | Overlord |
| Saskatchewan | Hakata Tonkotsu Ramens |
| Yukon Territory | Death March to the Parallel World Rhapsody |
Australia
| | |
| --- | --- |
| Province | Anime |
| Australian Capital Territory | How to Keep a Mummy |
| New South Wales | Death March to the Parallel World Rhapsody |
| Northern Territory | Pop Team Epic |
| Queensland | DARLING in the FRANXX |
| South Australia | DARLING in the FRANXX |
| Tasmania | citrus |
| Victoria | DARLING in the FRANXX |
| Western Australia | Pop Team Epic |
France
| | |
| --- | --- |
| State | Anime |
| Auvergne-Rhone-Alpes | Death March to the Parallel World Rhapsody |
| Bourgogne-Franche-Comte | Death March to the Parallel World Rhapsody |
| Brittany | Katana Maidens ~Toji no Miko~ |
| Centre-Val de Loire | Darling in the FRANXX |
| Corsica | Hakyu Hoshin Engi |
| Grand Est | Death March to the Parallel World Rhapsody |
| Hauts-de-France | citrus |
| Ile-de-France | Death March to the Parallel World Rhapsody |
| Normandy | Hakata Tonkotsu Ramens |
| Nouvelle-Aquitaine | Darling in the FRANXX |
| Occitanie | citrus |
| Pays de la Loire | Death March to the Parallel World Rhapsody |
| Provence-Alpes-Cote d'Azur | Darling in the FRANXX |