Ask your date one simple question and the way to the perfect evening is just a click away!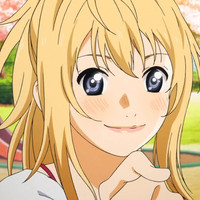 Flowers, chocolate, and a romantic dinner. You've treated your sweetheart to the ultimate Valentine's Day and it's getting late, so there's only one thing left to do. Snuggle up together, and watch some anime. But it's gotta be the just right. Not sure what to put on? We've got your back! Here's a carefully curated selection of the best romantic anime to suit any taste. Just ask your date one simple question and you're well on your way to the perfect evening, "What would you like to watch?"
Something sad?
Ever since the death of his mother, Kosei's can't hear the notes of his music. Once a pianist considered a musical prodigy, he can no longer find the heart to play. A fateful meeting with the cheerful violinist Kaori begins to pull him from his dark depression and brings music back into his life. As he overcomes his past, he starts to recognize his feelings for Kaori are love, but she's been asking after his friend Watari. A moving tale of coping with loss, creativity, and longing.
Tsukasa works for Terminal Service, tasked with retrieving androids known as Giftias from their homes serving people before they reach their 9-year lifespan and begin to mentally degrade. His work forces him to confront the loss and grief their owners experience every day despite knowing their Giftia's expiration is approaching. When he finds himself experiencing romantic feelings for his own partner and Giftia, Isla, the two must weigh their desires against the time she has left.
One day Naho receives a letter from her future self, telling her that she will fall in love with the new student Kakeru. This comes true and, soon, she receives another letter telling her that he will die unless she takes action. A timid girl who has trouble expressing herself, she struggles to follow the instructions of the letters. With the support of her friends, she tries to both act upon her feelings for Kakeru and help save him from his uncertain fate.
Something Serious?
The sharp-eyed Ryuji finds himself in an unexpected alliance with the most infamously violent Taiga when each discovers their friends have romantic feelings for the other. After learning they live next to one another, they set to scheming up ways to set up encounters and hook each other up, but their plans backfire when love takes an unlikely course. The more time the two spend together, the more they discover a kindred spirit and realize they'll have to face the harsh reality that not everyone can end up with their crush.
Kotaro and Akane are an unlikely pair, he with his interest in Japanese literature and desire to become an author and her the star of the track team. The only thing they have in common is an overabundance of social stress. By chance, they end up chatting on the LINE messaging app and are able to discover a connection where, in person, they are paralyzed by anxiety. Their feelings for each other drive them both to improve and overcome obstacles, but internal and external, to find a place together.
Sawako is a shy girl who has trouble making friends because of awkwardness and an unfortunate resemblance to Sadako from The Ring. Her lonely days come to a sudden end when the class idol Kazehaya begins spending time with her and introducing her to his friends. She begins to come out of her shell, but not all of her classmates are happy with her sudden upward shift in social standing. Sawako's life becomes more complicated as rumors spread and Kazehaya confesses his feelings for her.
Something Sweet?
Takeo is a tall, muscular high schooler whose appearance tends to scare his fellow students. He's just a big softie and a romantic, but hanging out with his friend Suna, whose good looks have grabbed the attention of all the girls in school, has left him feeling hopeless about his prospects. On one is more shocked than him to discover his crush Rinko reciprocates his feelings. The two officially become a couple and, together, navigate all the twists and turns of their first relationship.
Shizuku is a no-nonsense girl set on acing school and moving into a successful career, but finds herself in a bizarre friendship with the class troublemaker, Haru, after she's tasked to take the class handouts to his home. Fascinated with his seeming ignorance of social norms, proven when he quickly declares his love for her, their friendship both annoys her and helps her break away from her stern persona. As the two get to know each other, she also finds she may return his feelings.
Haruhi is a poor girl who, through a scholarship, finds her way into a prestigious academy attended by elite heirs and heiresses. After an unfortunate accident with a vase, she is blackmailed into working for the schools host club, a group of attractive boys who entertain the women of the academy with their charms. Dressing as a boy, Haruhi discovers she's a natural at the job and works to pay off her debt while each of the boys discovers they may have been charmed.
Something Funny?
Miss Kobayashi wakes up after a night of hard drinking to discover she spent her blackout chatting up a dragon so successfully that it shows up the next morning asking to be her personal maid. Things get complicated quickly as Tohru's fellow dragons begin showing up and find themselves enamored with the strange human race. The series is non-stop laughs with a lot of heart, centering around a found family and tackling some surprisingly mature themes.
Every day Nishikata and Takagi-san do battle. The deskmates each do their best to find creative ways to tease one another with the victor being the one to make the other blush. Nishikata has a serious problem, however. Takagi-san is way better at teasing than he is. The boy hopelessly dives in way over his head every morning, hoping to achieve victory but finding only defeat against the mysterious and unflappable girl.
A short series of even shorter segments with some seriously snappy writing, following a number of independent, outlandish high school romances from their bizarre beginnings in unbelievable love confessions to the later stages of the relationship where awkward or just plain strange kids try to navigate their big moments. Every once in a while it expertly strikes on a sincerely real moment, but mostly it's just fun.
With this handy list, your Valentine's Day is a sure success. We're happy to have played a part in your perfect romantic evening and encourage you to come back to this helpful list every year to make sure all your Valentine's are one-of-a-kind. Let know what you think of think of our selection in the comments below!
---
Peter Fobian is Features and Reviews Editor for Crunchyroll, author of Monthly Mangaka Spotlight, writer for Anime Academy, and contributor at Anime Feminist. You can follow him on Twitter @PeterFobian.