This week, we look at "Karakai Jouzu no Takagi-san" and "Ms. Koizumi Loves Ramen Noodles"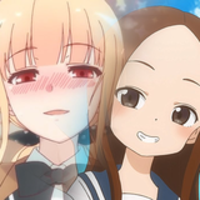 School crushes are rough. Sometimes you can't tell how they feel about you because you're too busy engaging in semester-long teasing wars. Other times, no matter how hard you try, they just don't take an interest in you because they're too infatuated with ramen.
Wait, that's... not a thing for everyone? Well, no wonder this week's protagonists are confused.
In this installment of The Hook, we're looking at two uncommon school comedies: the middle school rom-com Karakai Jouzu no Takagi-san, and the tasty high school comedy Ms. Koizumi Loves Ramen Noodles. Will they grab you in the first episode? Let's find out!
Karakai Jouzu no Takagi-san
There's a fine line between flirty teasing and just being mean -- and a lot rides on that difference. Just mocking someone is mean. But what if you're engaged in a battle of wits?
The "wits" of Karakai Jouzu no Takagi-san are very silly indeed. Takagi-san is a middle-school girl who sits next to her friend Nishikata, way back in the Protagonist Seats. During class they spar with ridiculous pranks, the end result being that Takagi-san gets either a blush or a huge reaction out of Nishikata.
And so it continues, in typical school comedy style.
The Hook: These two totally like each other. Not that you needed a sign -- but you do get it.
There's not much plot to be had here, with the episodes consisting of random scenarios and how Takagi-san leverages them to her advantage. But the cute, awkward schoolkid flirting, combined with just how chill Takagi-san stays, makes for an entertaining watch. Plus, there are some cute daily life segments with a trio of friends in the pair's class.
Who Is It For: If you like light romantic comedy, along with shows like Azumanga Daioh and Lucky Star, you'll probably get a kick out of Karakai Jouzu no Takagi-san. It know when to pull back, never going into full secondhand embarrassment, so it's a nice light watch.
Get started on Karakai Jouzu no Takagi-san.
Ms. Koizumi Loves Ramen Noodles
Yuu is an energetic high-school girl. She loves Koizumi-san. Koizumi-san, as you may have heard, loves ramen noodles. And nothing else, apparently.
Usually knowing your crush's one big interest is helpful... but in this case it seems to do very little for Yuu. Koizumi-san can be cracked, at least for a moment, when people either ask her about ramen or express a lack of knowledge about it. And when a bowl of it (especially a rare or exotic variation) is placed in front of her, we get a rare glimpse of her at her most intense, and then at her happiest.
Before she wanders off again.
The Hook: This is one of those shows that you really do not want to watch on an empty stomach. Even if your only experience with ramen is Cup Noodle or a quick bowl of the instant stuff, this show will make you crave it bad. And if you're familiar with just how good ramen can be? It's even worse. Or maybe that should be "better."
You'll also learn way more than you ever wanted to know about ramen in general.
Who It It For: Ms. Koizumi Loves Ramen Noodles is also low on plot, so don't come in looking for a story. If you're into gag anime and food, this is a match made in heaven for you.
Get started on Ms. Koizumi Loves Ramen Noodles.
-----
Kara Dennison is responsible for multiple webcomics, serves as community manager for (Re)Generation Who and PotterVerse, and is half the creative team behind the OEL light novel series Owl's Flower. She blogs at karadennison.com and tweets @RubyCosmos. Her latest stories can be found in Whoblique Strategies.