But you might not want to watch these at work...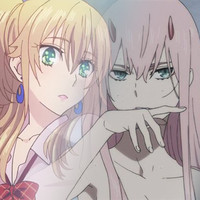 This week's picks for The Hook are, er, slightly less than kid friendly. So if you're not into above-PG content, you might want to hold out 'til next week. Otherwise, read on!
It's hard to believe we're more than halfway through the season -- but it's not too late to pick up some new shows if you're already caught up on your simulcasts of choice. This week's choices include two very different relationships: a devilish mecha pilot and her "darling," and a pair of stepsisters who couldn't be more different. Can they hook you in an episode? Let's find out!
DARLING in the FRANXX
The long-awaited new TRIGGER/A-1 Pictures title combines pretty much everything we expect from the studio at this point: action, big robots, a plot that hints early on at some mid-season twists, and a whole lot of NSFW weirdness. Combine mecha designs from the team behind Star Driver and action direction by Hiroyuki Imaishi, and at the very least we already knew it was going to be visually stunning.
As for the plot, we follow Hiro -- a not at all inexperienced mecha pilot -- as he meets the mysterious demon-horned 002. She's arrived on the day of the city's welcoming ceremony, in which trainees will become Franxx (the show's name for its giant robots) pilots and fight the Klaxosaurs that ravage the outside world. Hiro will not be with them, as he was unable to pass his test, but 002 takes a liking to him.
The male and female partners who pilot the Franxx units are gathering for the ceremony, as Hiro (who has disappointed his partner) is considering leaving. And then there's a Klaxosaur attack. With 002's partner incapacitated, Hiro is the only one left to help her...
The Hook: And he does. Not that he remembers any of it.
Unsurprisingly, but still interestingly, Hiro and 002 manage to work together to become a powerhouse Klaxosaur-killing team. This is a shock to pretty much everyone for two reasons. First off, Hiro cannot pilot a Franxx; secondly, 002 notoriously gets her partners killed, but he's only knocked out at best. Is it possible for the two of them to pilot with other partners now? Or is there something special just between the two of them?
Also why the heck are Franxx units designed so it looks like... you know?
Who Is It For: If you want quick answers (as in you could marathon what's been aired now and know what's going on), then this show isn't for you. The questions of the first episode are explored as things move forward, but we will likely see a late-series reveal rather than a slow roll-out. So if you need answers now, you won't be getting them.
Also if you think you'll get tired of the whole sex-position robot cockpit thing... that doesn't go anywhere for a while.
But if you're a fan of shows like Gurren Lagann and Star Driver, you'll likely enjoy the art and the pacing. There's definitely a lot of story to unpack, with a new civilization and weird monsters keeping it at bay. And the battles, as you'd expect, are gorgeous to watch.
Get started on DARLING in the FRANXX.
citrus
Yep, it's yuri time.
citrus is based on the manga of the same name by Saburouta, about a pair of schoolgirls who have nothing in common but end up making out. Well, there's more to it than that. But in the first episode, things go rather quickly.
Stylish gyaru Yuzu has a new stepfamily, and moving in means changing schools. The new school look doesn't mesh at all with Yuzu's flashy style -- and student council president Mei has a lot to say about that.
While Yuzu does make a friend within the school to help her navigate its rigid rules while maintaining her stylish ways, Mei's influence seems to be literally everywhere...
The Hook: Including at home.
The new marriage means that Mei and Yuzu are now stepsisters. But this isn't just an Odd Couple one-off waiting to happen. Because Mei is a bit more, er, forceful than Yuzu was expecting. And the first kiss between the two girls leaves Yuzu very confused as to her current romantic situation.
Who Is It For: If you're looking for a mainstream yuri series, you'll want to tune in to citrus. There are a few weird borderline consent issues, as Mei doesn't seem particularly concerned with asking if Yuzu wants to be made out with on the floor. So if that's something that rankles you, you might want to steer clear.
However, if you're a fan of the original manga and want to see Yuzu and Mei explore their new relationship on the small screen, there's plenty of episodes already lined up for you to watch. (And if you think they look like that "Me vs. Other Girls" meme, you're not alone... maybe that's part of why we like it?)
-----
Kara Dennison is responsible for multiple webcomics, serves as community manager for (Re)Generation Who and PotterVerse, and is half the creative team behind the OEL light novel series Owl's Flower. She blogs at karadennison.com and tweets @RubyCosmos.