Running low on shows at the end of the season? Time to binge-watch!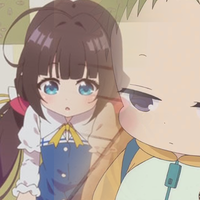 March is here, and we're closing in on the end of the Winter 2018 anime season. What can you do when you're caught up to your simulcasts and the new shows are still a month away? Binge a new simulcast, of course!
This weeks picks both feature protagonists dealing with precocious kids, albeit in very different settings. Will the premiere episodes hook you enough to keep you watching? Let's find out!
The newly-orphaned Ryuichi and Kotaro have a hard life -- but they also have an amazing deal. Alone after their parents' death, they've been taken in by the chairwoman of Morinomiya Academy. Ryuichi will be able to attend school and they'll be cared for and have a place to live.
On one condition: Ryuichi will have to work in the school's Babysitting Club, in addition to handling his regular school duties. The club watches over the young children of the school's staff (and now Kotaro as well), but is largely understaffed.
Ryuichi has a rapport with his younger brother, but handling the club's five regulars turns out to be more than he's prepared for at first.
The Hook: There's a bigger situation than Ryuichi's time, though: Kotaro's well-being.
The poker-faced toddler doesn't do much except cling to his big brother -- which, under the circumstances, is totally understandable. But he's staying a lot stronger and quieter than anyone suspects. This leads to trouble even before the first episode is over. Fortunately, the club's few staffers, as well as the academy staff itself, band together and help Ryuichi as he begins to adjust to his new life. The first episode ends on a rough note: as cute as the show is, there's still an undercurrent of loss, and that's not going away anytime soon.
Who Is It For: School Babysitters is a ridiculously adorable show, with occasional moments of intense emotion. If you want something that's purely light and fluffy, you'll likely be taken aback by just how serious it gets every now and then. Nonetheless, there's plenty of sheer cute to make you feel better afterward.
A ryuo is a shogi master -- one of a few possible prestigious titles one can obtain in the world of professional shogi. Yaichi has just achieved the title at the age of 16, which has changed his life in more ways than one. He doesn't have an average schoolkid's life, for one thing. For another, he has a fear of playing poorly. For a third, he blacked out during a significant portion of the day he won his title tournament.
One day, a girl named Ai comes to his apartment, wanting to play him in shogi and claiming that she wants to be his apprentice. He has no interest in either of these things at first, until two major revelations...
The Hook: One, apparently he promised her that she could be his apprentice somewhere during that blackout. Two... she's really good at shogi, and has apparently been practicing his play style.
Those who things put together reinvigorate his interest in the game.
Who Is It For: You don't necessarily need to be a shogi expert to follow The Ryuo's Work Is Never Done! But if you're a fan of shows like Saki and Chihayafuru, where board and card games are action-packed and high-stakes, this may grab your attention.
-----
Kara Dennison is responsible for multiple webcomics, serves as community manager for (Re)Generation Who and PotterVerse, and is half the creative team behind the OEL light novel series Owl's Flower. She blogs at karadennison.com and tweets @RubyCosmos.