From Emily Bushman, Author of Cooking With Anime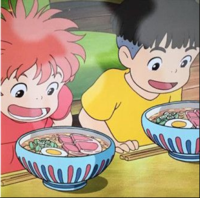 Is it just me, or has ramen in anime become more prominent recently? I mean, in this season alone there are two shows that prominently feature the delicious Japanese comfort food: Hakata Tonkotsu Ramens and Ms. Koizumi Loves Ramen Noodles. Every time I watch one of those shows, my mouth starts to water, my stomach rumbles, and I know I HAVE GOT to get myself a bowl of ramen. I mean, as I type this, I have a tonkotsu bone broth simmering away on my stove. That's how much I want ramen. – I'm willing to sacrifice my life as I know it to handcraft ramen from scratch. This broth has been cooking for over 24 hours at this point. No kidding.
As I contemplated ramen in anime, it made me wonder... what are the BEST times – objectively speaking, of course – when ramen has made a starring role in an anime? Does Ms. Koizumi really do ramen justice? Are there better bowls to be found in anime? And so I went on a journey, through all kinds of shows, movies, and shorts to find the best of the best when it comes to ramen in anime. Behold, a list of five stupendous bowls.
SPOILER WARNING: Uncensored ramen content ahead. You might spoil your appetite if you keep reading. You HAVE been WARNED!
---
Naruto's favorite Ichiraku Ramen is the ramen that pretty much defines the genre of anime ramen. Naruto is a show that almost all anime fans are familiar with. Whether you're an anime pro or a fresh-faced fan, EVERYONE has heard of Naruto's favorite food to eat. This ramen is a hearty miso ramen, topped with chasu pork, a melty-creamy soft boiled egg, menma, green onion, and, of course, the stereotypical piece of naruto (that swirly thing), which is a kind of fishcake. This is on the list because it's anime ramen gold, an anime ramen classic, if you will. If you want to try making it, I have a recipe here.
The Ghibli Stunner
Studio Ghibli makes great looking food. Truly, the way the artists and animators at Ghibli depict their food is mouthwatering, and one of the primary reasons I started anime food blogging in the first place. This ramen, from Ponyo, is absolutely gorgeous. It's got a super clear soup base with delectable droplets of oil skimming the surface to provide that luscious mouthfeel when you take a bite. The ham lends sweetness – a favorite of Japanese children – along with a bit of fattiness. To complete the dish: Some green onion and a soft boiled egg. Relatively simple, toppings-wise, but delicious nonetheless. Watching Ponyo get excited about eating it only makes the entire dish that much better.
This ramen from the ramen-ya called Neko Ramen, a fictional ramen booth from The Tatami Galaxy, is a mostly unquestioned mystery to those who eat it. It's so good, in fact, that patrons are afraid to ask what it's made of. As the name of the shop might suggest... it could be cats. Nonetheless, the broth appears to be a clear, sultry shoyu or shio-based broth (that's soy sauce or salt based) topped with a sheaf of seaweed, three slices of a non-fussy braised pork, and the barest sprinkling of several rounds from the white part of a leek. Both the ramen, and the anime, are stupendous. Find a recipe here.
The Joichiro Special Rich Ramen from Food Wars! Shokugeki no Soma is fine dining meets casual eating, resulting in a ramen so delicious, it might literally rip your clothes off. It's a special vegetarian ramen that mimics meat-based soups, giving you a two-for-one effect. It invigorates and youthens the body, without losing out on any of that delicious, hearty flavor we're used to when it comes to ramen. Soma's dad does a fantastic job of wowing the senses with a miso-based vegetarian and soy milk broth. The prominent topping is crispy slabs of tempeh, a meat substitute, balanced on fried lotus root, fried gobo root, and stacked grilled carrot. Truly a delicacy that appeals to not only the eyes, but the stomach. And it's good for you, to boot!
Ms. Koizumi manages to find the oddest kinds of ramen out there. This German ramen is a new twist on an old favorite. Based in a thick, creamy tonkotsu broth, this soup is seasoned lightly with shoyu. The noodles are slightly thicker to accommodate the heavier soup. There are two, read that again, TWO kinds of bacon – a regular slab of bacon and speck, a fatty cut of bacon popular in Germany. Sprinkled to one side is a hearty blend of spices traditional to the Bavarian region and, of course, how can you have German ramen without sauerkraut? This bad bowl is topped with a hearty pile of sauerkraut and green onion for garnish. All in all, a heavy, comforting bowl of ramen, reminiscent of Germany and all the flavors it's popular for.
There we go – five bowls of ramen that will tantalize and delight your taste buds. This is a list of a mere FIVE bowls of ramen, but, wouldn't you know it, ramen in anime is EVERYWHERE. Make sure to comment below with your favorite bowl of anime ramen, and let me know what I missed! Who knows – if you share with us a gorgeous bowl of ramen, your suggestion could be featured in a Part Two!
---
I hope you enjoyed this post! Check in next week for another recipe. To check out more anime food recipes,
visit my blog
. If you have any questions or comments, leave them below! I recently got a Twitter, so you can follow me at
@yumpenguinsnack
if you would like, and DEFINITELY feel free to send me food requests! My Tumblr is
yumpenguinsnacks.tumblr.com
. Find me on Youtube for more video tutorials! Enjoy the food, and if you decide to recreate this dish, show me pics! :D
In case you missed it, check out our last dish: Wing Gyoza from "Food Wars!"
What other famous anime dishes would you like to see Emily make on COOKING WITH ANIME?