This week, we sample the premieres of "NO-RIN" and "Dance in the Vampire Bund" to see if they'll reel you in!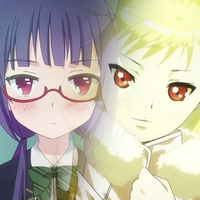 What can you do in mid-March when spring anime premieres are just a few weeks away? Hit our catalog, of course! We're constantly adding new titles for you to binge watch. And this week, The Hook takes a look at two titles from our group of latest arrivals. Do they have what it takes to get you hooked in one sitting? Let's find out!
NO-RIN
She's an idol singer. He's an agriculture student. He's madly in love with her... and, rather awkwardly, they have never met.
Based on the light novel of the same name, NO-RIN premiered in 2014 and takes places at Tamo Agriculture School. The characters are all the far side of eccentric, starting with homeroom teacher Becky and her regular complaints to her students about her inability to find a husband.
But it's Kosaku, the idol-obsessed student who dreams of going to the big city and being a "trendy farmer," who's our protagonist. He's obsessed with adorable idol singer Yuka Kusakabe, and sends her unfortunately-shaped vegetables to proclaim his love for her. His friends tolerate his obsession to some degree... but when Yuka announces her retirement, everything comes crashing down.
The Hook: At first, anyway.
Once Kosaku's friends finally drag him back to class, he gets a surprise: a new exchange student named Ringo who looks exactly like Yuka. In fact... well. There's really no doubt that this is Yuka. What's she doing here? And why is she acting so different from her idol persona?
Who Is It For: NO-RIN has some fanservice moments in it (especially when it comes Kocho and her huge... er... tracts of land). So if that's a complete deal-breaker, you may want to look elsewhere.
But if you enjoy reaction humor, agriculture school anime (because that is a thing), and want to see a twist on the idol anime format, NO-RIN might be worth a go. Besides, Becky could use your support. She's lonely and we're worried.
Dance in the Vampire Bund
Do vampires exist? That's the question on the table in Dance in the Vampire Bund -- or, rather, in the show-within-the-show that makes up its first episode. A series of local attacks has called to mind vampiric imagery, and a few experts and pointless celebs have been called together to decide if vampires really are roaming the streets of Japan.
The show goes about as you'd expect it to, with "experts" and "eyewitnesses" popping in with various degrees of credibility. When a Vampire Queen finally shows up in full Elvira gear, things start to go off the rails.
The Hook: So, small spoiler we hope you won't mind. Vampires totally do exist in this series. We know, we're as shocked as you.
But as the panel show begins to unravel, we start to see what exactly is going on with the suspicious attacks in town. We see who's behind them. And, we learn that the very Vampire Queen-looking lady front and center on the show isn't the queen at all. We do meet her, though. And she's weirdly terrifying.
Who Is It For: As with NO-RIN, this has some serious fanservice moments, so be warned. If you're a fan of supernatural series and vampire stories, you'll want to give this one a look. And if you've heard the title in passing before but never had a chance to dive in? Well, now's your chance!
-----
Kara Dennison is responsible for multiple webcomics, serves as community manager for (Re)Generation Who and PotterVerse, and is half the creative team behind the OEL light novel series Owl's Flower. She blogs at karadennison.com and tweets @RubyCosmos.