"Cruising the Crunchy-Catalog" looks at the 2016 short form comedy TV anime inspired by the otome visual novel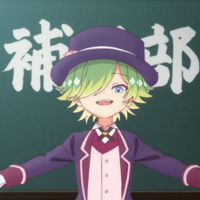 Not in Kansas Anymore.
The world of online anime streaming can be scary and intimidating, but "Cruising the Crunchy-Catalog" is here to help you through the woods. Each week we provide additional info and cultural context for a different series in Crunchyroll's library of titles in order to help fans determine whether they'd like to embark on a magical journey or whether they'd prefer to stay on the farm.
What's OZMAFIA!!?
OZMAFIA!! is a 2016 short form comedy TV anime with direction by Hisayoshi Hirasawa and animation by Creators in Pack (Ojisan and Marshmallow). The series is loosely based on the visual novel of the same name by Poni-Pachet, and Crunchyroll describes the story as follows:
Fuuka is an amnesiac. As she wanders through the unfamiliar town, she realizes that she's being chased. It's one of the mafia families running the town -- the Oz family -- that saves her. In a town where friendship and fighting exist together, Fuuka must decide whose hand to accept. And then there's the question: why doesn't she remember anything?
Although she is the main character in the visual novel, Fuuka may as well be named Miss Not-Appearing-in-this-Anime. A silent protagonist and a surrogate for the audience, the only time Fuuka is "on-screen" is during the post-credits sequences, where the characters of the anime assume more dramatic character designs and address her directly.
Rather than delving into Fuuka's circumstances, instead OZMAFIA!! mostly focuses on the trials and tribulations of Scarlet, a new student at Oz Academy who finds the faculty a little perplexing. Slapstick comedy and magical weirdness ensues.
Fairy Tale Mash-Up.
OZMAFIA!! contains characters from the L. Frank Baum's Land of Oz stories re-imagined as handsome young men, specifically Caramia as the Cowardly Lion, Axel as the Tin Woodman, and Kyrie as The Scarecrow. OZMAFIA!! also draws inspiration from other works of Western literature, including Heidi by Johanna Spyri, Grimms' Fairytales by Wilhelm and Jacob Grimm, the writings of Oscar Wilde, and the fairy tales of Hans Christian Andersen.
A Question of Tone.
OZMAFIA!! is a comedic adaptation based on a fantastical but dramatic original work, and sometimes this results in some sudden, drastic tonal shifts. For example, in episodes 5 and 6, Oz Academy experiences sharp and violent aggression from the rival Grimm Academy, and in episode 9, Dorian Gray presents a particularly menacing figure. These tonal shifts harken back to the original visual novel, which was more focused on romance, drama, and organized crime.
"I'll Get You My Pretty!"
The fact that it's a different take on a visual novel aimed at women is the key to understanding OZMAFIA!!, from its bishounen character designs to its sometimes somber and serious tone. Whether the comedy sticks the landing is a matter of taste, but since each episode clocks in at only 3.5 minutes in length and the entire series can be experienced in less than an hour, time is not a huge barrier to entry.
There's No Place Like Home.
Crunchyroll currently streams OZMAFIA!! in 246 territories worldwide, including the United States, Canada, Brazil, the United Kingdom, France, Spain, Germany, Italy, South Africa, Australia, and New Zealand. The series is available in the original Japanese language with subtitles in English, Spanish, Latin American Spanish, French, Portuguese, Italian, and German.
For those who are curious about the source material, an English language adaptation of the original OZMAFIA!! visual novel is also available on Steam via MangaGamer.
OZMAFIA!! is undeniably light entertainment, an unusual cultural artifact where half the fun is in spotting the references to classic works of children's literature. If you've got 42 minutes to spare and you're in the mood for something cute, strange, and occasionally bittersweet, please consider giving OZMAFIA!! a try.
Is there a series in Crunchyroll's catalog that you think needs some more love and attention? Please send in your suggestions via e-mail to [email protected] or post a Tweet to @gooberzilla. Your pick could inspire the next installment of "Cruising the Crunchy-Catalog"!
---
Paul Chapman is the host of The Greatest Movie EVER! Podcast and GME! Anime Fun Time.