We know about the gunfights, but what other appeals is the new Sword Art Online bringing?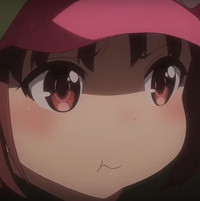 Sword Art Online is one of the biggest anime titles of the past decade, and its reputation for adventure, drama, and a little bit of romance precedes it. With the newest anime in the franchise, Sword Art Online Alternative: Gun Gale Online, airing soon, people around the world are eagerly anticipating more of SAO's exciting world. But you know as well as I do that we don't always watch anime for serious, important reasons. Sometimes, something about a new anime just catches your attention. It might be silly, it might be dumb, it might be something no one else would understand – but, whatever it is, you can't get it out of your head.
So, in that spirit of silliness, I wanted to highlight a couple of the hidden gem appeal points I'm excited for in Sword Art Online Alternative: Gun Gale Online! Maybe you'll find a new charm point for the show yourself!
Round and Cute Anime Faces!
Sword Art Online Alternative: Gun Gale Online features original character designs by the famous designer Kohaku Kuroboshi. Kuroboshi, who frequently posts cute illustrations of his characters on his Twitter account, was the man responsible for the original designs for the famed Kino's Journey. He's also designed characters for Shigofumi, a little-known movie for Toei Animation called Pop in Q, the charming World Conquest: Zvezda Plot, and, most recently, Princess Principal. Kuroboshi has perhaps one of the most distinctive character design styles in the anime industry, featuring round heads with prominent cheeks, eyes with round pupils, and very deemphasized noses – all of which you can see clearly in the key visual for SAO Alternative: GGO.
Now – and here's the part where I hope you learn something! – although Kuroboshi did the original designs, they're being adapted for animation by Yoshio Kosaki. It's Kosaki's job to turn Kuroboshi's distinctive look into drawings that animators can actually make move, so he plays a big role in defining the final image of the characters on screen. Kosaki's recent projects have included the three Kizumonogatari movies, which he worked on alongside some genuine anime industry luminaries (like Tatusya Oishi and Kou Yoshinari). My hope is that Kosaki will have picked up some tricks from those creators and can bring them to his work on SAO Alternative: GGO to bring the characters to life. The trailer for the anime already shows some fun facial expressions, so I'm hoping for a lot more of that when the anime starts!
It's Basically a Professional Fan Fic
Anime has a long history of fans of the medium becoming creators. The famous studio Gainax was founded by a bunch of otaku who got together to make anime. The creators of Macross were inspired by Mobile Suit Gundam. And in the case of Sword Art Online Alternative: Gun Gale Online, Keiichi Sigsawa, the writer of Kino's Journey, liked the setting of Gun Gale Online from Reki Kawahara's original SAO story so much that he wrote his own story in that setting.
As you probably know, fan fiction can be both a chance for fans to express their wildest, craziest ideas and of sometimes questionable literary quality. But, with Sigsawa, a professional author, behind SAO Alternative: GGO, we get the best of both worlds – the excitement of bringing fresh ideas into an established fictional world and the technical skills to make it all work. The new SAO's story, about a tall girl named Karen who takes on the diminutive persona of LLENN in-game, throws us into the middle of a battle royale within the game. I haven't spoiled myself on the plot by reading the novels, but with Sigsawa's writing prowess, I think it's safe to say that we can expect a wild ride with plenty of cool firearm action!
LLENN's Bunny Hat
I've saved the best, and most important, one for last. If there's one thing that I can't wait to see in Sword Art Online Alternative: Gun Gale Online, it's protagonist LLENN's amazing pink bunny-ear hat. In a franchise that's traditionally focused on a hero who wears black clothes – in both the real and virtual worlds – to the exclusion of all else, LLENN's outfit is a breath of fresh air. The inherent goofiness of the bright colors and cuteness in a dark, gritty shooter like Gun Gale Online just brings me a lot of joy, enough to the point that I've started referring to LLENN as "Bunny Kirito." Now, it remains to be seen if LLENN and her trusty P90 will be as all-powerful in the world of guns as Kirito was with his lightsabe– erm, laser sword. But whether LLENN turns out to be a terrifying force in the Squad Jam battle royale or not, her bunny hat will always have my loyal approval.
I mean, just look at it! No matter what else happens in Sword Art Online Alternative: Gun Gale Online, that hat is going to make me happy.
Of course, there are plenty of other reasons – serious and silly – besides these to be exited for Sword Art Online Alternative: Gun Gale Online, and we want to hear them! Share why you're excited to watch the new SAO here on Crunchyroll down in the comments!
---
Isaac is an art student, semi-retired anime blogger, sometimes podcaster, and Associate Features Editor for Crunchyroll. You can read more of his work on his blog, Mage in a Barrel, and follow him on Twitter @iblessall.