These horse girls are more than idols!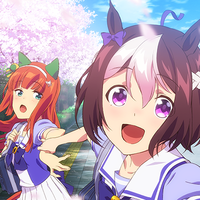 When it comes to Umamusume: Pretty Derby, "horse girls are athletes and also idols" is already a lot to try and swallow. But there's actually more to the cute multimedia project than a twist on idol-raising -- all the horse girls featured are real!
Before you go out searching for a horse girl of your own, though, let us be more specific: all the horse girls are based on real Japanese racing thoroughbreds throughout history. Not only that, their competitions are the same as Japan's real-world races! (Well... minus the horses having to get up and sing at the end.)
Could Umamusume: Pretty Derby stealthily turn you into a racing fan? Let's see what the show has already taught us.
The Real Thoroughbreds of the Pretty Derby
Meet the real-world version of Special Week. He may not be quite as built for dancing as our Spe-chan, but the two have a lot in common. Besides having the same coloration -- brown with a white blaze -- he had a similar start. Like his horse girl counterpart, he came in first at his maiden race, beating 13 opponents (though Legacy Hunter was the name of his close second).
And just for fun, here's the real Silence Suzuka. Like Special Week, it seems the designers made sure to match the horse girls' chosen color scheme to the real-world horses and jockeys. Sadly, the real Silence Suzuka retired due to an injury just a few years after his debut. Will we have to worry about his Umamusume counterpart doing the same?
It's not just our two leads, either: every horse girl's namesake exists or has existed here in the real world. Want to make things extra confusing? The real Special Week retired from racing and became a sire. Among his famous offspring is champion thoroughbred Zenno Rob Roy -- who also appears in Umamusume! (Don't think too hard about that, though -- by that logic, Spe-chan would also be related to Vodka!)
Preparing to Race
In order to become Japan's best horse girl, Special Week has to attend a special academy. There, she and her fellow horse girls train up in athletics, academics, and (apparently) singing and dancing. But viewers can also learn a thing or two from the girls' studies, because their lessons actually teach you about how Japan's racing scene works!
In episode 2, we get a run-down of the Japanese Triple Crown. In order to earn the coveted title, a horse girl (and a real world horse) must conquer the 2000-meter Satsuki Sho (in China), the 2400-meter Tokyo Yushun, and the 3000-meter Kikuka Sho in Kyoto. There have only been seven Japanese Triple Crown horses, and if you've seen that second episode, you know who at least three of them are:
From left to right: Narita Brian, Symboli Rudolf, and Mister C.B.
So, wait... are we saying that Umamusume actually follows the history of Japanese horse racing? Well, to a degree, yes. Granted, horses from all different eras are grouped together into one setting (the above Triple Crown winners are up to a decade apart from each other), so it's not quite a perfect historical match-up. But the facts are there!
In that case... does that mean we get a few insider tips while we're here?
How Will Special Week Do?
Well, that would be telling!
That said, if you felt like studying up on the history of the real Special Week, you might just get some insight into how her successes on the racetrack may go. Given it's (sort of) a sports anime, we can probably guess how the plucky brunette newcomer will fare. But you may find yourself searching around online to find out what you can about the horse girls' real world inspirations in advance.
And if not? Don't be surprised if you walk away with a lot more knowledge than you bargained for about Japanese horse racing. Because, minus the fact that horses are cute idols, the world of horse racing and the world of horse girl racing aren't all that different!
-----
Kara Dennison is responsible for multiple webcomics, and is half the creative team behind the OEL light novel series Owl's Flower. She blogs at karadennison.com and tweets @RubyCosmos. Her work can currently be read in Stranger Tales of the City from Obverse Books.