There's a horse in the race for everyone when it comes to sports this season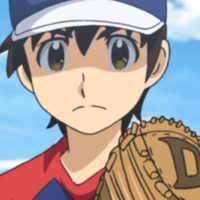 If you're anything like me, the first question you ask every season is: What are the new sports anime airing this time around? Some seasons have one or two, and some have none – barring the eternal runners like Yowamushi Pedal, which is on its fourth season now, bless its soul. But even when we get a handful, it's hard to deny that they can end up feeling a little too similar to each other. Luckily for us, Spring 2018 has come out with sports anime in full force, giving everyone a reason to tune in to their weekly dose of adrenaline and competition.
So, the question becomes not "is there one?" but "which one do I choose?" and we have a handy guide to help you find the sports show for your tastes this season!
YOU: "I want a traditional sports story – underdogs, guts, determination, and most importantly, heart-pumping action!"
YOUR ANIME: MEGALOBOX
Tell me if you've heard this one before – a down-on-his-luck outsider finds a place for himself in the rough and dirty underbelly of competition, only to find meaning and, hopefully, freedom through their talents. Oh, and there are robot-enhanced arms to help them out. Welcome to MEGALOBOX. Osamu Dezaki's 70's masterpiece Ashita no Joe has been given a makeover, adding a cyberpunk setting and hip-hop aesthetic to the proceedings.
MEGALOBOX has all the thrill of watching two passionate athletes go all out on each other with the added spice of visuals that pack a punch and a soundtrack that makes even the cheesiest lines feel inspiring. Whether you're familiar with the seminal sports classic or a complete newcomer, this 50th anniversary reimagining of the classic boxing show will surely fill all of your blood and sweat desires.
YOU: "Sounds good, but let's rein it in. I'm all for the classic sports beats but want something a little more grounded."
YOUR ANIME: MAJOR 2nd
Many of us have been kids with a lot of ambition before, joining clubs or teams with the dream of being the best in the field. Most of us haven't, however, had the privilege and pressure of actually being the child of one of the most celebrated athletes of our times – which is exactly where Daigo Shigeno finds himself as he finally gets the chance to prove himself in his elementary school baseball team.
Much like MEGALOBOX, MAJOR 2nd comes from another source, the long-running mid-00s series MAJOR which covered our new protagonist's now-famous dad Gorou Honda all the way from Little League to the Major League. Think Boruto vs Boruto's dad. Despite that gigantic prequel series, MAJOR 2nd manages to stand entirely on its own, assuming the bare minimum knowledge that Daigo's father is a big deal. Everything else is its own story entirely, following Daigo as he struggles to pursue his dreams with the weight of his dad's legacy on his shoulders.
YOU: "Underdogs, kids, it feels like we get these kinds of stories all the time. Where are the adults? What's it like working in sports professionally?"
YOUR ANIME: Gurazeni: Money Pitch
OK, so we're not all latent prodigies waiting to be discovered or the children of timeless talents. What if a sports anime decided to talk about the realities of working professionally in this field as an adult? Gurazeni: Money Pitch is here to satisfy that curiosity, following Bonda Natsunosuke, a left-handed relief pitcher for a professional team.
Unlike our previous heroes, Bonda isn't out here to find his place in the world or come out of the shadow of his family's legacy – he just wants to make sure he makes enough money to live on before he retires. Gurazeni has a unique perspective on the game as a profession as Bonda doesn't necessarily focus on if his team is winning or losing as much as ensuring he personally does well, because that's what the people determining his salary are going to focus on before anything else. It also follows some other players like Bonda who pursue other avenues of income for post-retirement, such as commentating, and even the struggles of newer pro players.
YOU: "This has gotten too real. I want to go back. Give me the most off-the-wall, ridiculous thing you can throw at me."
YOUR ANIME: Umamusume: Pretty Derby
Horse racing is exciting. What if the horses were girls? What if those girls were reincarnations of race horses from another universe? What if the winning horse girls also gave thrilling idol performances after winning to prove that they are just that good? Hoof it over to Umamusume: Pretty Derby for the answers to all of these questions and more.
Don't let the ridiculous premise get in the way – from goals to focus to payoff, Umamusume ponies up on the important sports elements, including training and blood-pumping races. In case you still weren't sold on the authenticity and dedication of this show, the athletes are even named after real-life race horses.
If you're like me and have a bit more loose definition of "sports" anime, I have to recommend the online gaming anime Sword Art Online Alternative: Gun Gale Online. Also, if you're still not on the train, catch up on Yowamushi Pedal; I promise it's worth your time. Until then, I hope you find something to enjoy from this list, and if you have your own sports recommendations from the past or present, I'd love to see them in the comments!
---
If you want to talk about sports anime, David Lynn is your guy. You can get him excited about weekly anime on Twitter @navycherub or hear him gush on his podcast @Tsunday_Best.