How Kino's Journey author Keiichi Sigsawa brings his dry, dark sense of humor to the new Sword Art Online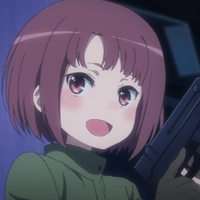 The world of Sword Art Online needs no introduction. The popular series, based on the light novels by Reki Kawahara, has been one of the most popular anime in Japan and the United States over the last several years. Sword Art Online II introduced the VR world of Gun Gale Online, a massively multiplayer shooter with a dark and gritty edge, a setting which attracted self-described gun otaku Keiichi Sigsawa. Sigsawa, who uses a pen name that's a combination of Keiichi Morisato from Oh! My Goddess and gun manufacturer SIG Sauer, is best known to anime fans for writing the light novels of Kino's Journey and Allison & Lillia. To say he has a different sensibility from Kawahara would be an understatement, and fans wondered what his spinoff on the world of Gun Gale Online would look like.
The best answer turned out to be the bizarre, dark final episode of last fall's Kino's Journey -the Beautiful World- anime. Unlike the fairly grim 2003 Kino series directed by Ryuutarou Nakamura, the 2017 Kino allowed Sigsawa's dry sense of humor shine through. In the episode, Kino faces off against a herd army of apparently bloodthirsty sheep. The episode provided some self-evidently ridiculous visuals like this:
Some of the ridiculous bravado of aiming at a determined, deadly sheep from the bottom of a ravine with a sniper rifle carries over the final image of Gun Gale Online's opening credit sequence, where heroine LLENN and her onee-chan Pito aim laser sights at the moon, dying it a blood red.
That's a ridiculous amount of bravado, sure, but how do we know Sigsawa is in on the joke, and not just ridiculously enthusiastic about guns? He would admit as much, and the first episode of Gun Gale Online is mostly given over to descriptions of detailed team tactics, especially taking advantage of the fact that only the team leader is tracked on the radar, and using this for misdirection. The rapport between LLENN and Squad Jam teammate M is informative but dry, and the show appears to be more about tactical play than humor. That is, until the episode's excellent punchline.
The routine team play is overturned when LLENN, hiding in a suitcase on the ground, pops out and takes out an squad of military professionals. The sight of seeing an elementary school girl in a bunny outfit taking on an elite squad (who, remember, only could rappel so quickly because they knew how to do it in real life) is enhanced by a burst of skillful animation. It's absolutely ridiculous, but completely satisfying, and the second episode only builds from there.
In episode 2, we learn LLENN is actually university student Karen Kohiruimaki, who has a complex about being six feet tall. She decides to try VR gaming to escape from her unpleasant reality, and only ends up in gritty, grimdark Gun Gale Online because her automatically generated avatar is like the short young schoolgirls she looks upon with envy. In boot camp, she learns she has an affinity for small submachine guns, and decides to deck herself out in pink to complete her kawaii aesthetic. By some strange chance, the desert in Gun Gale Online is pink (lots of feldspar in the rocks?) making her outlandish pink bunny getup the perfect camouflage. Because she wanted to be small, cute, and pink, LLENN manages to get a reputation as a bloodthirsty player killer in the darkest, grittiest MMO around. As other players say with horror, "Even its guns are small? That's hardcore."
The addition of Pito perfects the ridiculous scenario: A mysterious woman who enjoys the dark, edgy atmosphere of Gun Gale Online, she sports two face tattoos to scare off unwanted advances from men. Pito takes the tiny bunny girl under her wings and tries to teach her how to succeed in the brutal MMO. She helps her charge find a deadly weapon, which LLENN christens "P-chan," and provides her with the following advice:
The staging of the scene is that of a mentor and trainee, senpai and kohai, like we've seen a million times before. But the bizarre extremes the characters represent, the over the top, florid language, and dramatic score make this scene delightfully ridiculous.
And just in case you're still worried Sigsawa isn't in on the joke, he appears in an episode 3 voice acting cameo as "a writer who is so obsessed with guns he puts them in everything he writes." He sure looks like he's having fun!
And so am I. Gun Gale Online is an enjoyable adventure comedy I didn't even know to expect.
What is your favorite Gun Gale Online joke?
---
Thomas Zoth is a features writer for Crunchyroll, blogs occasionally at Hungry Bug Diner, and appears on podcasts at Infinite Rainy Day. You can follow him on Twitter at @ABCBTom.