This week, we take a look at the first episodes of "Crossing Time" and "Kakuriyo"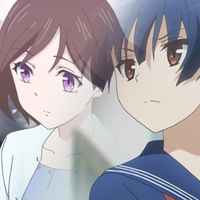 Looking for an uncommon love story? Or a tale of unexpected meetings? Our choices for this week's column are anything but your typical meet-cute... and they definitely don't end in dates!
Whether you're curious about the bite-sized anthology series Crossing Time or the spirited adventure of Kakuriyo, we're here to help. Sneak a peek at the all-important premieres and see what will keep you coming back for more!
Crossing Time
There's nothing like short-form anime to fill those little gaps in your day, when you wish you could be pulling from your queue but you don't have half an hour to spare. Crossing Time is the latest addition to your anime snacks, a cute little anthology series all about life, love, and friendship as seen at a railroad crossing.
Our characters swap out every week, but the three minutes we spend with Tomo and her beloved Ai-senpai are still enough to give us an idea of who they are and what we're in for once they've moved on. Starting with Ai-senpai lamenting wasting her youth at a railroad crossing, we launch into an unexpected confession and a look at what "being young" really means... to these two, anyway.
The Hook: The moments we see at the crossing aren't necessarily life-altering or highly dramatic. But they are notable moments, and they all have one thing in common: the crossing itself.
These moments are boring, occasionally awkward lapses of silence, punctuated by one loud and turbulent moment as the train goes by. Is that moment used to hide something? Accentuate something? Each short story becomes a focus on those few seconds of roaring train noise, and what could happen in them. It's not fantasy or high art, but it's a clever way of playing with a simple, everyday moment.
Who Is It For: The stories tend to follow schoolkids, so they naturally tend toward themes of school comedy. If you're a fan of the genre and want something short and sweet to add to the list, this is a good fit. Though, at three minutes per episode, you can't go wrong giving it a look and seeing what you thing.
Kakuriyo -Bed & Breakfast for Spirits-
Fans of anime and Japanese folklore have probably noticed that meeting up with fantastical creatures doesn't always go particularly well. Sure, you get to meet animal-people and fairies, but you're also highly likely to get your name stolen, watch your parents get turned into pigs, or -- in the case of Aoi -- find yourself betrothed to an oni because your grandpa went on a gambling bender one night.
The college-aged Aoi, abandoned by her mother over her ability to see spirits called ayakashi, finds herself in even more trouble when a gift from a hungry spirit lands her in a bed and breakfast in an alternate dimension. Worse still, the B&B's ogre owner has claimed her in marriage, citing an IOU from Aoi's grandfather. He, too, could see ayakashi, and traveled freely between worlds. But now that freedom has cost Aoi... unless she can find a way to pay off her grandfather's debt without giving herself up as the ogre's bride.
Fortunately, and unbeknownst to her, she's been preparing for this day all her life.
The Hook: Thanks to help from a nine-tailed fox name Ginji, Aoi has the means to set up an eatery on the B&B's grounds.
See, it just so happens Aoi's grandfather taught her how to cook to suit ayakashi tastes so she could drop them lunch boxes to keep them from feasting on humans. This talent means she can whip up dishes for patrons who don't want to eat in the inn's fancy restaurant. How it will go remains to be seen... but if it means Aoi can do something she enjoys while not being handed off as collateral, we're all for it.
Who Is It For: If you're a fan of otherworldly shows and Japanese folktales, Kakuriyo is a fun opportunity to play "I Spy" with familiar fantastical creatures. It's also got some very pretty food in it -- Aoi's omurice with sweet soy sauce really does look good enough to eat! And the opening theme by Nao Touyama is an instant earworm.
-----
Kara Dennison is responsible for multiple webcomics, and is half the creative team behind the OEL light novel series Owl's Flower. She blogs at karadennison.com and tweets @RubyCosmos. Her work can currently be read in Stranger Tales of the City from Obverse Books.