How Mabanua's iconic soundtrack for MEGALOBOX grows out of titles pioneered by Bebop's Shinichiro Watanabe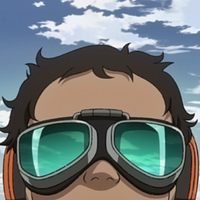 Some anime have great soundtracks. Other anime are impossible to imagine without their soundtracks. Trying to imagine FLCL without the Pillows is an impossible feat because the music is an integral part of the experience. And those shows that make music an integral part of the experience achieve something truly special, much like how a feature film's soundtrack is an important choice that sets the tone for the entire movie. We're only five episodes in, but this approach already appears to be paying off for MEGALOBOX.
Megalobox's music is being helmed by Mabanua, a Japanese music producer with only a few anime credits to his name. But from the junkyard dog howl of the opening, "Bite," to the cathartic neon-soaked hip-pop of the closer "Kakatte koi yo," he owns the territory like it belongs to him. There's the increasing dissonance of the strings as the enmity between Junk Dog and Yuri grows in their near-duel in the rain. Junk Dog's hand-to-mouth existence in the junk town is introduced with the hungry working class rap of the above "Great Track Number One." And in the latest episode, the desolate expanse of the battlefield is expressed through the vacant rumble of the synth. And all these songs are so perfectly matched that I had to go back and re-listen to a lot of my favorite scenes to consciously hear the music since it often blends with the tension and emotion of the show so strongly.
At what point did anime music become crucial to its storytelling? One answer might be Macross, where pop music is charged with saving the galaxy. A more directly relevant answer might be 1994's Macross Plus, where a young director who believed in the power of a soundtrack to tell a story, Shinichiro Watanabe, and a talented young composer, Yoko Kanno, brought computer generated virtual idol Sharon Apple to life through a series of animated concert performances.
Watanabe and Kanno would reunite later, along with her jazz band, The Seatbelts, for 1998's Cowboy Bebop. Moreso than even Macross, here was an anime devoted to telling the story of its music. This was true from episode titles that referenced popular songs and music titles, to its legendary opening and ending songs, "Tank!" and "The Real Folk Blues." One of the most popular episodes of the series, The Ballad of Fallen Angels, has a lengthy sequence where Spike falls out of a window to the haunting "Green Bird." Recounting all of the musical highlights of Bebop would be a difficult, if enjoyable, task – but suffice it to say, there is a reason the new collector's edition of the series intends to include a vinyl pressing of the soundtrack.
Cowboy Bebop's singular influence might be enough for a legacy, but Watanabe's influence on anime music continues further. He brought in nujabes (RIP) and fat jon for Samurai Champloo, one of the first anime to create a prominent place for hip hop in its worldbuilding. Almost certainly a key influence on MEGALOBOX was Watanabe's role as music producer of Sayo Yamamoto's Michiko & Hatchin, which brought in Brazil's Alexandre Kassin, a samba and funk-styled musician to lead the soundtrack, as well as a samba-flavored opening by Soil & "Pimp" Sessions.
Watanabe's role in music production would continue in Kids on the Slope, which would reunite him with Yoko Kanno, and Space Dandy, which featured Yasuyuki Okamura's anthemic "Viva Namida." But no decision on either show might be as influential as choosing tracks from one Mabanua for both Slope and Dandy. Having proved his versatility for both of these series, it appears Mabanua decided (or was asked) to tackle MEGALOBOX as a next step.
Not even MEGALOBOX's series director Yoh Moriyama is completely free of Watanabe's influence, having done key design work on The Woman Called Fujiko Mine, another Sayo Yamamoto series for which Watanabe once again produced the music, bringing in veteran jazz musician Naruyoshi Kikuchi. Moriyama also did production work on Takeshi Koike's Redline, which synchronized with its James Shimoji score to be a full sensory overload.
Shinichiro Watanabe pulled a lot of people into his orbit due to his clout from Cowboy Bebop, and with MEGALOBOX, these creators are now joining forces apart from him to create new masterworks of their own.
What anime soundtrack is one of your favorites?
---
Thomas Zoth is a features writer for Crunchyroll, blogs occasionally at Hungry Bug Diner, and appears on podcasts at Infinite Rainy Day. You can follow him on Twitter at @ABCBTom.