Check out the best animation craft last week's anime had to offer!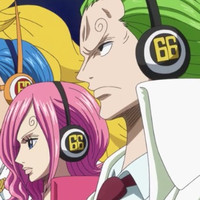 Editor's Note: This week, we welcome you to a brand-new weekly feature, which will cover the highlights of animation craft from currently airing shows – as selected by our friends over at Sakugablog!
---
Although it's impossible to dissociate pieces of animation that carry emotional weight from their context, looking back at impressive sequences can be quite the enlightening experience. Not only is there a lot to learn from the artists who put them together and the techniques used, all that knowledge can also provide a better understanding of what made those scenes impactful in the first place. And to help you with that, we'll be highlighting a few of anime's most eye-catching new bits of animation on a weekly basis!
If we're talking about sheer impact, few moments this week have made as much of a splash as the appearance of Germa 66 in One Piece by the hand of Naotoshi Shida. Over 4 minutes of the episode are occupied by his key animation, a lengthy contribution that encompasses what makes him so beloved. There's the character art that's sturdy when still, but moves as if characters were made of effects animation when in motion. His skill enables endlessly flowing setpieces, accompanied by very characteristic quirks like those short wobbly loops that are incorporated even into impact frames.
Shida's modern work is undoubtedly formulaic, but he delivers exactly what countless fans want, so it's no wonder he's become one of the few animators known beyond specialized circles. It's worth noting that while he's not technically an employee at Toei Animation, he's so well-regarded that they haven't hesitated to embrace him as one of their aces for decades. And since that relationship proved to be mutually beneficial, Shida now works essentially exclusively for the studio by jumping around productions to handle big moments like this.
And it's not just Toei that are ready to unleash their aces when appropriate. Other long-running anime powerhouses like Pierrot are also in a similar situation. The latest episode of Boruto saw the appearance of Hiroyuki Yamashita, who became one of their main animation figures during the production of Naruto. Unfortunately, making anime is no easy business, so when he was promoted to director for Boruto's movie, the overwork of handling those new duties alongside animation and storyboarding sent him to the hospital 3 times.
Yamashita did return for the Boruto TV series, but his approach is relatively more restrained now, hence why we rarely see him doing animation anymore – though his thoroughness can get him to do uncredited corrections of other people's work sometimes. Even though his contribution to Boruto #60 isn't as lengthy as some of his spectacular scenes when he was allowed to focus on drawing, the attractive timing of his animation, the simple but effective shading, and the beautiful effects that caused it are all very welcome!
But let's calm down after all that action and tension. The beginning of every month also leaves us a pleasant gift in the form of a new episode of Today's Menu for the Emiya Family, which tend to be filled with enough delightful sequences to keep you satisfied in between the sparse releases. Far from the flashy digital extravaganza and grand action that has become synonymous with Fate/Stay Night, this series focuses on daily life events and depicts cooking with immaculate precision.
This time around I was particularly impressed by the brief introductory cut showing Shirou mixing the ground beef, even more so once the episode's main flashback brings us to the first time they prepared hamburgers. While as a child Shirou had to concentrate and wasn't all that efficient – which explains why he didn't think of putting a cloth underneath to stop the bowl from visibly slipping while kneading – in the present his absentminded movements are firm and show plenty of experience. Being able to communicate all of this nonverbally is a feat that only the best grounded anime are capable of.
But if all that mundane goodness isn't up your alley, episode 6 also offers some more magical moments. The obvious highlight in that regard are these warm, treasured family memories with an aesthetic similar to the ending sequence. The stylized, rounded forms make me believe this was personally animated by Takayuki Motegi, one of the major figures in the Tokushima substudio of ufotable that is spearheading the production of Emiya Family. Taiga is for obvious reasons one of the characters they have the most fun portraying, so this sweet episode being considered so important that the main staff was entrusted with it isn't much of a surprise.
And with this we'll be wrapping up this first weekly showcase of new animation that caught our attention, but don't take this to mean that's all anime has to offer right now. MEGALOBOX's latest episode showed what happens when a director switches a show from its usual static impacts to a more dynamic approach that test the limits of the animators, Girls' Last Tour's designer Mai Toda reappeared in Gun Gale Online with her economical charm, Hinamatsuri's ace animators keep showing up even in outsourced episodes, and of course there's To Be Heroine to prove just how much of an impact young animators from around the world can have in a production. There's many shows we'd love to get to at a later date, so stay tuned!
---
Kevin Cirugeda is one of the founders of Sakugabooru and an editor and writer for the site's sister blog, Sakugablog. You can find him on Twitter shouting about children's anime, Messi (sometimes), and sakuga memes at @Yuyucow.