Check out the real-world locations of Harukana Receive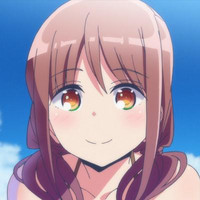 Beautiful beaches, crystal-clear water, and Shisa statues everywhere. Okinawa has been one of the locations I've been wanting to write about in my column for a very long time now, and thanks to Harukana Receive, the time has finally come!
There simply couldn't have been a more fitting setting for this summer anime about beach volleyball than Okinawa, since Japan's southernmost prefecture is probably the country's best destination for a beach vacation. And Harukana Receive also looks the part; the show's bright and colorful aesthetics perfectly capture the subtropical island's atmosphere. It certainly is understandable that Haruka seems more like a girl going on a beach trip than one who has spontaneously transferred schools in the middle of the semester. After all, she's got such a lovely little beach to play volleyball at right in front of her new home! However, the "Hawaii of Japan" boasts beautiful beaches en masse, so the problem for me was to find the right one from the anime.
*All images were taken with GOOGLE STREET VIEW

Navitime
I got my crucial clue from closely examining the image above, taking a very, very close look at a little detail in the far background. If you look closely enough, you'll find a small red pillar in the lower-left hand corner of the screenshot, which is none other than the Kaichu Doro Bridge. The eye-catching 4.7km-long sea road connects Okinawa with four smaller islands, so it's a shame that we still haven't gotten a good close-up of the massive construction in the anime.

Spotting the bridge helped me locate the chimney of the Fishagawa Thermal Power Station, making it easy to identify the anime's main beach: Gushikawa Beach!

Gushikawa Beach is a small beach in Uruma City, far less crowded than most beaches in Okinawa. But that might change in the future, as the quiet beach has been featured in every episode of Harukana Receive so far.


Kanata's and Haruka's house is supposed to be right next to Gushikawa Beach in the anime, but unfortunately doesn't exist in real life. That's a real shame, since the lovely home possesses all the typical elements of an Okinawan house. It's a big open house with a red roof, a protective Shisa statue on top, and a dark stone wall surrounding it. Past the entrance is also a typical himpun, a second wall to ward off evils. Their home also has a water reserve tank, which stems from a time when water supply was chronically short in Okinawa. While practically obsolete nowadays, still more than 80% of all structures on the island are equipped with such a water tank.


In the distance you'll see Miyagi and Henza Island, which are connected to Okinawa by the aforementioned Kaichu Doro Bridge.

Haruka transfers to Uruma High, which was modeled after Maehara Senior High School in Uruma, not too far from Gushikawa Beach. On her first day of school, Haruka immediately gets asked by fellow classmates if she's already been to Rycom.

That's because the AEON Mall Okinawa Rycom is the biggest shopping mall in the prefecture, housing over 200 shops in a 5-story complex, and is only a short drive away from their school. The shopping mall's unusual name stems from the Ryukyu Command (Rycom, for short), and is built on old land from the U.S. military.

Large Shisa statues flank the shopping mall's entrance, although they are located a bit further outside in real life. The creatures resembling a cross between a lion and a dog are guardians from Okinawan mythology, and are the undeniable symbol of the island. They're a variation of the Chinese guardian lions and are supposed to ward off evil. They usually come in pairs, often located at entrances or rooftops, one with his mouth open to scare away evils and the other with mouth closed to keep in the good.

Haruka didn't event waste time looking at the large aquarium in the mall, as all she cared about was getting matching swimsuits with Kanata.


She then took a little longer to get back to the group, as she was buying some traditional Okinawan fabrics. Specifically, a traditional minsa pattern to spice up her beach volleyball swimsuit. As the Éclair sisters later explain, the alternating pattern of rectangles means "love forever."


The white structures on Henza Island in the distance here are huge crude oil storage tanks, which make up most of the island.

Ukun Beach is another beach in Uruma, and is the setting for the beach volleyball tournaments in the show. The beach's facilities don't match up perfectly, but still look similar enough.
I'm sure it won't be long before an actual beach volleyball net gets installed at the real Gushikawa Beach thanks to Harukana Receive!
Who has been your favorite character in Harukana Receive so far?
---
Wilhelm is an anime tourist, who loves to search for and uncover the real-world spots he sees in anime. You can talk with him on Twitter @Surwill.