Check out the best animation craft last week's anime had to offer!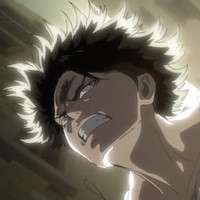 Attack on Titan fans had quite a nice week. After all, it's no exaggeration to claim that the production of the latest episode was put in the best hands possible – something that was a very deliberate move on the part of the staff!
This third season of Attack on Titan has so far presented a prospect that's not easy to sell: Attack On Titan With Little To No Titans. Whether you find the overarching narrative of the show compelling or not, most fans of the anime tend to enjoy its bombastic action – those kinetic sliding spectacles that aren't quite like any other anime setpiece out there. And by holding back on those to focus on confrontations within the human factions, there's part of the appeal of the show that's inevitably gone… unless you can put together a suitable replacement, like, for example, a frantic Spiderman-like chase that scratches a similar itch.
Even before the exceptional animation kicks in, the success of Attack on Titan #39's action sequences begins with the storyboard itself. You might have noticed its seamless flow, with plenty of smart invisible cuts to give the feeling of longer uninterrupted sequences while still being a feasible prospect for the animation team. Perhaps what you found most satisfying were the moments where the action frenzy slows down to a crawl to relish in the most visceral or tense moments. Or maybe it was the exceptionally immersive vision behind even the most simple sequences – an approach rarely taken in anime but that's doable for a title where the 3D background animation is its bread and butter.
If you enjoyed any of those quirks or simply how thrilling the whole ordeal was, you should direct your gratitude towards Takayuki Hirao. The genius behind the likes of The Garden Of Sinners' 5th movie, Majocco Shimai Yoyo to Nene, and Futakoi Alternative never received quite as much fan acclaim as the people behind ufotable's most popular modern titles, but he was definitely the studio's creative leader. Now that he's left the studio behind and spends all his time assisting his good old friend Tetsuro Araki, Attack on Titan has gained a tremendously good director with an impeccable sense for action. He's the production's secret weapon, so of course he'd be entrusted with conceptualizing this episode.
If you're at all acquainted with the production of Attack on Titan, though, you might be wondering whether a certain someone else was involved or not. After all, Arifumi Imai has become synonymous with Attack on Titan's most stunning pieces of action. To the surprise of no one, he did indeed co-supervise this episode while also contributing a massive chunk of animation for it. But it wasn't only that: Imai took Hirao's general ideas and proceeded to draw his own storyboards for the entire chase sequence, the most vibrant part of the third season to date. His charismatic style has enamored fans and coworkers since the very start, which led to it spreading throughout the production.
From his glorious overuse of wind effects for the sliding that expose his 2DFX specialist persona to the timing of the animation that aids the integration with the CG backgrounds, Imai's approach has become an integral part of this show's identity. When people think about the unique action of Attack on Titan, very often what comes to mind is the flair that he has brought to the production. That's something even the management staff behind the series has realized, which is why his sequences are treated differently from the rest. Imai is often asked to storyboard his work with promotional videos in mind and to get it animated beforehand because the people at the studio know there's no better hook than his high octane animation. He's truly worthy of being called their animation ace!
You'd think that, after so many iconic scenes following a clear pattern, Imai wouldn't be able to surprise us anymore, but his collaborations with the likes of Hirao always lead to fascinating results. This time around he took that idea of immersion and brilliantly built on it by sticking the camera very close to Levi and having him constantly sliding towards and away from the camera in a way that's very involving for the viewer. It's a breathtaking, grandiose technical display that still pays mind to the little details, from Levi's very precise expressions to the smeary linework right on the face of the viewer that creates a speedline effect in a very organic way. Even if you're into this series exclusively to see people fight big humanoid monsters, it's hard not to be drawn into this!
What was your favorite part of the most recent episode of Attack on Titan?
---
Kevin Cirugeda is one of the founders of Sakugabooru and an editor and writer for the site's sister blog, Sakugablog. You can find him on Twitter shouting about children's anime, Messi (sometimes), and sakuga memes at @Yuyucow.