Fashion and anime worlds collided for some amazing looks!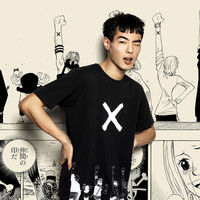 Some say beauty is in the eye of the beholder. Well, I'm the beholder and have arranged the most chic selection of the most ambitious crossovers in recent history, anime and fashion!
The following list will be based on the single most important aspect of fashion, how well each collaboration brings out the inner charm of the anime it's representing. From handbags to shirts to socks to skateboards, this list will give you some great fashion inspiration to really anime up your wardrobe, or simply take a look at some interesting ways in which the world of anime has been brought to life in fashion!
10. Super Groupies x Puella Magi Madoka Magica

Shoes are an interesting item for a collaboration, and we'll take a look at a few more sneaker collaborations later in the list, but this one starts us off with simplistic and elegant designs fit for Puella Magi Madoka Magica! This collection from Super Groupies features every Puella Magi Madoka Magica character represented in shoe form, with their respective colors, emblems, and other little touches for the main cast. Super Groupies even continued the collaboration to include the movies, creating renditions of their Homura and Madoka shoes to reflect the changes each girl goes through during the course of the films. The shoes all feature a unique, soul gem-esque heel, color coded to the girls they represent as well! One of the nicest things about them is that the shoes are also quite beautiful and would easily fit into almost any wardrobe that's in need of some magical footwear!
9. Bait x Diadora x Astro Boy
When picking collaborations, it's pretty hard to pass up on one that features one of the most iconic anime characters of all time! Astro Boy is a world famous character, and Bait teamed up with Diadora to create a memorable and stylish collection of clothing to celebrate him. The collection features sneakers, hats, socks, jackets, and more, allowing you to really kit yourself out in full style! While it doesn't give you rocket boots or a butt machine gun, it will give you lots of street cred with the subtle mixture of cute and stylish fashion!
8. Anna Sui x 7 Manga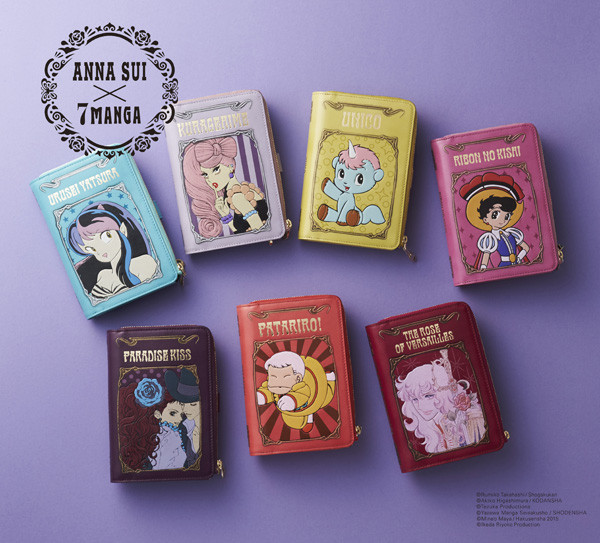 We first reported on this collaboration happening in 2015, and the collection really turned out to be outstanding! Each of the unique items made for the collaboration worked to create something fashionable and stylish, ranging from purses, handbags, shirts, and more! Plus, it was an amazing collaboration featuring beloved series like Unico, Paradise Kiss, Patalliro!, Rose of Versailles, Princess Jellyfish, Princess Knight and Urusei Yatsura. You would be hard pressed to find a collection of titles that great represented in one place, and Anna Sui made sure that each design held the essence of their originating series!
7. Air Jordan x Slam Dunk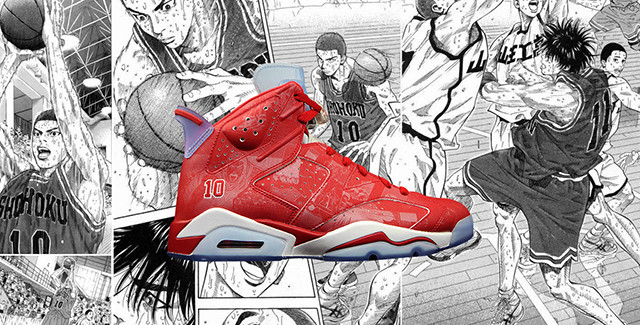 Where the Astro Boy collaboration went for a slightly minimal style and homage to its designated series, the Air Jordan 6 Retro Slam Dunk shoes go for a much more in your face design. The sneakers feature a stark red and white color mixture to invoke the jerseys of Shohoku high, and are emblazoned with the number 10, worn by series protagonist Sakuragi Hanamichi! Not only do the shoes feature the colors and numbers of the manga, they're also designed with panels of the manga printed onto the shoe itself, using red and white coloring to make them stand out. Like most Jordans, this one is a great collectible piece of fashion, but the attention to specific details really make this collaboration a slam dunk! (...Sorry, I couldn't help myself there!)
6. Gucci x Hirohiko Araki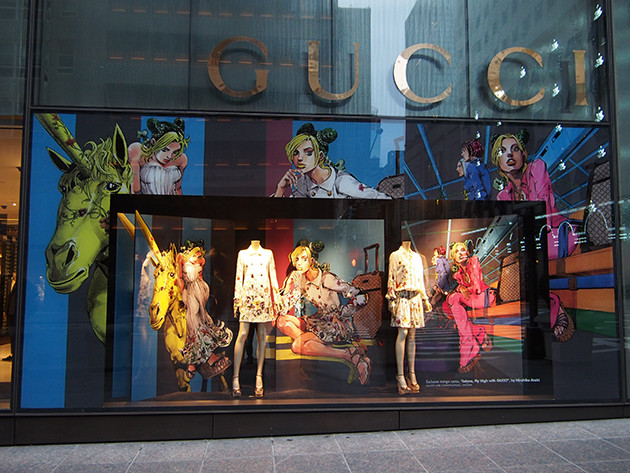 If you're a fan of Hirohiko Araki's JoJo's Bizarre Adventure, you're probably not going to find this collaboration very surprising: two artists known for extremely stylish and evocative designs, united under one roof! The most intriguing thing about this collaboration was the timing, starting when Araki was about to celebrate his 30th anniversary, and Gucci their 90th! Araki has had other collaborations in the past, such as his manga devoted to the Louvre, featuring Diamond is Unbreakable's Rohan Kishibe. For this Gucci commission, Araki took existing Gucci designs and worked them into his art, styling characters in the brand's designs from head to toe, and accessorizing with iconic Gucci handbags. He even created a special manga that ran in SPUR magazine, once again featuring Rohan as the starring character, visiting Gucci headquarters!
5. Skechers x One Piece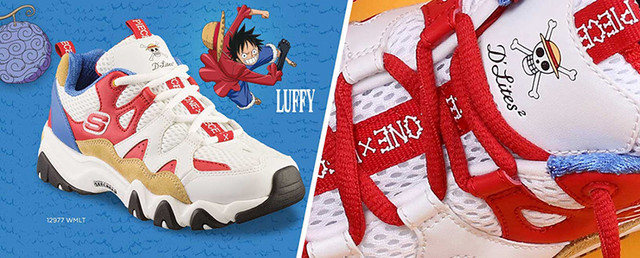 When you're trying to become Pirate King, style may not be high on your mind, but the Straw Hat Pirates have always had some stylish looks, and you can join them with these cool kicks from Skechers! The series of D'Lites features shoes emblazoned with One Piece characters like Luffy, Zoro, Sanji, and Chopper, with more designs on the way, including Law and Doflamingo! Each shoe is color coded to the character and features small touches that help tie the design together: Luffy's shoe has the classic red, blue, and white design, and the Straw Hat Pirates logo on the tongue. Meanwhile, Chopper's shoe features his iconic mixture of blue and pink sakura petals. Each shoe's tongue has a special Jolly Roger design, with Luffy sporting the famous Strawhat Pirates logo, while other characters have unique designs of their own!
4. Primitive x Dragon Ball Z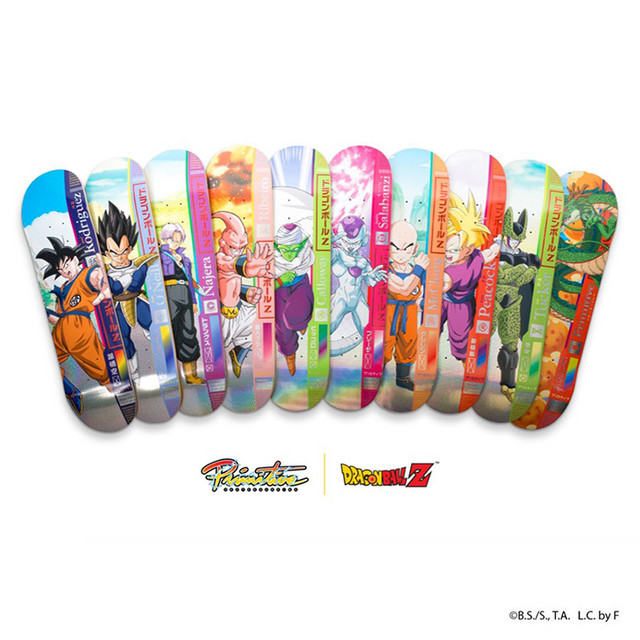 For anime fans of a certain age, you might remember the 90s trend of mixing skate culture with anime, notably in the form of a brand known as Hook-Ups, featuring scantily clad anime girls on their designs. In 2018, skate brand Primitive teamed up with the iconic Dragon Ball Z franchise to produce a line of skate decks, wheels, clothing, mugs, and more! Primitive's line is colorful and stylish, with the most iconic characters front and center in their designs, even featuring Shenron! Primitive's line gives you a great way to show off your love for your favorite Dragon Ball Z characters while also looking stylish while you grind, or you could simply collect each of the decks for display on your wall! Either way, this colorful collaboration really takes advantage of the bright visual styles of Dragon Ball Z's characters to create some memorable clothing and accessories. And, speaking of Dragon Ball Z, that brings us to our next item...
3. Adidas x Dragon Ball Z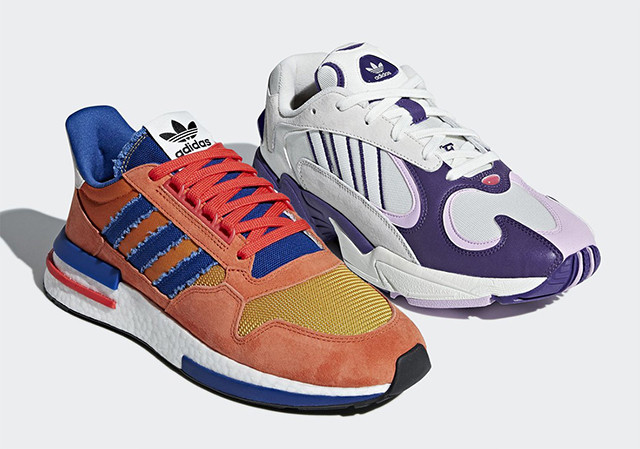 2018 has certainly been quite a year for Dragon Ball, with the ending of Dragon Ball Super capturing global attention, the release of Dragon Ball FighterZ, the Dragon Ball Z x Primitive collab, the announcement of the new Broly movie, and to cap things off, an official Adidas collaboration! Adidas will be working with Dragon Ball Z, moving from saga to saga to create special shoes evocative of many of the iconic characters and battles in the series. The first set are a pair of shoes for Goku and Frieza, with Vegeta, Gohan, Cell, Majin Buu, and Shenron on the way later this year. The most intriguing thing about this collaboration is the way in which Adidas has chosen each character's design to be represented by a different shoe type, allowing each one to really bring out the colors and even character of their namesakes, from Goku's rougher, simpler design to Frieza's alien, rounded aesthetic! The first set will be out later this month, so if you want to get in on this collaboration, keep your eyes peeled!
2. Punyus x Sailor Moon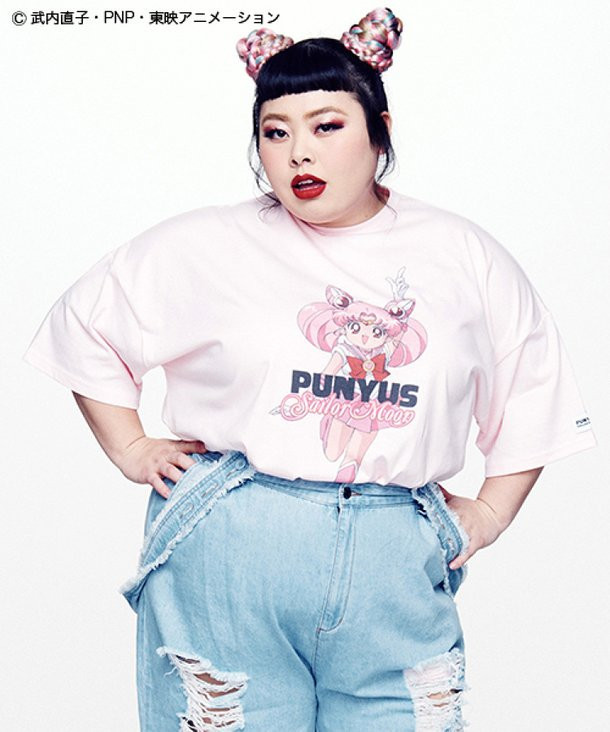 We first reported on this collaboration last year, and it remains one of our absolute favorites! Plus-sized model and comedienne Naomi Watanabe launched Punyus to create designs that would be charming and unique, but most importantly, able for any size to wear. This collaboration brought a whole line of rompers, tops, bags, and of course, sailor themed dresses and skirts for fans of the iconic magical girl anime! Sailor Moon is a series about friendship, love, and overcoming any hardship with team work, and Punyus is a brand about making fashionable and colorful clothing available to everyone, so this collaboration was a no-brainer for inclusion in our list!
1. Uniqlo x Shonen Jump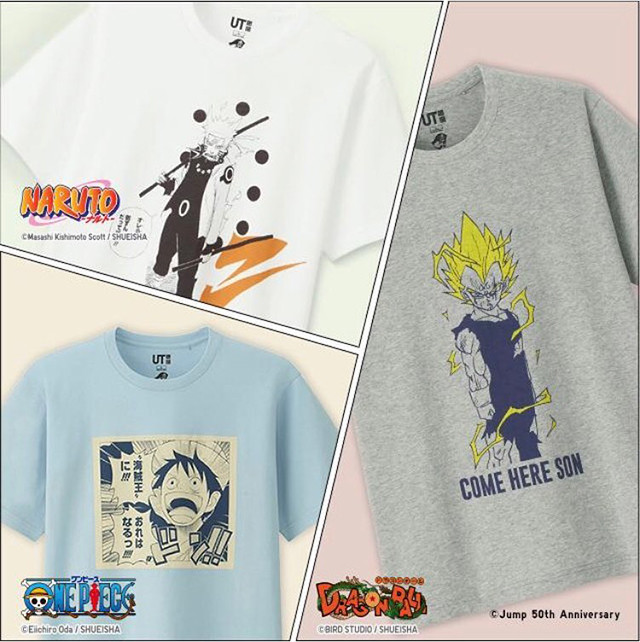 For our number 1 spot, we chose the recent 50th Anniversary collaboration between Shonen Jump and Uniqlo! This mixup saw a slew of unique Jump inspired shirts, each one a stylish and colorful homage to Jump series past and present. Where many collaborations focus on a single, popular title, the Uniqlo Jump collaboration spanned the 50 years of Jump's library, featuring shirts for obvious modern favorites like Naruto, One Piece, Yu-Gi-Oh!, and Hunter x Hunter, historical titles like Kochi Kame, Hell Teacher Nube, and Rookies, and even obscure, lesser known globally titles like Pyuu to Fuku! Jaguar. These shirts attempted to cover the entire library of Jump titles, but they also ensured they did so in various fashions: iconic scenes like the Straw Hat Pirates raising their arms, Killua's killing intent unleashed, and of course, Yamcha's death! Speaking from personal experience, there are so many great designs that you might not have enough closet space for them all! Many of these shirts sold out almost immediately, but if you're lucky, you might be able to still find some for sale online or in a local Uniqlo store!
As anime and manga become even more popular globally, and with many more iconic anniversaries on the way, it seems like we'll be in for a lot more cool fashion collaborations, and while our wallets may cry, at least we'll look fashionable while repping our favorite anime in style!
Know any other anime or manga fashion collaborations that you'd like to see walk our runway? Let us know in the comments!