Shonen Jump set up a manga gallery for their 50th birthday with 50 of their top manga!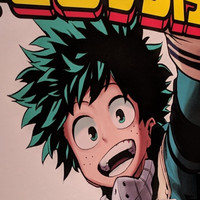 Weekly Shonen Jump turned 50 this year--although technically it's only been weekly for 49 years, but I'll give them a pass because, along with an awesome UNIQLO collaboration that has single-handedly stocked my wardrobe, they're celebrating with an art exhibit showcasing a manga for every year of their publication called "Weekly Shonen Jump Exhibition VOL. 3: The 2000s - The ever-evolving ultimate magazine"! That's right, the original manga pages of 50 of historic Shonen Jump series are on display in the Mori Art Center Gallery on the 52nd floor of Mori Tower in Roppongi Hills Tokyo until September 30th--so better buy tickets now if you want to catch it!
I was lucky enough to visit the gallery which allowed photography, so below I've captured every single page put on display from their current flagships like One Piece and My Hero Academia to legacies like Death Note and Bleach to many series you probably haven't heard of--I hadn't. But first, I grabbed a picture of the Mori building itself, which definitely sets a Heaven's Arena mood…
Before we start, please forgive some awkward angles as I was trying to get pictures without the crowds also taking pictures of these exhibits, also some long loading times on the albums since I took almost 600 pictures of the gallery. If you're looking for some of the biggest shonen hits, they occurred around the middle of the gallery with a number of series before an after.
After riding up to the elevator, we're greeted by this!
The actual exhibition opens with 220 volume 1 manga of Shonen Jump series arranged... chronologically? I'm not quite sure what the dates were supposed to match up with.
As Shonen Jump's flagship series, One Piece was first up among the exhibits, including one of the most elaborate presentations. Turning a corner, you walked into a circular room with mirror walls and spotlights shifting through the color spectrum to illuminate a tornado of One Piece manga pages that radiated outward toward stand-ups of the members of the Straw Hat crew. After exiting the room, you realize the reason it was curricular was because you were in a giant Straw Hat, flanked by even more manga pages.
Next was a display for Kochikame, the second longest running manga in history, which just recently finished up in 2016!
A side door opened up into a miniature room made up to look like the Assassination Classroom… classroom, complete with a chalk board and a Kuro-sensei with a light up head that was alternating between his various moods.
Next up were a number of Jump's sports series, including a corner devoted to Kuroko's Basketball, a wall for Robot X Laserbeam, a large double wall display for Eyeshield 21 with looping sizzle reel, and a huge display for Prince of Tennis including what looks like a timeline of matches in the manga and anime.
Gintama got a comparatively small exhibit but, as I got further in, especially after the announcement it was set to end this year--although it ended up just switching to Jump Giga. There were many smaller exhibits invading the spaces of other manga further down the line which equalled out the size, however, which is a very Gintama way to go about it.
A respectable exhibit for the greatest board game manga about the greatest board game of all time. Hikaru no Go got an awesome wall display to display some of its most memorable pages.
Death Note had the one and only interactive exhibit in an otherwise strictly "no-touching allowed" gallery complete with a physical Death Note you could touch. If you did, the screen broadcasting the area in front of the table would show Ryuk appearing over you to, uh, get you, I guess?
Some Bakuman.
Hunter X Hunter had a huge exhibit broken up by story arc with some truly awe-inspiring wall art to accompany all of its original manga drafts. You can bet they had the manga panel of Netero making his "heart" sign.
Toriko had a smaller exhibits with an elaborate set-up of some fake dinner plates set out by the main characters.
Haikyu!! had a massive, multipanel exhibit dominating a large u-turn into the next area, with plenty of color spreads and impactful pages.
The next area included a number of smaller exhibits, first a hallway of romantic comedies including Strawberry 100%, To Love Ru, and Nisekoi!
Then a smattering of action and comedy series in a large room with exhibits on a central stand on the perimeter wall which served as the preamble to some of Jump's biggest titles. Among the variety were Neuro: Supernatural Detective, Mx0, Nura: Rise of the Yokai Clan, Muhyo & Roji's Bureau of Supernatural Investigation--which just recently got an anime adaptation, Beelzebub, SKET Dance, a bit of JoJo Part 6--really just a bunch of Jolyne, Medaka Box, Black Cat, Pyu to Fuku!, Mr. Fullswing, Bobobo-bo Bo-bobo, The Disastrous Life of Saiki K, Isobe Isobee Monogatari: Ukiyo wa Tsurai Yo, and Inumarudashi.
Then, there was Bleach.
The area had a curved display with many of the fan favorite members of the Soul Society and Arrancar complete with hanging name tags--which were pretty difficult to align with the picture in a packed area--and a sizzle reel playing on a loop, which also made taking the pictures of the manga secured in reflective glass cases a challenge...
REBORN! had a particularly impressive exhibit made up to look like the inside of a Victorian mansion complete with some appropriate lighting and gaudy frames for their pieces. They definitely didn't skimp on the full color shots.
D.Gray-man wasn't left behind either, with a somewhat dizzying checkerboard patterned display, complete with incorporated manga art, dominating three walls.
Finally, I arrived at the Naruto exhibit…
Definitely the most elaborate display after One Piece, it's hard to capture the exact shape of the display, but it was composed of two scrolls that had been unraveled along the wall on the opposite corners of the room, one for Naruto and the other for Boruto. Just walking around the corner and seeing the different era's of Naruto running out of the first scroll, it was hard not to get a little choked up.
My Hero Academia didn't disappoint, with several cardboard stands setup like action figure boxes featuring All Might, Deku, Ochaco, Iida, Todoroki, and Bakugo. As always, Horikoshi's color spreads were absolutely unreal.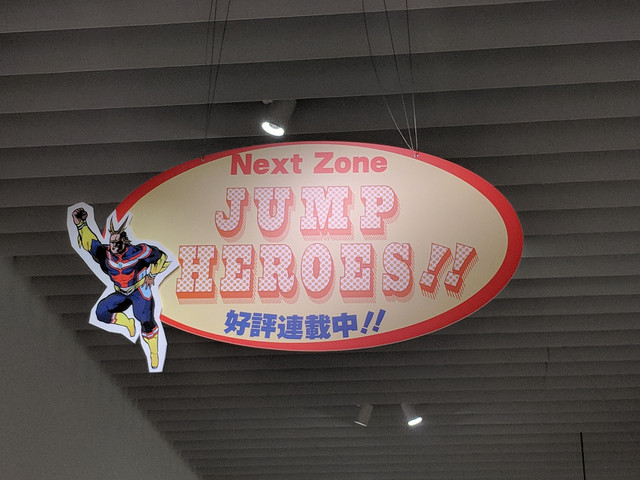 After My Hero Academia there was a divider separating the established titles from some of the newest faces in Jump. Filling out a large room with wall displays and a trianglular central display featuring 3 "open book" style exhibits holding art from three of the biggest up and coming titles in Jump, including…
Black Clover...
The Promised Neverland...
And Kimetsu no Yaiba!
Along the perimeter were more familiar titles like Food Wars!, the recently adapted Yuuna and the Haunted Hot Springs, Dr. Stone, We Never Learn, and Jujutsu Kaisen.
After that was the final stretch! With a small What's up JUMP!? sign which may have indicated the area was devoted to titles that were either on hiatus or moved to other magazines, we had Act-Age, Hinomaru Zumo, Noah's Notes, and World Trigger, totalling 50 manga exhibits!
Before the exit was a giant 50th anniversary logo which, if you look closely, you'll see has been signed and sketched on by many of the Jump mangaka congratulating Jump on its 50th anniversary! Just beyond this alcove with a gift shop where, unfortunately, all photography was prohibited.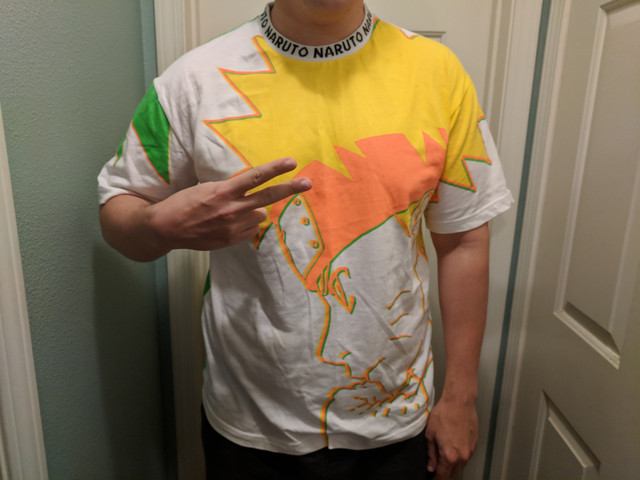 All I can show you is the extremely loud Naruto shirt that I bought. I know it's wrinkly, I just got off a plane.
Just outside the art exhibits was a cafe with windows looking out on the city from the 52nd floor with window and table decals, and a themed menu of various foods, drinks, and dessert. I will never get over the Gon parfait. After that, there was only the elevator back down to the real world.
It was an awesome exhibition! Being able to see so many pages from my favorite manga up close is an experience I'll never forget. Although it's soon to end, I'm sure Shonen Jump isn't done setting up galleries like this. I hope this was a good stand-in for those unable to make it themselves!
So, how about it? Did you have a favorite exhibit? Discover any manga you didn't know were Shonen Jump or new titles that you want to pick up now? Let us know in the comments below!
---
Peter Fobian is an Associate Features Editor for Crunchyroll, author of Monthly Mangaka Spotlight, writer for Anime Academy, and contributor at Anime Feminist. You can follow him on Twitter @PeterFobian.