These episodes bring the treats without the tricks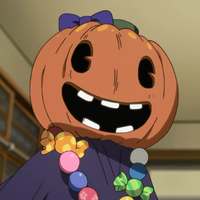 The month of October brings a good season in autumn, and of course, Halloween! It's time to find a good costume, have a good excuse to eat candy, and enjoy the spooky atmosphere that surrounds the holiday. For some of you, that'll mean finding some of the best horror that anime has to offer and watching nothing but that. However if you're like me and not into horror, how can you still get into the Halloween spirit by watching anime? Are there any episodes that let you celebrate the holiday without a focus on scares? While Japan doesn't celebrate Halloween in the same ways that English-speaking countries might—trick or treating isn't really a thing—they still partake in dressing up and the aesthetic of the holiday. You might be surprised that it's hard to find episodes and series that focus on Halloween itself without horror or bring up the holiday at all. So let's take a look at 5 episodes that celebrate Halloween without being scary.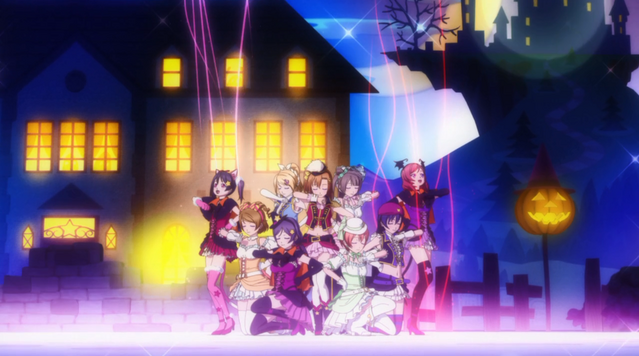 The Love Live! franchise is known for dressing up girls in a wide of variety of costumes. This time, it's more with the purpose of celebrating Halloween as μ's and A-RISE are asked to appear at a Halloween event in Akihabara. Since this event could help them with the forthcoming Love Live! preliminaries, the girls attempt to switch up their look by dressing as other clubs and mimicking each other. They even parody the band KISS at one point which doesn't work in the episode, but did get a rise out of KISS lead singer Gene Simmons on Twitter. In true Love Live! fashion, Honoka reminds the rest of μ's that they are fine already and don't need to try and create a new identity. Though they do go full Halloween with their costumes and stage design in their performance of "Dancing Stars on Me".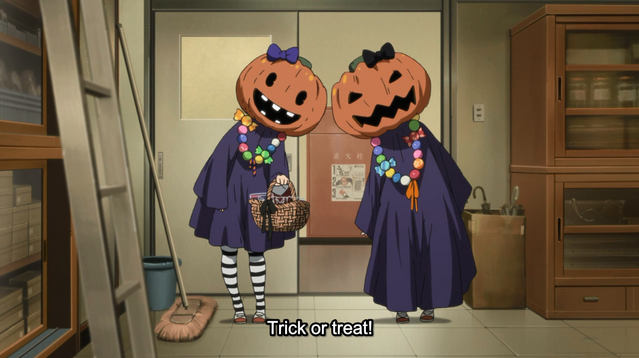 You could probably watch all of Hyouka's culture festival arc and get a sense of Halloween with how many costumes various characters wear throughout. This episode in particular gives more of emphasis on the holiday when Hotaro is met by door-to-door trick or treaters while selling copies of Hyouka—the Classic Literature Club's anthology. The pumpkin wearing guests trade Hotaro cookies for a toy gun he has laying around as part of the long trading sequence that he must go through. While that is the most obvious connection to Halloween, be on the lookout for Mayaka and the Manga Club as they cosplay different characters from vocaloid like Hatsune Miku, SNK characters such as King from The King of Fighters, and Mayaka dressing up as characters from different 1960s manga.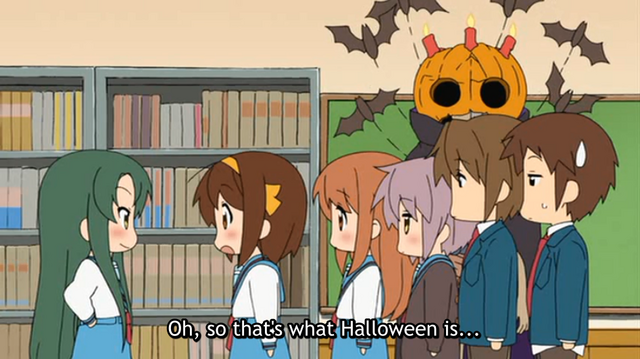 No, this isn't a part of the Endless Eight, it's Haruhi trying to learn what Halloween is! That, of course, doesn't go as well as they'd hope since all they base their knowledge of the holiday off of is an image of someone in a pumpkin mask with bats around. It doesn't stop them from participating in such holiday traditions as pumpkin carving. Albeit, it's not the same as Yuki keeps giving tips to Mikuru leaving the pumpkin whittled down. After reconstructing what they saw in that initial image, they learn that Halloween is more about candy which causes them to leave the pumpkin man with a nearby club instead of keeping it. So there you go: moral of the story is Halloween is all about candy!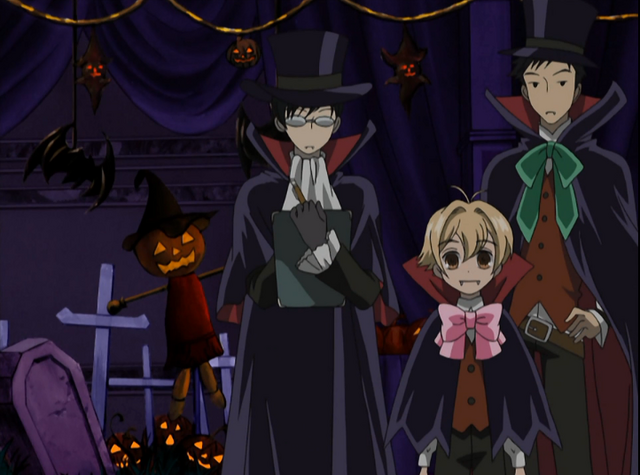 Kiss kiss fall into Halloween as Haruhi's class decides to have a special Halloween class event, and the Host Club puts on a Halloween week where they dress up in costumes. The Host Club is filled with Halloween decorations that truly get everyone ready for the holiday. Haruhi's class decides to do a test of courage on Halloween night at the school, which sees it also done up with decorations. This is not what Soga was wanting, since he's scared of multiple aspects that would come up during a test of courage, such as darkness, ghosts, and other general horror phobias. Yet, he approves the event due to Kurakano's happiness over the proposed event. The non-first years of the Host Club take part in attempting to scare Haruhi's class, which works to great effect. However, these frights aren't what you'd find in a horror anime and are more played for comedy. With all of that, this episode of Ouran High School Host Club lets you get a whole lot of Halloween and even a test of courage to round out the holiday experience.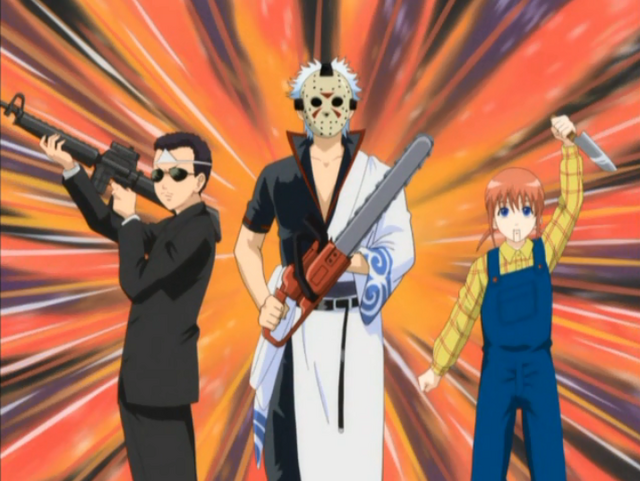 We're immediately given a trick and not a treat with this episode of Gintama as Gintoki, Shinpachi, and Kagura lament the summer heat and decide to skip an episode. In all actuality, the group heads to a festival to help a shrine owner with his haunted house. While this does have all three dress up as parodies of horror icons and also traditional horror tropes, the haunted house does not perform as well as the owner was hoping for. In fact, it's a comedy of errors. Despite the owner wanting to give up and run away, Gintoki convinces him to stay which allows them to scare an actual monster. Even with all of the kerfluffles that occur, the episode ends on a happy note instead of a scary one.
With these episodes you'll be fully ready for Halloween! Are there any other episodes you watch when Halloween comes around? Let us know in the comments below! That will help us spread more treats than tricks this Halloween.