One day only! You can't miss this.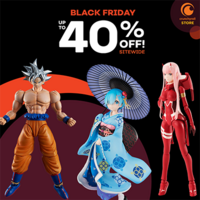 This friday, we have the biggest Black Friday sale for everything you love! We've got your holiday shopping covered with 24-hour savings of up to 40% off. Shop figures, manga, apparel, home video, and more! The sale starts on 11/23 12:00am PST to 11/23 11:59pm PST.
We have gift guides to help you find the perfect gifts for your loved ones that love specific shows, want to expand their figure collection, adopt new plushies, want to change their wardrobe to show off their love for anime, and so much more.
You can also have them start putting together their personal wishlists to make Black Friday shopping a breeze. Don't forget to put yours together as well so that you can treat yourself.
If you have a person in your life that you've been trying to get into anime, is just getting into anime for the first time or getting back into it, you can even get them a Crunchyroll streaming membership card.
Our Crunchyroll Black Friday could very much so be your one shop stop for all of holiday shopping.
The sale starts on 11/23 12:00am PST to 11/23 11:59pm PST.