Getting a closer look at the Kingdom Hearts III demo, spoiler-free, of course!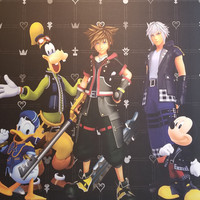 It's been 14 years since Kingdom Hearts II, and the wait for Kingdom Hearts III is finally coming to a close. It hardly seems real that we're this close to the long-awaited conclusion to all of the Kingdom Hearts threads, and to make it seem even more real, Square-Enix and Disney opened a magical pop-up experience at Disney Springs in Orlando, Florida! The event gave curious fans a chance to try the game out for themselves, surrounded by Kingdom Hearts murals, life-sized Keyblades, and the chance to pre-order the game and some Kingdom Hearts merch! We got a chance to go see what all the excitement was about and get our hands on the demo, so if you're curious about what we saw or what we thought of Kingdom Hearts III from what we played, read on. And don't worry; there's no spoilers here!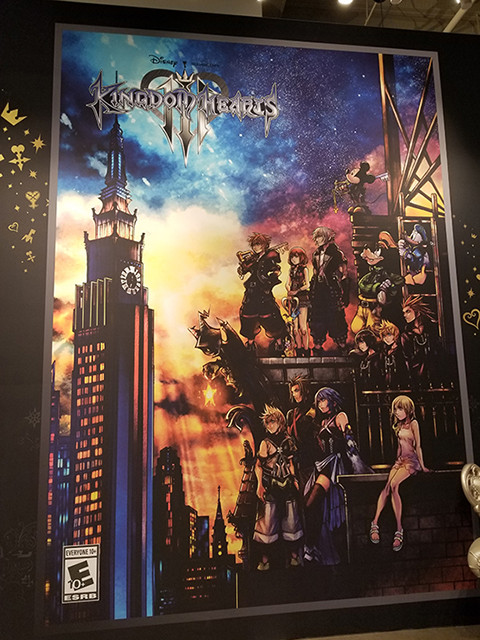 It was a rainy and cloudy Friday when the event opened, but that didn't stop us or a huge crowd of fans from waiting in line for the event to open! Before it started, Disney and Square representatives came out and did a ceremonial ribbon cutting to start things off, and then we were off the races! Disney allowed guests to look inside, where Keyblades were on display, trailers were playing, and visitors could take pictures in front of the murals or even recreate Sora's Kingdom Hearts III pose in the provided decorative chair. Visitors were also able to put down their name and wait in an e-queue to get a chance to play the demo, with wait times hitting upwards of 5 hours at some points. Needless to say, people really, REALLY wanted to get a chance to play! We put down our name and decided to go check out something we heard about at the nearby Starbucks.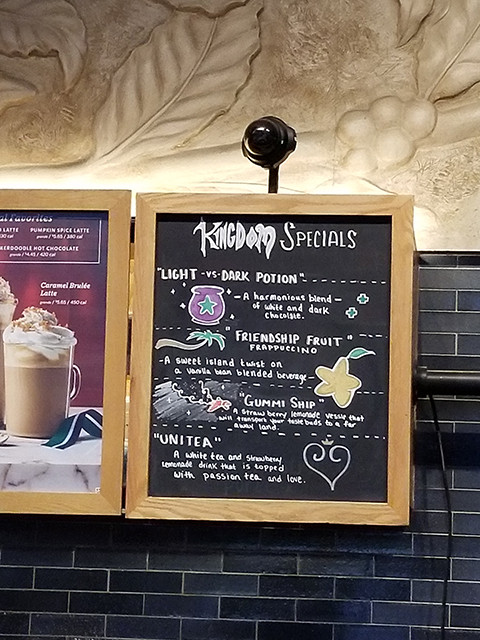 Having some time to kill and feeling somewhat parched, we heard that the Disney Springs Starbucks was offering some special Kingdom Hearts themed drinks, so we headed on over and found out that they had four unique beverages on sale. They included a Light vs Dark Potion, which was a mix of white chocolate and dark chocolate mochas, a Gummi Ship, a blended strawberry lemonade with raspberry syrup, the Friendship Fruit Frappucino, which was a vanilla bean beverage with a tropical flavor, and the Unitea, a white tea and strawberry lemonade drink mixed with passion tea. Our party tried all four, and frankly they were all a hit! Personally, I hope I can find a chance to get another Light vs Dark Potion myself!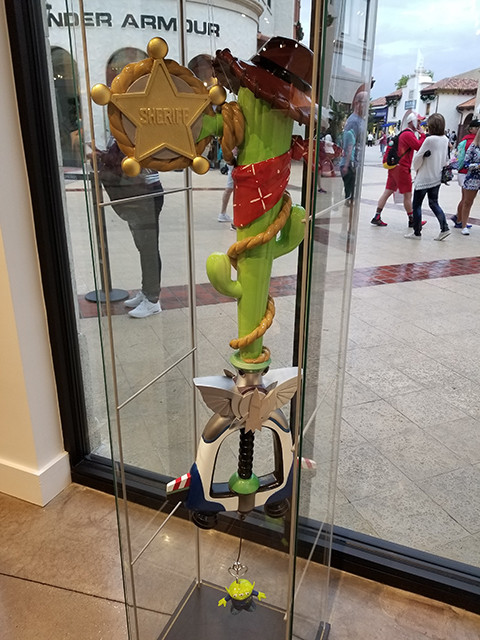 As our time drew closer, we headed back to the pop-up event and looked around. Aside from the gorgeous Keyblades and a look at the Deluxe Edition set of Kingdom Hearts III, we got to see Play-Arts figures, adorable Trading Arts miniatures, and acryllic stand displays that were all available for order at the event. Fans were hanging out, sharing their Kingdom Hearts memories and hopes while waiting to play, and some were even in costume! When the time finally hit, we got in line to play the demo, which provided us with two sections: a return to Olympus and Toy Box, the Toy Story world. We were given 15 minutes to experience the demo, and both sections provided unique and different experiences!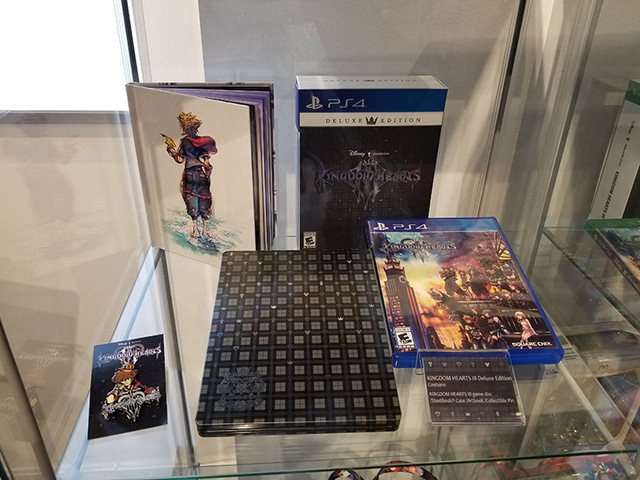 The Olympus segment featured a boss battle against the rock titan, which made up the majority of the level. Sora and company were tasked with reaching the top of the mountain and bringing down the giant, and the level featured a new wall-running mechanic that allowed Sora to traverse the vertical landscape to face his foe. Along the way we fought some smaller heartless monsters as the titan hurled boulders from above, giving us a chance to get re-acquainted with Kingdom Hearts unique combat system. Many of the usual combat techniques are in Kingdom Hearts III, including an emphasis on combos and aerial based combat to extend and hop from target to target. The lock-on feature in the demo allows you to kind of 'pinball' from enemy to enemy, making it possible to strike down multiple foes pretty easily and with some great aerial flare. Having played all of the previous incarnations of Kingdom Hearts III, it was amazing how easy it was to pick up where I left off, a testament to the accessibility of the game's playstyle for sure! One new feature is a style of charge meter that builds up as Sora attacks, allowing him access to new forms and abilities, such as tandem attacks with Goofy and Donald.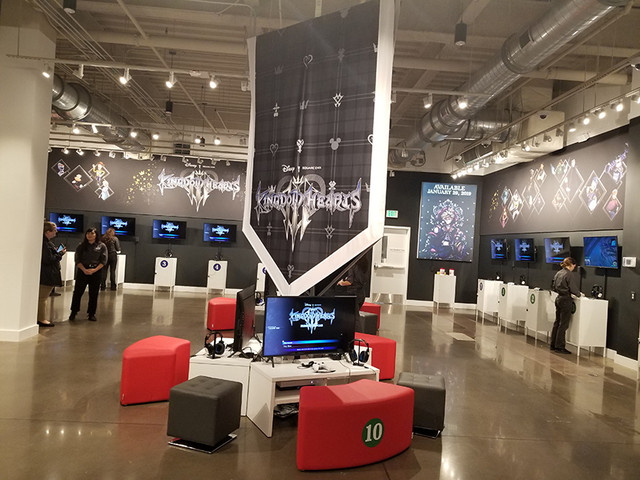 Combat felt fun and fast, and the new abilities that are available to Sora offer lots of unique ways to take down enemies. In the Toy Box, Sora was able to access a specific Keyblade that looked like a hammer, combining the aesthetics of Buzz and Woody into a powerful melee weapon. With the two accompanying the party as they headed to the toy store, Sora was also able to ride a toy rocket, firing and charging at enemies from the air! The Toy Story world also featured the Pirate Ship attraction ability, which summoned the electric light parade version of Hook's pirate ship that attacked enemies with powerful swinging attacks! In the Olympus stage, the attraction move was Big Thunder Mountain's train, which allowed Sora to fly around the titan and fire explosive fireworks into its face and attacking hands. These attraction summons are fun and colorful additions to Kingdom Hearts III, and I'm excited to see what other ones we'll get to use in the full game!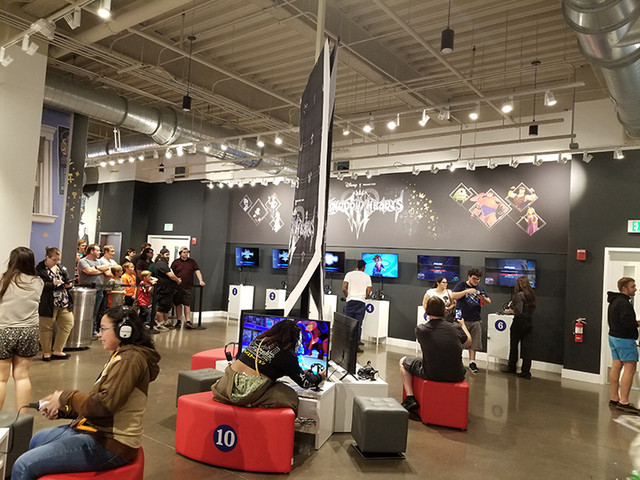 From the small snippets of cutscenes that we saw, it was great to hear all the expected voices again; the partnership between Square-Enix and Disney really pays off in this respect, as the characters sound exactly like you expect--and in the case of Sora and other Kingdom Hearts original characters, the voices have remained consistent despite the large gulfs of time between game development, meaning Sora sounds exactly like you remember him from before. We don't want to spoil any of what was talked about in the cutscenes, but the Toy Story world was particularly fun hearing Woody, Buzz, and the others interacting with the cast in and out of battle was a fun treat!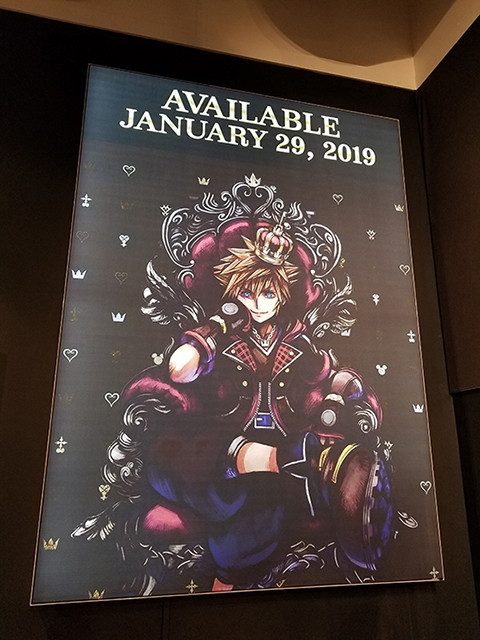 We had a blast at the pop-up experience, and it really made us even more excited for the release of Kingdom Hearts III in January! It seems like it's almost too good to be true, but Kingdom Hearts III will be in everyone's hands in less than two months; we're glad we got to play with it a bit, but it really just left us wanting more! The pop-up experience runs from December 14th until January 31st, so if you happen to be visiting Disney World and want to check out Kingdom Hearts III for yourself, be sure to swing on by!
How excited are you for Kingdom Hearts III? Have a favorite Kingdom Hearts moment? Let us know in the comments!
----
Nicole is a features and a social video script writer for Crunchyroll. Known for punching dudes in Yakuza games on her Twitch channel while professing her love for Majima. She also has a blog, Figuratively Speaking. Follow her on Twitter: @ellyberries