We kick off our Winter 2018 Rewind with Bkub Okawa's "crappy" anime adaptation...and we're not upset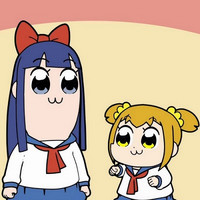 I'm Not Upset.
It's a New Year, and we're currently neck-deep in a new Winter season of anime, so we here at "Cruising the Crunchy-Catalog" figured it would be a good time for a little Winter 2018 Rewind, i.e. a look back at some of the defining shows of the previous Winter season, which was jam-packed with all sorts of strangeness and goodness.
And what better place to start than with that controversial idol anime that took the Internet by storm? We're referring to Hoshiiro Girldrop, the anime adaptation of Bkub Okawa's tender romantic-comedy about an ordinary high school boy, a high school girl who aspires to being an idol singer, and the cruel trick of fate that threatens to tear their love apart.
Or we could just talk about Pop Team Epic. That works, too.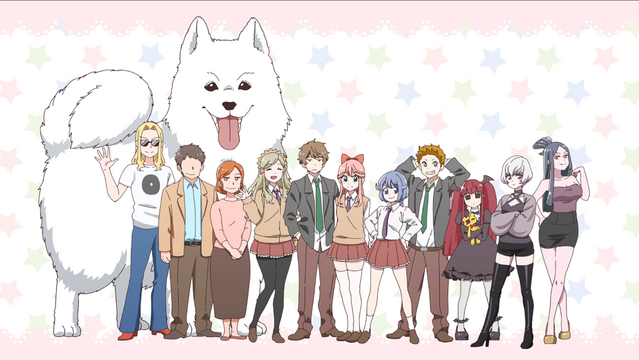 What's Hoshiiro Girldrop? What's Pop Team Epic?
Pop Team Epic is a 2018 TV anime with direction by Jun Aoki and Aoi Umeki, animation production by Kamikaze Douga, and music production by King Records. Based on the bizarre 4-panel web comic by Bkub Okawa, Crunchyroll describes the story of Pop Team Epic as follows: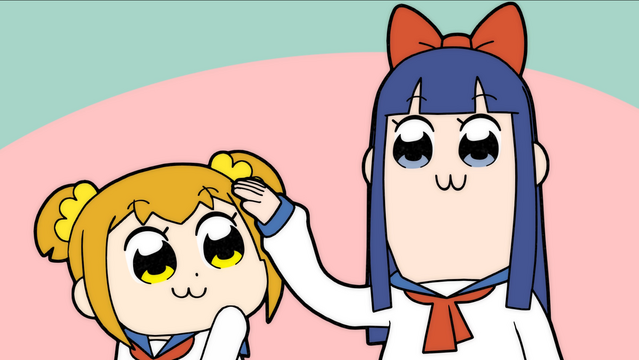 Crude, rude, and a little…cute? Get ready for the larger-than-life attitude of Popuko and Pipimi, the small and tall stars of Pop Team Epic! Based off the bizarre four-panel webcomic by Bukubu Okawa comes a comedy that'll throw you off with its out-there jokes and intense absurdity. You think you're ready for these girls? Think again, F#%**er!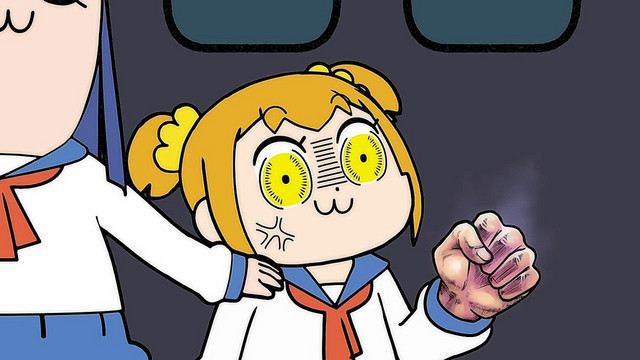 That's right, we're not too chicken to tell you where's the beef. Strap in, folks. We're in for a bumpy ride.
The Phenomenon.
To better understand Pop Team Epic, it helps to realize that the show itself is swimming in a sea of subculture, absurdities, and outright lies. Originally scheduled to be released in Fall of 2017, the show was bumped back to Winter 2018 for reasons that aren't quite clear, but even before that it was announced as an adaptation of Hoshiiro Girldrop as an April Fool's Day gag back in 2017.
Combine all of this with a deliberately unhelpful official home page and a preview video that didn't feature a single scrap of animation, and the end result was a production where fans weren't exactly sure what to expect. When Pop Team Epic originally broadcast, what viewers encountered was so much weirder than anything they could have predicted...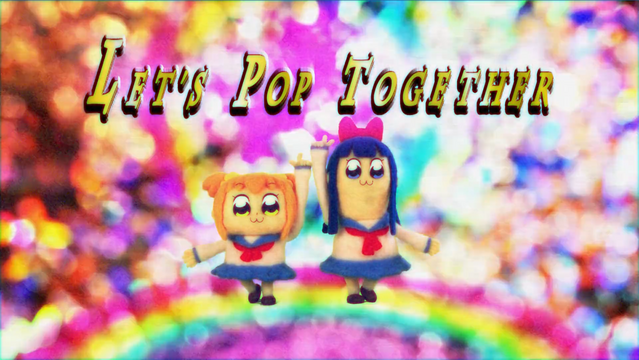 The Thing Itself.
Pop Team Epic is an oddity both in terms of its format and its presentation. A short-form sketch comedy masquerading as a full length show, each episode of Pop Team Epic is composed of two parts, a broadcast and a "re-broadcast", with both parts containing different voice actors but (mostly) similar visuals. Each episode also features alternating male and female vocal versions of the ED theme, "Poppy Pappy Day".
Each segment is further divided into individual skits with wildly different visual styles, ranging from the live-action and 3DCG "Japon Mignon" sequences, to the felt stop-motion animation musical numbers by UchuPeople, to the unrelenting assault on your eyeballs that are the "Bob Epic Team" scenes by AC Bu. In a word, the visual aesthetic of Pop Team Epic is "chaotic".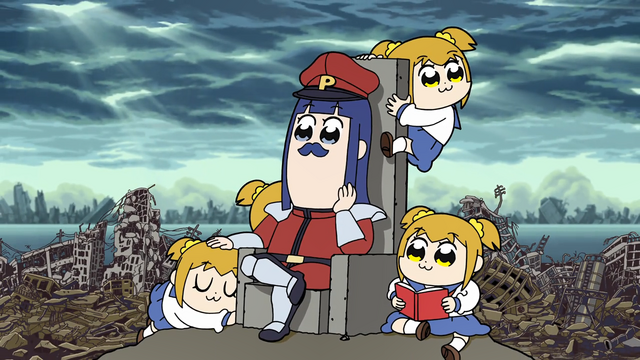 The Aftermath.
As if the acoustic and visual dimensions of Pop Team Epic aren't odd enough, the series also has a very off-kilter sense of humor. Described by it's author as "crappy" and by many fans as the anime-equivalent of "shitposting", Pop Team Epic wields anti-climax, non sequitur, absurdity, and deep-cut referential humor like a sledgehammer attempting to shatter your funny-bone.
The jokes don't always land, but any series that's willing to make unapologetic allusions to subjects as varied as Kinji Fukasaku's Battles Without Honor and Humanity films, the 1981 post-disco song "Let's Groove" by Earth, Wind & Fire, and numerous video games from the 8-bit and 16-bit eras (such as Donkey Kong Country) deserves props for its efforts.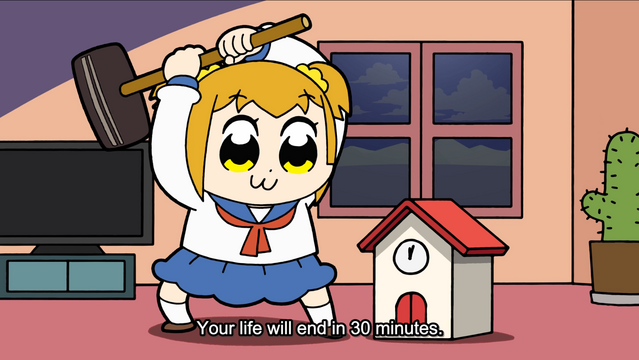 Part surrealist art project, part subculture revelry, and all unrelentingly weird, Pop Team Epic isn't so much an anime as an experience, one that works best within the week-to-week context of its original broadcast, which left viewers baffled and bemused. Whether or not its extremely specific humor with suit your tastes is a crap-shoot, but if you haven't already, you owe it to yourself to give Pop Team Epic a try.
And if you're in the mood for even more Pop Team Epic, fear not. An English language version of the original manga is now available from Vertical, the home video version of the TV series is available from Funimation, and there's dark tidings of a new TV special scheduled for April 01, 2019.
Thanks for flashing back to the halcyon days of yore that were the Winter 2018 anime season. Stay tuned for our next installment, where we take a look at a tale of crime, punishment, murder-for-hire, street cart food, cross-dressing, and baseball!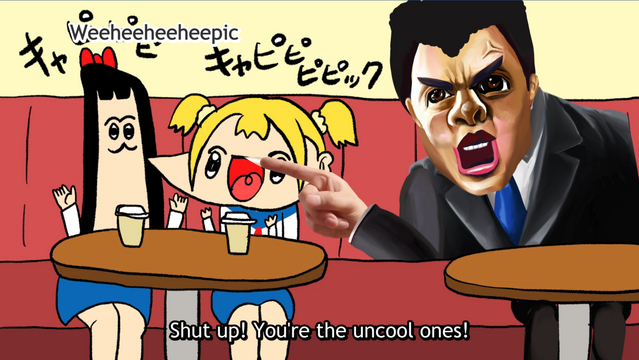 Is there a series in Crunchyroll's catalog that you think needs some more love and attention? Please send in your suggestions via e-mail to [email protected] or post a Tweet to @gooberzilla. Your pick could inspire the next installment of "Cruising the Crunchy-Catalog"!
-----
Paul Chapman is the host of The Greatest Movie EVER! Podcast and GME! Anime Fun Time.