Today let's explore how the first episode of Mob Psycho II exemplified all of this show's formidable strengths!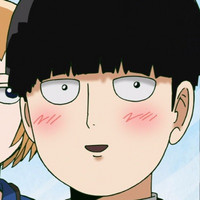 Hey all, and welcome back to Why It Works. If you've been following this column for a while, you're probably aware that I've been eagerly anticipating the premiere of Mob Psycho 100's second season. And now that the show has finally debuted, I'm thrilled to say that not only is it as strong as ever, but this premiere probably counts among the best episodes the show has ever released. From its wildly creative visuals to its endearing characters and fundamentally compassionate soul, Mob Psycho II's premiere demonstrates this show at its absolute best, and offers a terrific starting platform for any number of new adventures. But don't take my word for it… wait. I mean, do take my word for it, but wait until I've explained how this premiere embodied all of the things that make Mob Psycho so great. Mob Psycho II's premiere was essentially an all-in-one demonstration of this show's many formidable strengths, so let's take a deep dive into the best qualities of this terrific episode!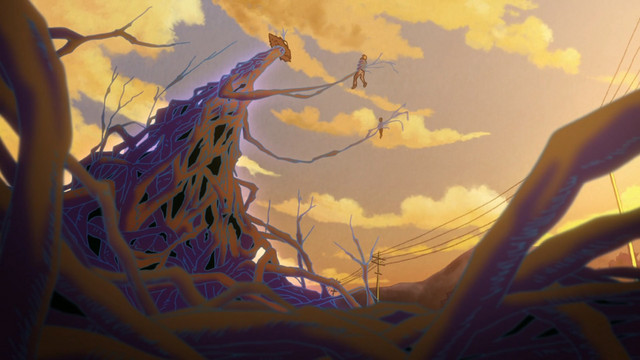 First off, Mob Psycho's vivid art style was just as appealing and inventive here as ever. If you just saw character stills from Mob Psycho, you might assume the show's somewhat minimalist character designs mean it's a generally conservative visual production. In practice, these loose designs actually allow the show to embrace all manner of visual invention, from wildly diverse reaction faces to entirely different visual genres. But even when Mob Psycho isn't diverging into totally different visual concepts, its fundamental art design is genuinely beautiful, with its loose character merging gracefully with detailed and richly colored backgrounds. Couple all that with Yuzuru Tachikawa's dynamic direction, and you end up with a production that feels visually dazzling at nearly all times.
Those visual strengths certainly come in handy when it comes to Mob's fight scenes. While this first episode was more dedicated to Mob's continuing adventures at school, it still opened with a terrific fight against a menacing evil spirit. Mob's fight scenes combine restless, spinning camera work with perpetually morphing character art to arrive at sequences where it feels like the very world is dissolving, perfect for its illustration of espers shattering the earth with their powerful blows. Often splitting the difference between over-the-top action and grim horror, Mob's fights are as brutal as they are inventive, and I can't wait to get to some of the battles hinted at by its thrilling opening song.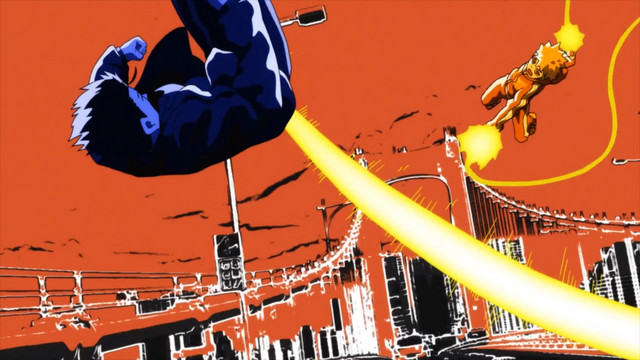 It's not all serious battles in Mob Psycho, though. This episode also took plenty of time to reacquaint us with its wide cast, offering welcome reminders of Mob's endearing characters and comic charm. The appeal of Mob's characters might best be exemplified through the Body Improvement Club, a group of oversized bros who initially seem destined to force Mob out of his own club. But instead of looking down on the scrawny Mob, they embrace him as a fellow pursuer of bodily excellence, and now he happily goes jogging every day with his new friends. Here in Mob Psycho II's premiere, those body improvement bros have not been forgotten - in fact, they proudly support him when he runs for student council president, and happily give him time off from their club to pursue a new relationship. In Mob Psycho, characters might not surprise you with their secretly evil intentions, but with their genuine, fundamental decency.
That fact ties closely into Mob Psycho's last, and perhaps greatest strength: its profoundly empathetic, humanist perspective. Over the course of this premiere, Mob finds himself kinda-sorta dating a girl named Emi, only to be ultimately burned by the experience. But even though Emi accuses Mob of brutally cruel things like not even really possessing a personality, Mob doesn't blame her for this. Instead, he accepts her words while still maintaining a spirit of personal kindness, and ultimately gives Emi the personal validation that none of her friends were willing to offer. This revelation doesn't lead to any sort of romantic turn; it's just one person being kind to another, and that kindness going on to inspire more acts in turn.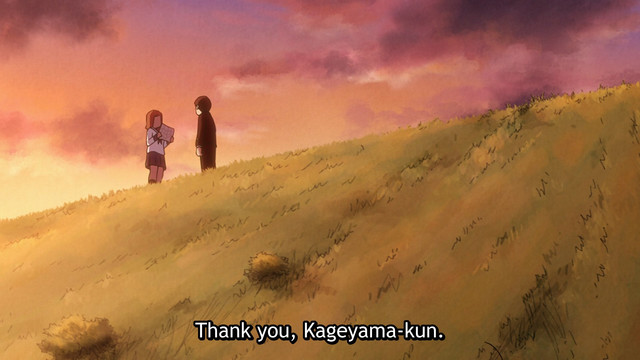 For all these reasons and more, I'm ecstatic to see Mob Psycho returning in such fine, inspiring form. Few shows possess the incredible aesthetic strengths of Mob, and fewer still combine that with writing so funny, thoughtful, and compassionate as this. Mob Psycho has some of the best fight scenes in modern anime, while consistently affirming that it is simple kindness, not physical or psychic strength, which makes a person great. I'm eager to see how Mob continues to grow over this season, and hope you'll join me on the journey. And please let me know all your own favorite Mob-isms in the comments!
-----
Nick Creamer has been writing about cartoons for too many years now, and is always ready to cry about Madoka. You can find more of his work at his blog Wrong Every Time, or follow him on Twitter.