One thing fans never forget is an epic theme song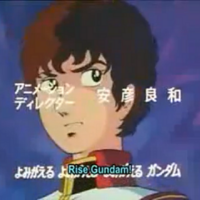 Characters, story, and art style are all very important aspects of anime. But one thing fans never forget is an epic theme song. Cowboy Bebop's gloriously funky jazz masterpiece "Tank!" sits at the top of so very, very many lists not only because it's a total bop, but because it perfectly sets the scene for the story to come. Lots of well-deserving songs are mentioned over and over, like many of the lovely orchestral offerings of Fullmetal Alchemist or Attack On Titan. Death Note and Neon Genesis Evangelion appear many times. This is all well and good and these songs have certainly earned this recognition. But are there any downright amazing theme songs out there that we've simply overlooked all this time? I think there are. Here's my top five, but first a couple runners-up.
Honorable Mentions:
"Unravel" by TK from Ling Toshite Sigure - Tokyo Ghoul
The song does appear on a couple best lists, but not often and not very close to the top. It's both beautifully sung and totally rocks, making it well-deserving of wider recognition.
"Resonance" performed by T.M. Revolution - Soul Eater
So bouncy and fun. The lyrics perfectly tell the story of Maka and Soul's journey. Like, "Unravel," "Resonance" has made its way onto a few lists, but is easily worth more acclaim.
OK, now down to business. Which anime theme songs made it onto my super official (JK, not really) top 5 list? Let's get started.
Top 5:
5. "Vital" by Masaaki Endoh - Angels Of Death
It's dark, it's broody, and it kind of rocks. This song is fun but foreboding, which is right in line with you might expect from the show. Don't the crunchy guitars and punk arrangement just make you want to jump off the couch?
4. Matching The Color Of God by Binaria - Danganronpa Despair Arc
This song just feels dangerous … at first. The whispery, tension-filled vocal style and wonky lullaby opener quickly give way to a poppy crooner. Binaria performs to perfection all the way through.
3. "Flyers" by BRADIO - Death Parade
Absolute banger. I dare you to listen to this song and try not to dance. No wonder the opening is filled with DDR, disco, and funky Cha-Cha style moves. Does the song give you an idea of what the show will be like? Not really. But it's a welcome breath of fresh air amongst the pain and sorrow of this well-written story.
2. "Wind" by Akeboshi- Naruto ending
"Go" gets a lot of attention, while "Wind" tends to be left behind a little. This crooner is a beautiful example of the isolation and desperation Naruto feels from being shunned and neglected throughout his life. It's gorgeous, catchy, and everything early Naruto encapsulated as a whole.
1. "Fly! Gundam" - by Koh Ikeda - Mobile Suit Gundam
Is it cheesy? Yes. Is it horrifically dated? Also, yes. Look, you're probably going to giggle or roll your eyes at how terribly '70s this song is. But you're also likely to know exactly where it came from. It's one of the most instantly recognizable theme songs in all of anime. And for that, "Fly! Gundam" definitely deserves a shout-out. That and the excellent vocal work. The song left behind such a legacy its been covered many times, including by legendary party rocker Andrew W.K.
What are some of your favorite anime tunes deserving of more love? Let us know in the comments!
-----
Carolyn writes for Crunchyroll, Cracked, and Bunny Ears. Follow her on Twitter and Instagram.
Do you love writing? Do you love anime? If you have an idea for a features story, pitch it to Crunchyroll Features!