Reigen's extremely shady website is now up and ready for visitors. Really.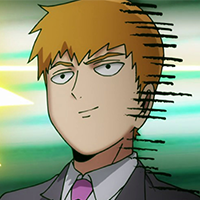 Remember Reigen's website from earlier in this season of Mob Psycho 100? You know the one–that glorious 1998-era web design complete with cheesy .gifs and a visitor counter. Well, uh, you can literally go visit it now.
Compare the new website (above) with the version seen in Episode 2 (below).
The site is complete with all of the pseudo-modern amenities you would expect from a 20 year old website. Besides the splash page pictured above, there is a blog where Reigen dispenses advice to his fans, an About page, a Contact Us page, and, I'm not kidding, a Guestbook that you can sign (the entries so far deserve their own article to be honest).
Taken in conjunction with the earlier call for questions and requests, it would appear that Spirits and Such Consulting is open for business. My co-worker Andrea Ramirez also seems to have taken an unpaid internship at the consulting firm. Only time will tell what the star psychic of the 21st century has in store for us next…