Check out the real-world locations of Girly Air Force!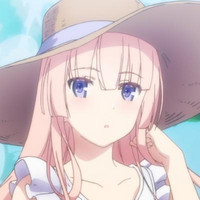 In Girly Air Force, humanity gets overwhelmed by a mysterious alien force called "Xi", whose aircraft are far superior to mankind's conventional weaponry. In order to fight back, mankind reconfigures existing airframes with special technology, and develops autonomous piloting devices called "Anima," who take on the appearance of young girls, to operate them.
With a dangerous alien invasion imminent, I was certain that we'd spend most of the time at the airbase, and wouldn't get to see much else of the show's real-world setting, which is Komatsu City in Ishikawa Prefecture. And yet, Girly Air Force has had surprisingly much to offer in terms of anime locations; so far doing a good job of highlighting some of the local landmarks in a way that actually makes sense story wise. Due to being a somewhat defective prototype, Gripen is only able to operate for a few hours at a time. But spending time with Kei, and engaging in leisure activities outside of the base with him, seem to significantly boost the time she can remain conscious and focused, which would make her an invaluable asset in the fight against the Xi. Meaning them going on a sightseeing-date around Komatsu might even be the key to humanity's survival.
*All images were taken with Google Street View

Their date takes them all over Komatsu, including the small Doihara Bonnet Space Park near Komatsu Station. However, Gripen doesn't seem overly impressed by the old KuHa 489-501 train on display in the park. I guess she's more into planes.

On the other hand, the Sumigen (Sunoken in the anime) souvenir shop along the shopping arcade near Komatsu Station really sparked her interest. Despite being stationed at the Komatsu Airbase for so long, this seems to be her first time visiting the actual town.

They also pass by the Komatsu Hikiyama Gallery MIYOSSA, which exhibits two hikiyama floats used in the local Otabi Festival, one of the prefecture's biggest annual events. During the festival, the floats serve as portable stages for children performing kabuki, a traditional form of Japanese theater.


Gripen's first ever shrine visit brings her to the small Uhashi Shrine, where she learns a great deal about Kei's past. The just mentioned Otabi Festival has its origin at this very shrine.
All that Gripen ever got to taste until now was the bare-bones daily menu at the airbase, so it's not much of a surprise that their date really started take off after a visit to Hachi-ban Ramen, which is a local Ishikawa-based ramen chain. Everybody is able to keep at it a little longer with a full stomach; maybe humans and anima aren't too different after all.

Komatsu is situated at the coast, facing the Sea of Japan, so Ataka Beach seems like a good and romantic spot to top off Kai's and Gripen's first date.

The Heiwado AL.Plaza shopping mall has been featured in just about every episode of Girly Air Force so far.




For some reason, Kei really likes to switch it up, and always uses a different road to get to the base.


Running through Komatsu is the Mae River.

The cool-looking mural outside of the airbase actually exists and looks just like it does in the anime.



Komatsu and kabuki are deeply intertwined. This stems party from the fact that Komatsu is one of the settings for Kanjincho, one of the most popular kabuki plays of all time.



Located only 4km away from Komatsu Station is the Komatsu Airport, south of which is the Japan Air Self-Defense Force Komatsu Base. The civilian airport and military airbase both share the same runway for takeoffs and landings, but have their own designated taxiways on their respective sides of the airport ground. The Komatsu base is the only Japanese airbase on the Sea of Japan coast, making it the logical main setting for Girly Air Force, as that's where the Xi have been attacking from. The airbase is definitely not unhappy about the exposure it's been getting through the anime, and even used Girly Air Force art to promote their annual air festival held at the base each September. Furthermore, the music video for the anime's opening song also used the base as a backdrop, and had the band perform in front of one of their Mitsubishi F-15J/DJ Eagle jets, which are based on the American McDonnell Douglas F-15 Eagle.

Picture: Komatsu Airbase
And lastly, even Gripen's favorite spot exists in real life! The small aircraft bunker was built in 1944 during the Second World War to shelter Japan's Zero fighter planes, and now houses an old North American T-6 Texan practice airplane.
What do you think about Girly Air Force so far? And what's your favorite fighter jet? Sound off in the comments below!
---
Wilhelm is an anime tourist, who loves to search for and uncover the real-world spots he sees in anime. You can talk with him on Twitter @Surwill.
Do you love writing? Do you love anime? If you have an idea for a features story, pitch it to Crunchyroll Features!