The That Time I Got Reincarnated as a Slime collaboration continues in Grand Summoners and Knights of Blood has even more to offer!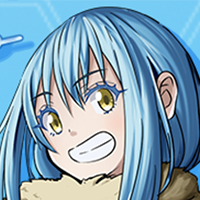 Grand Summoners is continuing its slime treatment with even more exciting events, crossover summon and exchange resets, and even Milim's chat sticker! The new Knights of Blood event even has step-up summons now!
Here's an overview of some of the updates and new In-Game Campaign Events that have been added:
Part 2 of That Time I Got Reincarnated as a Slime Event has been unlocked!
Crossover Summons 1st Pull, Event Exchange limit, and Crossover Pack purchase limit have been reset!
Login 2/27 ~ 3/13 for Rewards! 2/27 4:00am (PST) ~ 3/13 3:59am, (PDT)
"Rimuru's Otherworldly Login Bonus" has Crossover Tickets, a Unit LB Stone, Awoken Souls, a Rainbow Gem & 50x Crystals!
Check out the all-new Knights of Blood Event along with Evergreen Legends with new STEP-UP Summons!
"Knights of Blood" FIRE-MASTER "Berwick" is HERE! Unleash your Party's CRI-DMG with "Weaver"!

Evergreen Legends join, too! Supporter "Sonije", Sub-Attacker "Fen" & Breaker "Courtney" UNITE for STEP-UP Summons!
Be sure to check out the Knights of Blood Limited Step-Up Pack! For a discounted price, you can get Paid Crystals, Unit LB Stones, Alch Stones, and Hero Summon Tickets - perfect for new and veteran Summons alike!
Download Grand Summoners Today!
Website: https://global.grandsummoners.com/?pid=crunchyroll&c=CR_News
Facebook: https://www.facebook.com/GrandSummonersGlobal/
Twitter: https://twitter.com/GRDSMN_GLOBAL
Instagram: https://www.instagram.com/grandsummonersglobal/
© GOOD SMILE COMPANY, Inc. Developed by NextNinja Co., Ltd.