The temperature is changing, the birds are chirping, and it's time for spring break! That means only one thing: binge-watch time!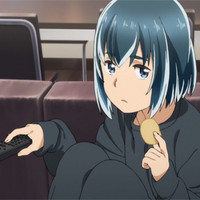 The middle of March is a magical time; the season of Winter officially comes to a close, and Spring arrives with warmer temperatures, nature's renewal, and for those of you lucky to enjoy it, Spring Break! But what do you want to do with your week off from responsibilities? Well, whether you're hitting the beach or staying home, I've got 10 great shows for you to binge-watch wherever you're relaxing.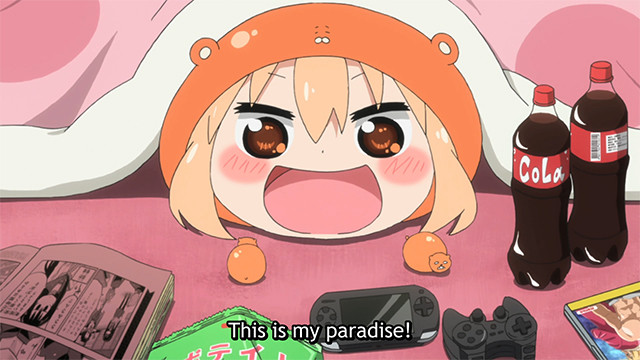 Whether you're looking for suspense and mystery or action and comedy, this list of shows has a variety of choices to meet any taste or mood, and the shows on my list are no longer than 26 episodes, making them perfect for marathon sessions. So without keeping you from your Spring vacay any longer, let's get on with the list, starting with an honorable mention!
Honorable Mention: The Promised Neverland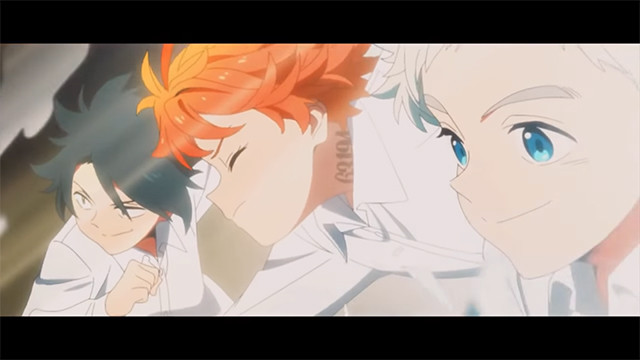 Now, if this list were compiled in a few weeks, this title would have easily made it on to the top ten, but as of right now the show isn't complete, so I felt it wasn't quite right to include it in our selection. That said, if you were to start watching it this week, you could be well prepared to see what's coming up in the nail biting final episodes! I won't spoil it for you, but I will say that The Promised Neverland is perfectly suited for binge-watching, as you'll want to know what's happening next after every episode. This suspenseful show really cranks the dial on anxiety inducing moments of double crosses and intrigue, and every episode ends on just the right moment to make you want to stay put and see what's coming next. Depending on when your break might actually start, you could even luck out and get to binge the whole series! But, as it stands, I heartily recommend this title for binge-watching, but just know that you'll likely end up in the same seat I'm in: desperately waiting for new episodes!
10) The Lost Village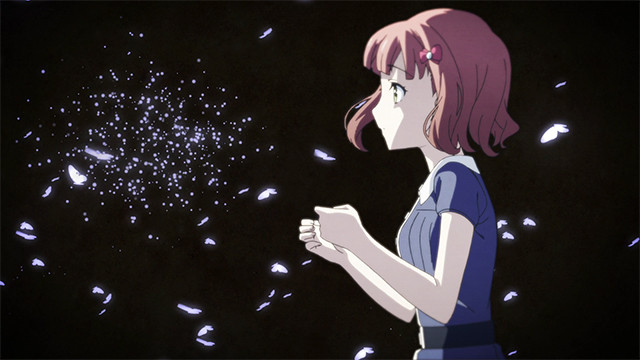 Yeah, yeah, I know what some of you are thinking, but I wanted to include this show because it's an absolutely bonkers gem of a show that's addicting to keep watching. I'll give you a few things to think about before you decide to watch this show, however: the anime community is pretty divided on whether this show is a comedy or not, and honestly, I think you'll probably enjoy it best if you treat it as a comedy that takes itself absolutely, 100% seriously at all times. The Lost Village has some of the most bizarre character moments in recent memory, and the episodes will keep leaving you on cliffhangers that are going to make you want to know what's going to happen next as things keep spiraling out of control and reality at a breakneck pace. As a bit of personal honesty, I don't think I could ever watch this show again in a non-binge-watch format, just because of how ridiculous and hilarious it was to see the first time around. Just remember: have fun with this show, and it'll be a blast!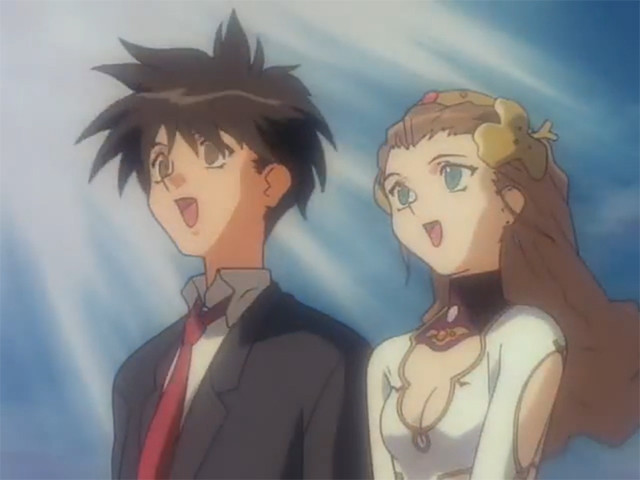 First on my list is a classic blast from the past title, El-Hazard! Whisked away to the magical land of El-Hazard, protagonist Makoto finds himself quickly embroiled with kingdoms under conflict. El-Hazard is a fun watch from the late 90s, directed by Hiroki Hayashi, famous for his work on other classics like Tenchi Muyo and Bubblegum Crisis among many others. I personally like El-Hazard because of the fun characters that pop up in this somewhat hidden gem, with antagonist Jinnai really stealing the show. While the stakes are occasionally reported to be high during the show's plot, the overall tone of the series is one of fun whimsy and situational comedy. The Wanderers is a rework of an OVA series from the same series, and takes some different avenues in telling its version of the story; if you've only seen one, check out the other! I heartily recommend El-Hazard as a fun blast to the past of the late 90s style of romantic action adventure comedies, and you won't regret a single moment of your stay in this magical world!
8) Sword Art Online Alternative: Gun Gale Online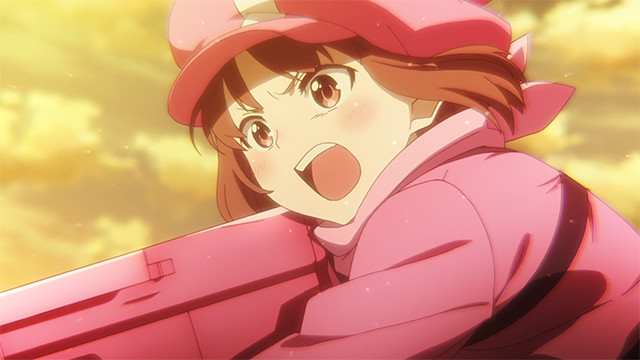 This next title takes us to the same universe as Sword Art Online, but focuses on completely unrelated characters and a very different approach to the series premise. Instead of an MMORPG, Gun Gale Online follows characters engaged with an online shooter, specifically following the very pink and very deadly LLEN and her trusty partner (read: gun) P90, named P-chan. LLEN is in real life a tall woman named Karen Kohiruimaki, who escapes to the world of Gun Gale Online as a way of coping with her complex about her tall height in the real world. Unlike the Sword Art Online series, Gun Gale Online is less of an isekai series and more of a gaming oriented one, following the relationships and battles that LLEN/Karen meet and engage with during playing Gun Gale Online. Even if you aren't a big fan of isekai series or Sword Art Online in general, I heartily recommend Gun Gale Online for a unique take on gaming in anime, as well as a series that keeps you wanting more as the relationship between LLEN and Pitohui become ever more intertwined as the gunplay action increases… after all, only one person can truly be number one!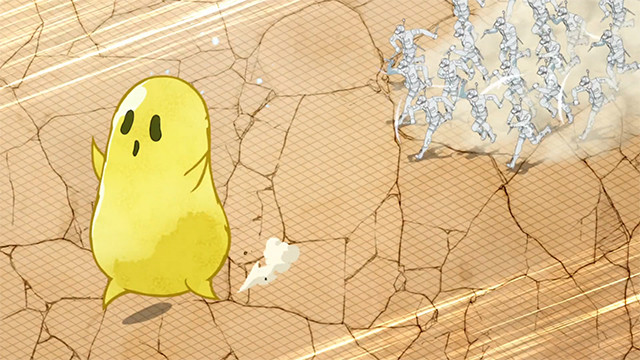 Now, it may seem odd to recommend a series that wants to teach you about your body during spring break, when you're likely trying to avoid studying, but wait! Cells at Work is a fun, relaxing ride that builds some unique and heartwarming characters out of the cells that make up your body's functions. Even putting the medical information to the side (which, by the way, is great and informative!) you'll find a lot of fun interactions as the cast of varied characters deal with various bodily emergencies from the cellular level. Cells at Work is somewhat unique in how easy and relaxing it is to watch, where even the most dire medical or physical circumstances can be dealt with in a way that leaves you satisfied and happy. There is a lot to love here in this show, and it's a very easy one to while away a lazy vacation day watching; I'm pretty sure you'll fall in love with the cells hard at work in your body as well, so maybe treat them to some good food while you binge!
6) Hinamatsuri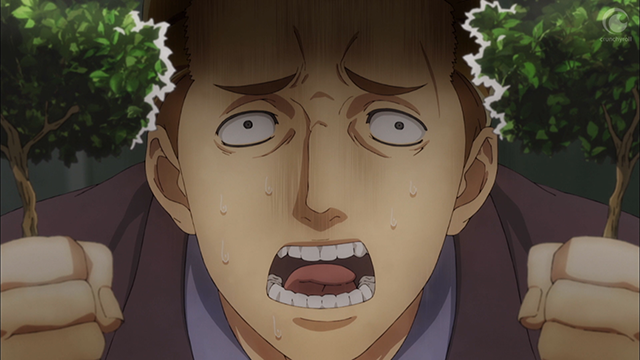 Hinamatsuri is probably one of the best shows of last year, combining an amazing mixture of heartfelt emotion and off the wall comedy for a magical cocktail of fun. Hinamatsuri follows the character Nitta Yoshifumi, a yakuza who finds himself suddenly in the role of caretaker to a mysterious girl, Hina, who has amazing psychic powers… and pretty much nothing else. The misfits that make up Hina's new found family and friends lead to some of the best laughs you'll likely have while watching anime, and the touching, emotional arcs in the show hit home to the point that you may want to grab some tissues in between bathroom and snack breaks. Comedies are sometimes hard to recommend for binge-watching, since you can run into diminishing returns, but the mixture of storylines and unique characters will make the show constantly feel fresh and enjoyable. Hinamatsuri is a real treat, and while we can only hope for a second season sometime down the line, what is here is amazing, and we guarantee that it's well worth your valuable binge-watching time to check out; just make sure you don't laugh too hard!
5) Re:ZERO - Starting Life in Another World-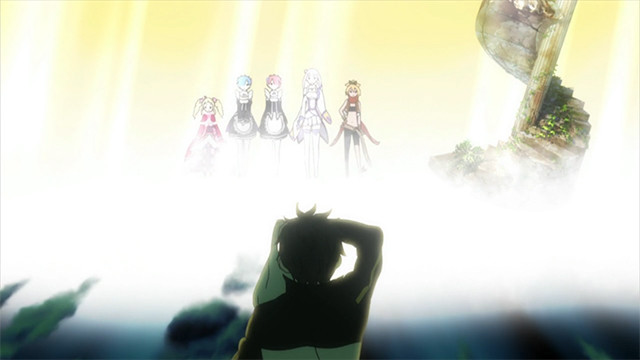 Isekai stories are quite popular these days, but if you are looking to veg out on the couch and really digest something in one go, Re:ZERO is a great choice filled with dramatic cliffhangers, magical action, and lots of emotional moments to make you want to smash 'play next episode' on your player! Natsuki Subaru finds himself suddenly transported to another world, but he seems to lack any real abilities at first glance; he doesn't seem to be gifted any feats of strength, magical abilities, or anything special, and his life in this new world seems almost miserable at first. As Subaru works to find his place in this magical world (and the truth about what his abilities actually are), he meets a cast of varied and wonderful characters that help flesh out this unique world. If you've not given this show a chance, or never tried an isekai show before, Re:ZERO is a great place to start, and an even better place to marathon every episode; trust us, when you get about halfway through, you're going to find yourself wanting to know what is going to happen next!
4) MEGALOBOX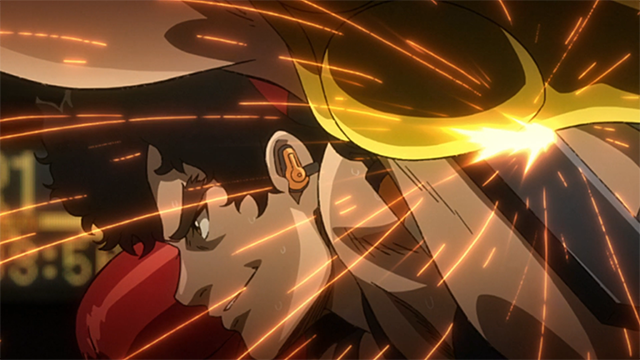 Rounding out our top 5 is another sports show, this time taking the sport of boxing to a new level: MEGALOBOXing, to be exact! Celebrating the 50th anniversary of anime and manga classic Ashita no Joe, MEGALOBOX exploded onto the scene with amazing fights, but even more amazing character development. Following Junk Dog "Joe" through his attempt to make it to the top of the megaloboxing world, this show has heartstopping action and dramatic tension in spades. The slick animation and character designs really help give this show a gritty, adult flavor, and watching it all in one go makes for a wild ride that'll leave you about as breathless as a few rounds in the ring might! Recently airing on Toonami, if you want a chance to watch the whole show in a single sitting on your break, we've got it right here for you! And make sure you never skip the ending (you don't do that, right?) because MEGALOBOX has one of the best ending songs in recent memory. You can't go wrong with this show, and I'm sure you'll love marathoning it as much as I do.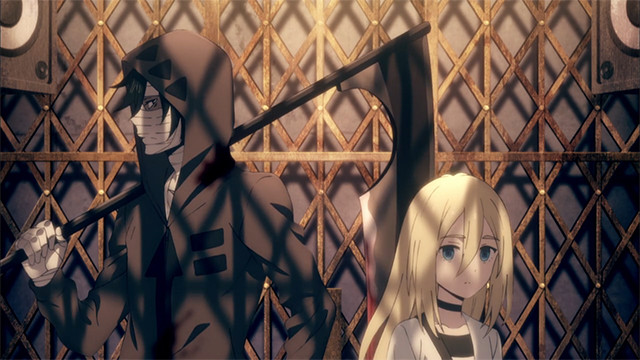 Based on a video game of the same name, Angels of Death hit the ground running last year with its macabre and dark mystery series. Following the oddly emotionless Rachel Gardener and violent (but precious) Zack, this series is filled with death games, hidden truths, and as many twists and turns as it has episodes! If you consider yourself a fan of suspenseful or dark shows, Angels of Death is a must, but even if you're remotely curious, I absolutely think this is one of the best shows to spend a day watching. Once the show starts to hit its stride, you'll be left wanting answers, only to find yourself getting more questions. I personally can't even remember how many times I yelled "Are you kidding me?!" at the screen while this was airing, and now you can do the same, with the added benefit of not needing to wait a whole week for an answer! This small cast show makes sure that every character leaves a big impact, and the overall production on the show really shines through, from amazing visuals to great voice acting (Zack especially!). Angels of Death is an amazing show, but it's an even better marathon target, so dim the lights, grab some snacks, and get ready to let the mystery and suspense of Angels of Death wrap its arms around you and not let go!
2) Golden Kamuy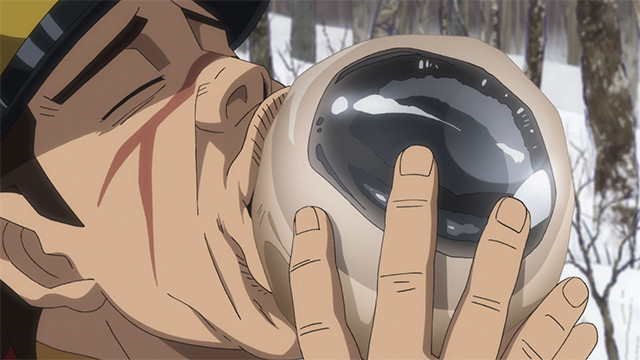 Some of the best binge-worthy shows are the ones that make you not only care to see what happens next, but present things in interesting, unique ways. Golden Kamuy is one of those shows, packing a historical period drama into a heist plot, mixed with cooking and comedy to produce one of the most memorable and bingeable shows in recent memory. Having recently finished up its second season, it's a perfect time to either start watching the show (you weren't already?!) or start it over again to see what you missed the first time through! The characters in Golden Kamuy are really what bring the show to life, so if you enjoy shows that have unique and interesting casts, you'll find that here, especially in the Golden Trio of Immortal Sugimoto, Asirpa, and Escape King Shiraishi! As they hunt down the Abashiri convicts for their tattoos in order to find the lost Ainu gold, Sugimoto and Asirpa encounter a bevy of unique and weird individuals, countless twists and turns, and bloody, visceral violence. There are few shows that have everything, and Golden Kamuy is absolutely a feast of a show! Hinna Hinna!
1) Toradora!
Our number 1 spot goes to this classic anime that celebrated its 10th anniversary last year: Toradora! Perhaps one of the best romantic comedy/dramas ever made, Toradora! is an amazing watch the whole way through even today; in fact, its probably even better than it was when it first came out, now that you can watch it all in one go. Toradora! has everything you want in a classic show: good characters, solid plot, pacing, voice acting, and animation quality. But what makes it even better to watch in one go is the way it sucks you into the lives of its characters, making you deeply care not just about Ryuji and Taiga, but Minori, Yusaku, and Ami too. By the end of the show, you'll probably be tearing up like I did back then, but don't worry, you don't need to wait weeks or more to see what happens! You can watch it all right now! If you've ever been curious to find out what the buzz about Toradora! always was, or just want a great show to watch (or even rewatch!) I can't recommend Toradora! enough for our binge list. I promise that you'll fall in love (or fall back in love) with this amazing show from the comfort of your couch or beach chair while soaking up the joy of Spring Break… after all, Spring is the time for renewal and love, right?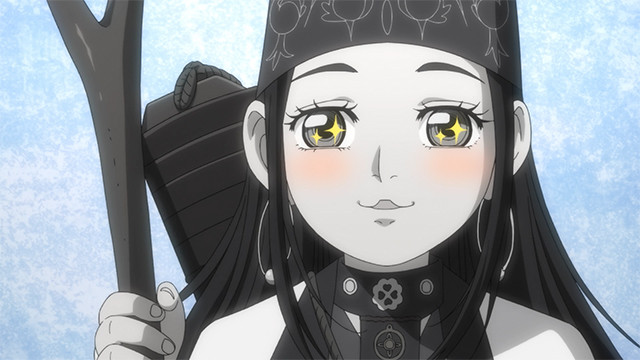 Now you're all set for your Spring Break! I hope this will help you find some new anime to love, or maybe some old flames to rekindle, as the lazy days of spring break let you relax. And even if you don't get a spring break for yourself, next time you're thinking "maybe we'll do an anime marathon day!", I hope this list can give you some great suggestions! Either way, I'm gonna go kick up my feet, enjoy the comfortable weather, and start going back through the list… After all, you don't really need an official break to binge anime, right?
Got any shows that you'd add to this list? Any anime you plan to binge-watch during your break? Let us know in the comments!
----
Nicole is a features and a social video script writer for Crunchyroll. Known for punching dudes in Yakuza games on her Twitch channel while professing her love for Majima. She also has a blog, Figuratively Speaking. Follow her on Twitter: @ellyberries
Do you love writing? Do you love anime? If you have an idea for a features story, pitch it to Crunchyroll Features!