Sarazanmai's first episode had lots of butts and kappas, and AniTwitter can't seem to get enough of it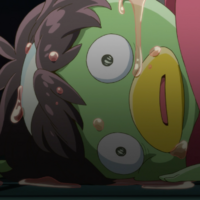 Auteur director Kunihiko Ikuhara is known for his dazzling visuals, big ideas, and bold statements about society, sexuality, and the sublime. With a strong directorial voice and a resume that includes Sailor Moon, Revolutionary Girl Utena, and Penguindrum, every new anime with his name attached attracts critical interest, and with a penchant for the dramatic and bizarre, each of those anime also attract confusion, shock, and awe.
When Sarazanmai premiered yesterday, it was no different. People lost their minds. Maybe this GIF will give you some understanding as to why:
this show is WILD (via Sarazanmai) pic.twitter.com/Xhv4bNxcie

— Crunchyroll (@Crunchyroll) April 12, 2019
You can (and should!) watch the episode for yourself, but if you want to see how folks are handling the first episode before you jump in, read on - I've collected some of the best reactions from AniTwitter, while avoiding anything that would reasonably be considered a spoiler that wasn't in the show's trailers. Enjoy!!
I don't think I've ever watched something as crazy as Sarazanmai before.

— アウル (*´∀`)♪ (@fedoraowl) April 12, 2019
I think Sarazanmai changed me as a person,,,,
This is gonna be an absolute wild ride

— Nekk @ Sarazanmai & BSD s3 hype (@NekkeiShindo) April 12, 2019
Gegege no Kitaro: Here's an episode where kappas go wild and rip out everyone's butt balls

Sarazanmai: Hold my beer

— Dunc Basket ~Birfday in 4 days~???? (@WaddleDunc) April 11, 2019
MAPPA WHAT THE-???? WTF DID I JUST WATCH??!!! SARAZANMAI IS WILD!! Anyway, looking forward to the cops, Hosoyan and Mamoru always make a great team ????

— Pame~ // ICE ADOLESCENCE ❤ (@Mecchirin) April 12, 2019
i feel like i'm getting to know ikuni better with every anime like sailor moon is like "hello everyone, i make Anime" and then sarazanmai is like him drunk texting me like i feel like he's been holding this show in for his entire career

— Jenny Yang (@jennyyangat) April 12, 2019
sarazanmai, best premiere i've seen this season

an all fronts

latter half of the episode was a visual treat

probably my favorite ikuni episode 1

it's like on par with penguindrum's imo

i cannot believe

— yojouhan (@YojouhanDweller) April 11, 2019
I would like to talk about this insignificant cut from Sarazanmai - did you need to animate the door bouncing back on itself? No, but you did that and I appreciate it. pic.twitter.com/EpwjJzRv83

— Isla (@islamctear) April 12, 2019
Sarazanmai #1

I'm gonna have to watch that at least 3 more times before I can form a coherent thought #さらざんまい pic.twitter.com/nllzfs5HaL

— Kumiko's euphonium (@JackUTS) April 12, 2019
You: what is sarazanmai about?
Me: pic.twitter.com/9VJ93yDcht

— ㋐ ikuhara's about to smash my head with a barrel ㋐ (@czerwonyrower) April 11, 2019
sarazanmai: (whatever the hell all that was)
me: pic.twitter.com/HfEGU7Lsej

— liana @ ㋐sarazanmai㋐ (@uzukimakio) April 11, 2019
I have one question about Sarazanmai

who let Ikuhara do this and WHY did they let Ikuhara do this

— eulogy by emperor crimson (@silencedrowns) April 12, 2019
I legitimately cannot even take screenshots of Sarazanmai #01 without screenshotting every frame of the episode... that was a masterful premiere and only reaffirms my opinion of Kunihiko Ikuhara being one of the most inventive and creative storytellers of all time. pic.twitter.com/1OuaFnFuQL

— PurpleGeth (@PurpleGeth) April 11, 2019
i should've watched all of these premieres earlier, because now i'm comparing them all to Sarazanmai's premiere and it's making everything else look bad

— vestenet (@vestenet) April 12, 2019
also I can't believe Ikuhara finally got a truly impressively animated series for the first time in his career not counting the Utena movie, and he put all the sakuga focus on farts and anal leakage. bless him.

— Jacob Chapman (@itsbonedaddy) April 11, 2019
Words and screenshots cannot come even close to describing what it's like to watch the first episode of Sarazanmai.

But I loved it. pic.twitter.com/NDNIS2sXcr

— Haley Whisennand (@HeyItsHales) April 12, 2019
muting all ass-related vocabulary to dodge Sarazanmai spoilers

— A Very W'z (or Very Foolish) Trickster (@DanielsansLions) April 12, 2019
i think i have transcended life now that i have seen the first episode of Sarazanmai

— crying over gay Greek heroes (@InfinityBaka) April 11, 2019
Sarazanmai episode one: I knew it was gonna be Like That, but why did it have to be so much of That

— 眠い (Lili (Lala)) (@yukospetcat) April 11, 2019
All of us post-Sarazanmai ep 1 like pic.twitter.com/CwFIOLgJIp

— Meg㋐n @ Sarazanmai㋐????????‍♂️???? (@AnimeSocMegan) April 11, 2019
This show is Art #sarazanmai pic.twitter.com/99SZPzQgYV

— Grimnir Fucker (@Messyrats) April 11, 2019
That first episode of Sarazanmai was wild. Be sure to keep your distance from the kappa statue in real life ;p #さらざんまい pic.twitter.com/OCAUGetp2Y

— Wilhelm Donko (@Surwill) April 11, 2019
PLEASE WATCH SARAZANMAI YOU WILL NOT BE DISAPPOINTED LMAOOO THIS WAS SO WILD!!! pic.twitter.com/zlJSYxdbF2

— Memory (@MemoryNK) April 11, 2019
one of the strongest first episodes ive ever seen
time to rewatch it again multiple times
i rarely talk to my mutuals (or write tweets like this at all pff) but pls give sarazanmai a chance pic.twitter.com/2B2IHxChje

— ㋐Andressina㋐ (@undressbill) April 11, 2019
Sarazanmai gave me the wildest what the hell did i just watch. it was also very ikuhara pic.twitter.com/3mMCeSUv7A

— Metty (@CrazyRat_Metty) April 11, 2019
If after all that, you're still not convinced, or if you're looking for a spoiler-free primer on the series before diving in, I can't help but recommend the fantastic feature Anime News Network's Lynzee Loveridge put up, featuring a works cited section longer than most papers I wrote during my undergrad - pretty telling as to the kind of work Sarazanmai is. I hope you enjoy it as much as I did!
As for the next episode...
i don't want to keep flooding twitter about this as i am sure many people uninterested are tired of it.. but episode 2 of #sarazanmai is one of few episodes of anime that had me LITERALLY HOLDING IN SCREAMS if i'd been in my house i would have been SCREAMING. ep 2 is SUPERIOR.

— ????????ジンch㋐nさん⛸???? (@denkimouse) April 12, 2019