Crunchyroll's team shares the inside data on what anime fans watch the most!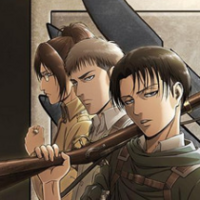 Is your favorite anime one of the most popular on Crunchyroll? Last week, we started a new type of feature here at Crunchyroll where we shared popularity charts, and you all seemed to enjoy it, so we're back again!
Crunchyroll has more than 45 million users around the globe, with subscribers watching over an hour of anime goodness every day on average. And we've worked with our data team to get the stats for you to answer: which anime were the most popular this last week? This is the first of a new type of article we're trying out around viewership data—please let us know if you like it in the comments!
Crunchyroll is available in over 200 countries and territories, but which country has the most dedicated subscribers? For this chart, we looked at the countries with the highest video views per premium user. Here's your look at the countries with the most engaged users for the week ending April 21st: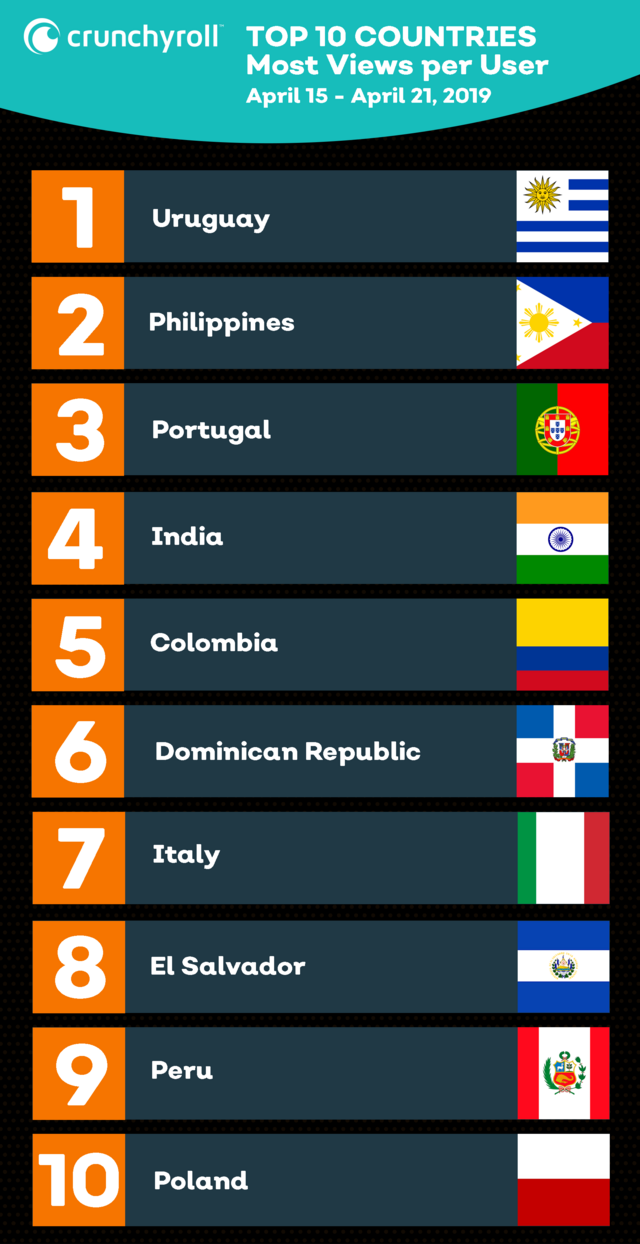 Uruguay, Portugal, and the Philippines held onto their top spots, with only a small swap between the Phillippines and Portugal. However, Peru and El Salvador have joined the list for the first time since we've started sharing this data!!
As a result, for this week's single-country focus, we'll be exploring the ten most popular anime of Peru. Here are our Peruvian fans' favorite anime for the week ending April 21st, listed alphabetically: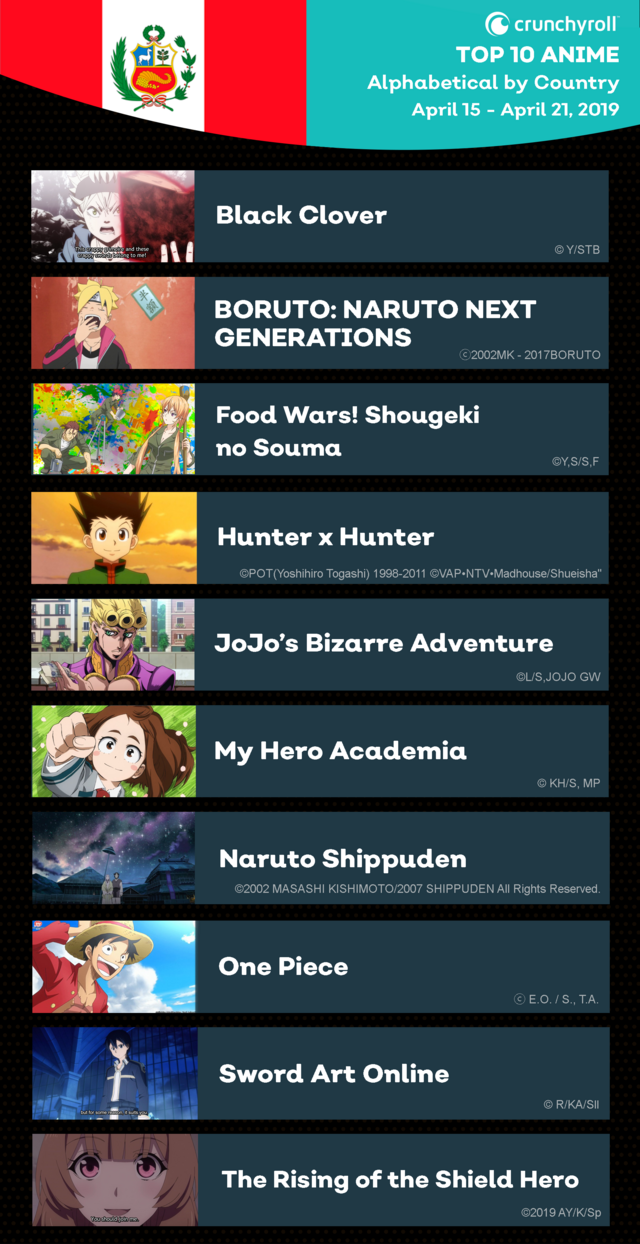 I was pleased to see Food Wars on the list here - the fast-paced "battle cooking" shonen series will be returning for a new season sooner or later, and though it's been a while since the Third Plate aired, the excitement following Soma's adventures hasn't died down.
Now for the list you've all been waiting for: the most popular anime on Crunchyroll overall, sorted alphabetically!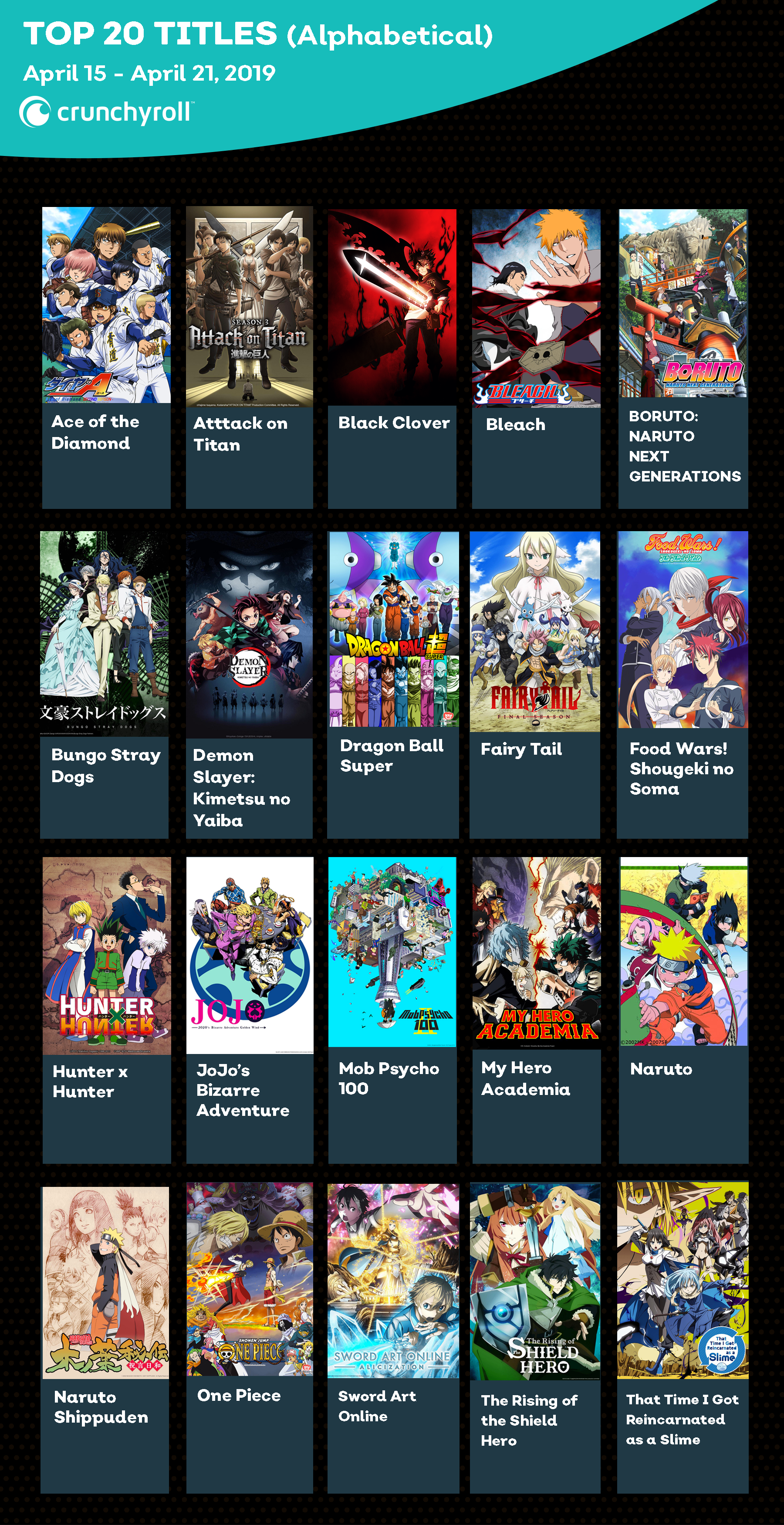 Not too many changes here week-over-week - but you'll notice that Attack on Titan joined the list! Last Wednesday, Crunchyroll announced that the second half of the third season of Attack on Titan will be coming to the platform this weekend - looks like fans are catching up in anticipation for the new episodes!
For those of you who want links to the series on the top 20 list, you can find them here: