In remembrance of creator Monkey Punch's passing, we look back at our favorite stories and moments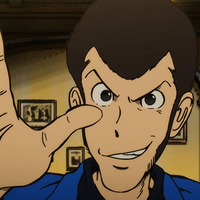 On April 11, Kazuhiko Kato—better known to his fans by the name Monkey Punch—passed away. Kato created many amazing works in his time, but the best known and most beloved of all was easily Lupin the 3rd. For many of us here at Crunchyroll, it was one of our earliest anime, if not an actual gateway series.
Today, we here at Crunchyroll News and Features are taking a look back at our favorite films and episodes, as well as what made us love this crazy series. We'd love to hear from the rest of you, too: tell us in the comments what makes you love the Lupin Gang and what story you loved most. If you're new to the series, we hope this encourages you to check out one of the standards of anime.
Thanks to everyone on the team who took part and shared their memories!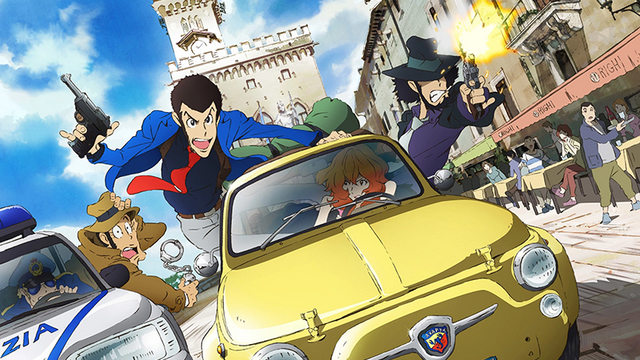 Paul: The true genius of Lupin III is that the characters are archetypal, and so they can map onto whatever story the writers and directors want to tell, from slapstick nonsense to hard-boiled, noir-style thrillers filled with murder and gratuitous nudity. Lupin, like Batman, means something different to everyone, and there is so much more to the character than simply "red jacket", "blue jacket", "green jacket", etc.
My first experience with Lupin III was The Castle of Cagliostro, and I've got a lot of time for The Woman Called Fujiko Mine and Jigen's Gravestone, but I'm sure everyone and their cousin has some kind words to spare for those entries, so I'll devote a few phrases to the weirder animated entries: The Fuma Conspiracy, The Mystery of Mamo, and The Legend of the Gold of Babylon.
Although I own two different DVD releases of The Fuma Conspiracy, I remember almost nothing about the film itself except that it involves Goemon getting engaged, the entire film is basically an extended (and exquisitely animated) chase scene, and the AnimEigo release had to fudge Lupin's name as "Rupan" because of the lawsuit with Maurice Leblanc's estate.
The Mystery of Mamo has clones, a giant space brain, ridiculous cameos and product placement that got scrubbed from the Geneon release, like 6 different English dubs, and perhaps the single greatest visual rhyme in anime cinema history, which juxtaposes Lupin teasing Fujiko's nipple with world leaders pushing the Big Red Button for a nuclear missile strike.
The Legend of the Gold of Babylon is so goddamned weird that is makes The Mystery of Mamo seem "two bedroom one bath white picket fence in the suburbs" mundane by comparison. I haven't managed to sit through the entire film in one viewing, but it's co-directed by Seijun Suzuki and it's arguably the most divisive work in the entire Lupin III franchise, so it merits a mention.
But none of these wild and woolly adventures would exist without the original manga from Kazuhiko Katou, aka "Monkey Punch", and while straight manga Lupin with no chaser is way too raw for me, it's the primordial essence from which all other interpretations of the characters spring, and the world is a smaller, meaner, and pettier place without Lupin's creator in it.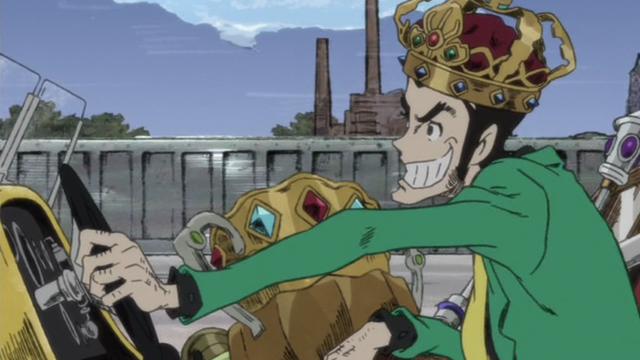 Carlos: I've always loved the phantom thief genre in any medium. I loved it as a Super Sentai, adored it when Persona 5, and of course, couldn't get enough of it in the eclectic series of Lupin the 3rd.
Kazuhiko Katou's legacy has truly been immortalized in Lupin's escapades, being one of the earliest examples of the phantom thief trend in Japan and modernizing Arsene Lupin's adventures for generations of fans to enjoy. The anime world has lost an old time visionary, but he left us with his timeless classic that I've loved for so long, and will enjoy for years to come. Whenever I sing "Memory of Smile," I'll raise a glass to Monkey Punch.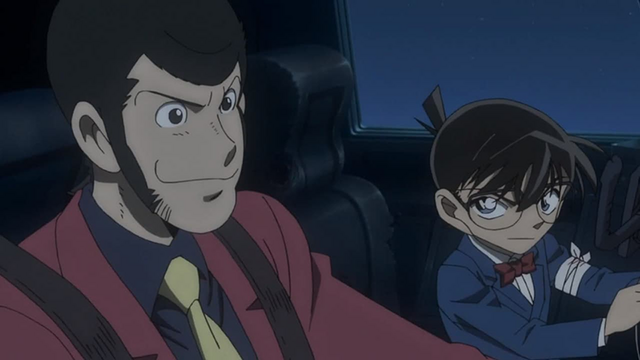 Noelle: My first introduction to the series was Castle of Cagliostro, having also grown up on Ghibli, and something about that was just so fun and enjoyable.
The Detective Conan crossovers are also a bit of lighthearted fun- Lupin exists everywhere!
All Lupin works embody the phantom thief sub-genre, but instead of being something heavy and ominous, they are free-spirited. Lupin, Jigen, and Goemon all have chips on their shoulders, but that doesn't stop them from causing trouble and generally having a good time while doing so. Every installment is witty, clever, and I'm always eager to see how the gang will come out on top.
The truest Lupin installment that greatly stuck with me is of course, The Woman Called Fujiko Mine, which ranks as one of my favorite anime series to this day. It doesn't focus on Lupin himself but Fujiko, and her adventures of self-discovery and living her own life. This one was a far more serious series, especially compared to the far more carefree Lupin series that I'd been exposed to, but it worked.
I'd usually watch Lupin whenever I wanted something that I know I'd enjoy, but also makes me feel good. There aren't many series that manage to do both.

Rest in peace, Monkey Punch.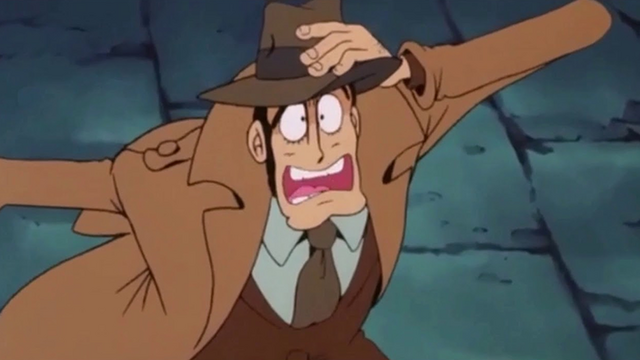 Nicole: It's been hard to reconcile with the fact that Monkey Punch is gone... My first encounter with Lupin came from Castle of Cagliostro, where I immediately fell in love with the Miyazaki directed version of Lupin as a dashing thief and the misfits that followed him around. I remember hearing from a lot of people when I first wanted to expand that "Oh that isn't really Lupin, that's a sanitized version of him," and over the years I kind of find myself disagreeing with that more and more. Lupin is a lot of things to a lot of different people, and I think Monkey Punch really created a unique and amazing set of characters that various directors then worked with and left their mark on. I still find myself rewatching Cagliostro whenever I get a chance, and I find it an amazing 'first anime' movie to show to people who have never really seen much anime at all before.
The Lupin TV series are filled with so many amazing episodes, and when I originally drafted up a top ten list last year, I ended up starting to rewatch the whole thing again. Even though some adaptations of Lupin are a bit better than others, I would say that anyone who likes the idea of a master thief and his madcap capers will find a lot to love almost anywhere in this series, and I hope that maybe in this sad circumstance of Monkey Punch's passing, people will get curious enough to investigate the series and fall in love with it too.
Some of my favorite Lupin memories and moments, aside from Cagliostro, have to be those dealing with Zenigata. As much as I love the Lupin crew, there's just something charming and attractive about Zenigata's character that always made him so much fun to watch. As I mentioned in my list, there are a lot of interpretations of Zenigata, but I always prefer the hard-boiled, semi-noir detective version of him that episodes like "Until the Full Moon Passes" or "The Woman the Old Man Fell in Love With" depict. I think the reason I always liked Zenigata so much is that he's really important for Lupin to play off of, and without Zenigata, I don't think you'd really enjoy Lupin as much as a character! The moments where the two of them really face off, or even work together, are some of the most magical moments in the series overall; on that note, I really recommend curious viewers to check out "The End of Lupin III", another great pick.
Finally, I've come to appreciate the Miyazaki influence in Lupin more over the years, and realize that without Monkey Punch, we probably wouldn't have Studio Ghibli today; those who are curious to see where Miyazaki got some of his original directing starts might want to check out his Lupin episodes, and of those, "Farewell, my Beloved Lupin" is amazing (and keen Miyazaki fans might see a lot of similar designs here to later movies!) and of course the amazing Miyazaki take on Fujiko in "Wings of Death: Albatross"! I'm sure there's so much more I could talk about or recommend, but I'll just say that Lupin, in all of his incarnations, is worth it, with something for everyone, from various movies and tv shows to spin-offs like the amazing Woman Called Fujiko Mine, I hope that creators will keep honoring the vision and memory of Monkey Punch and deliver us more amazing Lupin content in the future.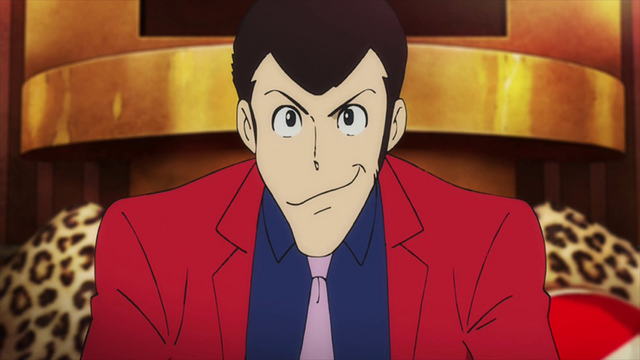 Joseph: Like many people, my first exposure to Lupin as a character was in Miyazaki's Castle of Cagliostro feature, which I still think is his best movie as a director. That characterization of Lupin, I would go on to learn, is just one of many, and I would soon see just how different his origins were when Tokyopop started publishing Monkey Punch's original Lupin manga in English. Looking back, it's probably not the best representation overall, but it's still interesting to see how the character has evolved since those rough early days.
The next time I caught him in action was back when Part 2 would air on Adult Swim—*checks paper* almost SIXTEEN YEARS ago?—and I've kept up with him and the rest of the gang irregularly over the years. My favorite thing about the franchise is just how flexible it is in general. While the broad strokes of each character may remain along the same lines depending on the jacket du jour, Lupin offers up a distinct canvas on which artists can apply their own unique sensibilities. I especially appreciate stuff like 2012's The Woman Called Fujiko Mine, which is about as decadently artsy as Lupin gets.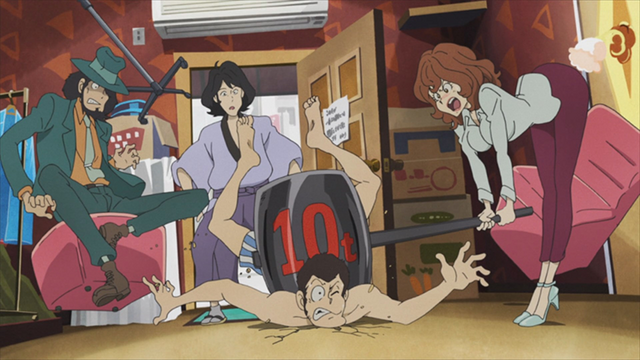 Kara: I spent two semesters in my college's anime club my freshman year being generally okay with anime. It was Castle of Cagliostro that got me all the way in. I remember when I finished watching it, I turned to my friend and said, "I'm actually kind of sad there's no more movies with these characters in them." I had no idea how ridiculously wrong I was.
I loved earlier specials and series, but what I'm loving now is the flexibility the characters have after 50 years. We had The Woman Called Fujiko Mine, which was downright surreal but ultimately rewarding when the other shoe drops. The new movies have been fantastic as they bring in a largely new cast. And for me, Part 5 was some of the most satisfying anime I've ever watched, Lupin or otherwise. It felt so in the spirit of Kato-sensei's original work, while still creating new riffs on it.
For me, anything Lupin is my go-to on a bad day. I know it's going to be funny, I know the "good guys" (whether or not Zenigata sees it that way) will win the day, and I know there's a lot of heart in every single version. It's hard to believe the gang's creator has passed on, but I'm also glad he got to see his work beloved by the world, and that it will continue strong for new fans.
Series available on Crunchyroll:
>> Part 1
>> Part 2
>> Part 3
>> Part 4
>> Part 5

-----
Kara Dennison is a writer, editor, and interviewer with bylines at VRV, We Are Cult, Fanbyte, and many more. She is also the co-founder of Altrix Books and co-creator of the OEL light novel series Owl's Flower. Kara blogs at karadennison.com and tweets @RubyCosmos.
Do you love writing? Do you love anime? If you have an idea for a features story, pitch it to Crunchyroll Features!