The Spring 2018 Renewal continues with the sports idol anime where a girl can also be a horse, of course!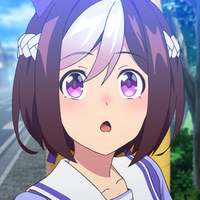 There's nothing like the Spring season to put a twinkle in the eyes of every anime fan, and "Cruising the Crunchy-Catalog" intends to keep that twinkle gleaming with the Spring 2018 Renewal, a look back at some of the series from the previous Spring season that left the fans feeling bright-eyed and bushy-tailed.
And speaking of bright eyes and bushy tails, this week we're checking out a tale of young ladies (who are also championship race horses) as they try to conquer the Twinkle Series in Umamusume: Pretty Derby.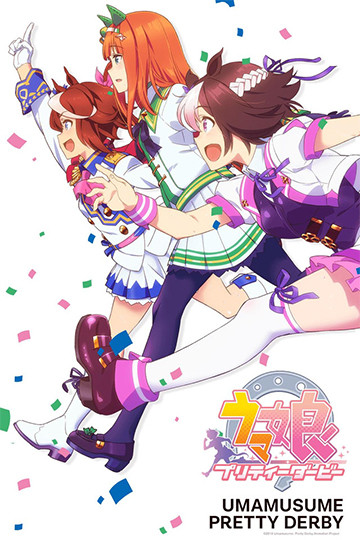 What's Umamusume: Pretty Derby?
Umamusume: Pretty Derby is a 2018 TV anime with direction by Kei Oikawa and animation production by P.A. Works. The series is part of a mixed media franchise which is also includes a manga, music, and an as-yet-unreleased smart phone game. Crunchyroll describes the story of Umamusume: Pretty Derby as follows:
This is a tale of a world where "horse girls"; with glorious names and incredible running abilities live alongside humanity. Horse girl Special Week has moved from the country to the city to attend Tracen Academy. There, she and her classmates compete to win the Twinkle Series and earn the title of "The County's #1 Horse Girl."
A sports anime with a little bit of idol anime mixed in, Umamusume: Pretty Derby follows Special Week and the other horse girls of Team Spica as they bond together, train together, and compete together in contests of pure athletic prowess.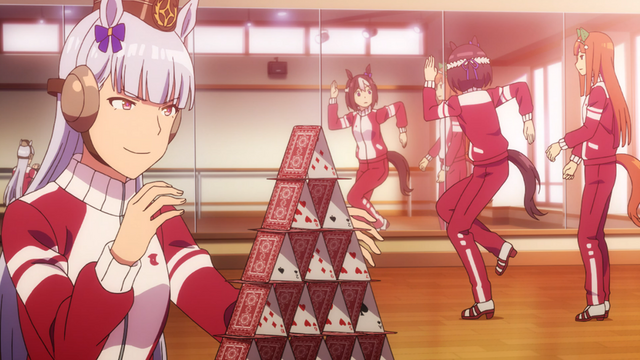 Horsing Around
One of the strong points of Umamusume: Pretty Derby is that the series has a great sense of comic timing, especially when it comes to unexpected reveals and the occasional burst of slapstick violence. Gags based on sight and sound abound, ranging from cartoonish expressions of the horse girls' enormous appetites to visual puns (i.e. "horse shoes") to the Foley sound effects of Special Week clumsily clobbering herself off-camera. Fans of pure-hearted comedy are in for a treat with Umamusume: Pretty Derby.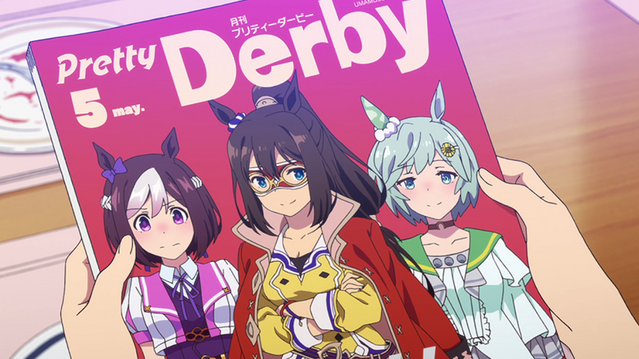 Horse Sense
Another interesting element in Umamusume: Pretty Derby is how the animators translate equine behavior onto the cast of (mostly) human characters. All of the horse girls in the show take their names, appearances, and personality traits from real life championship race horses, so it's fun to see them display horsey characteristics, such as pacing, prancing, butting against one another, or getting skittish and refusing to enter the gates before a race.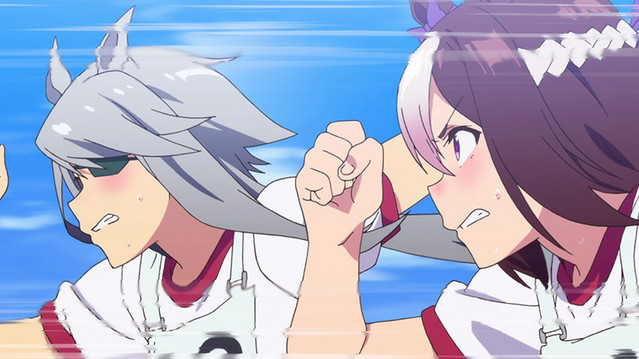 Free Rein
Perhaps the greatest strength of Umamusume: Pretty Derby is that it's a well-paced and compellingly crafted sports anime. The horse girls live in a world where the unsavory elements of horse-racing (such as gambling or animal cruelty) do not exist, allowing the story to laser-focus on a form of pure athletic competition where every girl struggles to do her best. The series explores the physical, emotional, and psychological sides of racing in a very dramatically satisfying manner.
Off to the Races
Crunchyroll currently streams Umamusume: Pretty Derby in 73 territories worldwide, and the series is available in the original Japanese language with subtitles in English, Spanish, and Portuguese. Unfortunately, there is currently no North American home video release for Umamusume: Pretty Derby, so what you stream is what you get. If you can't get enough Gold Ship, though, the eccentric horse girl has her own Youtube channel where she uploads videos as a virtual Youtuber.
Despite its absurd premise, Umamusume: Pretty Derby is a great little show that treats its subject matter seriously and delivers a viewing experience that is equally good at tickling the funny bone and tugging at the heart strings. If the series is available in your territory, and if you're keen on sports drama with a lot of heart, then you owe it to yourself to give Umamusume: Pretty Derby a try.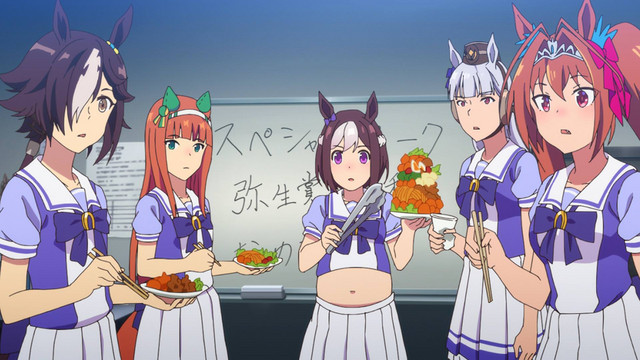 Thanks for joining us for this installment of the "Cruising the Crunchy-Catalog" Spring 2018 Renewal. Be sure to tune in next time when we take a look at another sports show, albeit one with a distinctly darker, grittier, and cybernetically-enhanced tone.
Is there a series in Crunchyroll's catalog that you think needs some more love and attention? Please send in your suggestions via e-mail to [email protected] or post a Tweet to @gooberzilla. Your pick could inspire the next installment of "Cruising the Crunchy-Catalog"!

-----
Paul Chapman is the host of The Greatest Movie EVER! Podcast and GME! Anime Fun Time.
Do you love writing? Do you love anime? If you have an idea for a features story, pitch it to Crunchyroll Features!