You've seen his anime—now check out shows where his main job was making the soundtrack pop!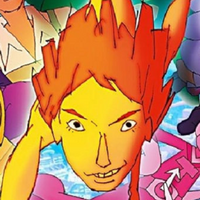 May 24 is the birthday of Shinichiro Watanabe, director of some of the coolest anime we've ever seen! Whether they're set here on Earth or in outer space, his shows have one major thing in common: music is essential to them.
Series like Cowboy Bebop, Space Dandy, and Samurai Champloo have their own unique styles, created in part by their diverse and interesting sountracks. Others, like Kids on the Slope and the new Carole & Tuesday, have music as a core element of their story. There's no doubt about it: Watanabe loves music, and his broad taste in genres of all types influences everything he does.
In fact, when he's not the one in the director's chair, you can find him overseeing music for other shows and films you love!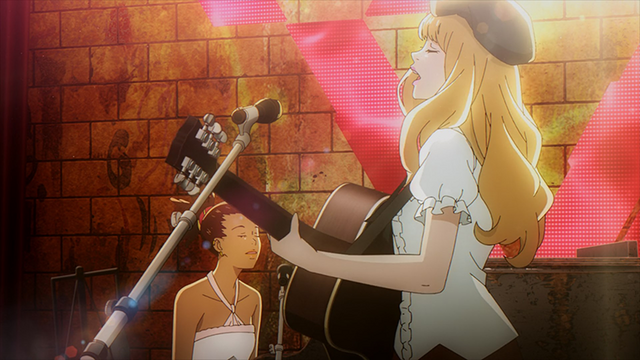 If Watanabe's birthday makes you want to marathon some of his shows (and that's a good enough reason for us!), consider throwing in a little of these three projects. And this time, give an extra special listen to the choice of music!
Mind Game
Nowadays when we think of Masaaki Yuasa, our minds immediately go to works like DEVILMAN crybaby, Lu Over the Wall, and the upcoming Ride Your Wave. But in 2004, he was making his directorial debut with Mind Game, a trippy film about a guy who wants to marry his childhood crush and instead ends up on the run from the Yakuza.
Watanabe was on board as Music Director—and someone with his broad taste in music seems like a perfect choice for a project this wild. You'll see a few of the usual suspects show up here and there in the sountrack (Yoko Kanno plays Liszt's Second Hungarian Rhapsody on piano during an especially trippy synchronized swimming routine, for example). When it came to the actual soundtrack composition, though, Mind Game turned to underground experimental artist Seiichi Yamamoto. His band Rashinban—a rock group with a laid-back vibe that disbanded in 2005—performed the insert song "Atarashii Hito," and Seiichi Yamamoto & Fushigi Robot performed the ending theme.
It's probably also worth noting that Yamamoto's biggest compositional project prior to this was Takashi Miike's crime flick Ichi the Killer. Just for fun.
Michiko & Hatchin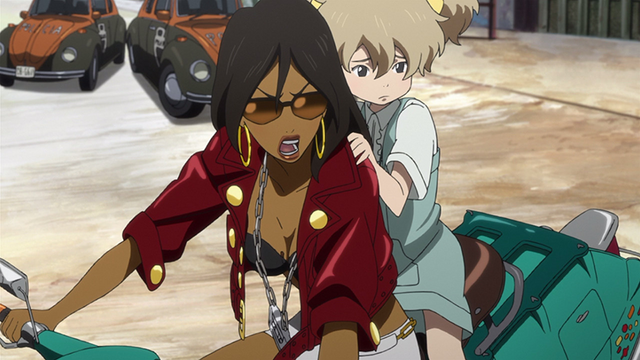 Watanabe served as co-producer on Sayo Yamamoto's Michiko & Hatchin, an action series set in the fictional South American country of Diamandra. Escaped prisoner Michiko Malandro kidnaps the daughter of her former lover. But fortunately for that daughter, Hannah Morenos, the kidnapping frees her from her abusive foster family.
In addition to his co-producer role, Watanabe served as music producer. When it came time to pick a composer for the series, he went right to the source of the inspiration, hiring on a Brazilian writer. Alexandre Kassin (known more often by just his last name) hails from Rio de Janeiro, a member of bands Acabou La Tequila and +2. Kassin was already a big deal in Rio's indie scene when it came time to pick a composer for Michiko & Hatchin.
Kassin wasn't the only local talent brought on board. Rio-based singer Áurea Martins supplied the final episode with its ending theme, "Nada pode me parar agora." Martins began her career as winner of a talent competition in 1969, and released her first album in 1972. For decades she was known only to the indie scene. In 2008—the year Michiko & Hatchin premiered—she returned to national attention with her album Até Sangrar.
A little closers to home, "death jazz" group SOIL&"PIMP"SESSIONS was placed in charge of the show's opening theme, "Paraiso." The group has most recently been attacked to the remake of Bem.
Lupin III: The Woman Called Fujiko Mine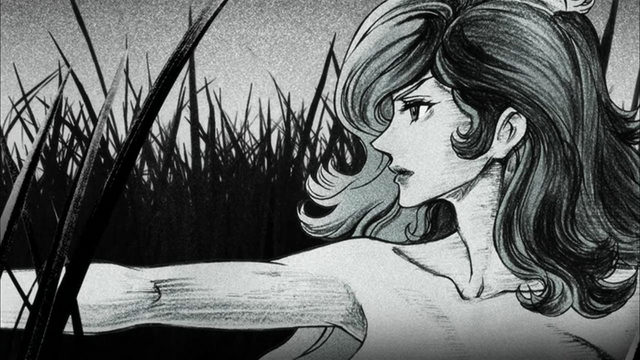 Watanabe and Yamamoto met up again for The Woman Called Fujiko Mine, a new iteration of Lupin III that took a more experimental approach in more ways than one. From animation style to surreal plot to a slow-burn payoff, this look at the Lupin Gang was a major departure for the series.
One of its other major departures was the music, with veteral Lupin composer Yuji Ohno sitting this series out. (He is, of course, back in full force with newer series!) Watanabe was at the reins as music producer, and jazz musician Naruyoshi Kikuchi stepped in as composer. You may have heard his saxophone stylings in .hack//Legend of the Twilight and Trigun prior to his work as a composer (which now includes the ONA Gundam Thunderbolt).
The result was an evocative bag of mixed musical elements, from the spoken-word "New Wuthering Heights" to the sax-heavy ending theme "Duty Friend":
At a press event at Otakon 2013, Watanabe restated his love of music. His role as music producer for other projects comes from a desire to boost the end result: "... there were some times when I would be looking at somebody else's work, thinking 'Oh, this could be so much better if they just did this and that with the music.'" His eclectic tastes and many contacts built up over the years mean that he definitely has what it takes to bring that extra flair to series of all types.
What's your favorite series Shinichiro Watanabe has had a hand in? Let's keep the conversation going in the comments!

-----
Kara Dennison is a writer, editor, and interviewer with bylines at VRV, We Are Cult, Fanbyte, and many more. She is also the co-founder of Altrix Books and co-creator of the OEL light novel series Owl's Flower. Kara blogs at karadennison.com and tweets @RubyCosmos.
Do you love writing? Do you love anime? If you have an idea for a features story, pitch it to Crunchyroll Features!