June 7th is Hirohiko Araki's birthday, and we're going to celebrate by helping you learn more about him!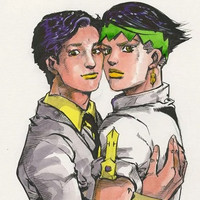 Born on June 7th, 1960, Hirohiko Araki celebrates his 59th birthday this year! Hailing from Sendai, Miyagi, Japan, the creator of JoJo's Bizarre Adventure has been wowing audiences across the globe with his unique art and storytelling. But aside from JoJo's, how much else do you know about Araki? Well, whether you answered that with "a lot" or "nothing at all", we figured there was no better way to celebrate the father of Jotaro, Joseph, Josuke, Giorno, and DIO than with a retrospective look at the man behind the pen. If you're a long time fan of Araki's or a newer fan lured in by your friends endlessly talking about JoJo references, we think you'll find something interesting that you probably didn't know before!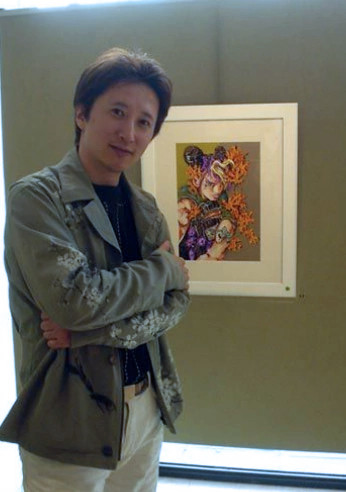 Araki grew up in Sendai, the capital city of Miyagi Japan. Founded in 1600 by Date Masamune, and found himself reading to escape the hassle of dealing with his younger identical twin sisters. Araki considers this period to be formative in developing his love for comics and art, as he spent his time reading manga and books about art, with Paul Gauguin being a major artistic influence on the young manga artist, and Ai to Makoto as his most memorable manga. Although never translated into English officially, Ai to Makoto's story of cross-class love between a delinquent boy and a rich girl has been an enduring hit in Japan, spawning no less than four live-action films in Japan, with the most recent being in 2012!
Considering some of the themes of JoJo's first part, it is easy to see some of the ways in which this manga and its storyline stuck with Araki throughout his life. Araki began drawing manga of his own during high school, and even tried to get his works submitted to various magazines with no luck of publication until he met with an editor at Shueisha, under whose guidance he eventually created his first manga hit, Poker Under Arms, a Wild West story about a dangerous poker game that has a few early similarities to some JoJo characters, most notably everyone's favorite hat throwing goon, Speedwagon!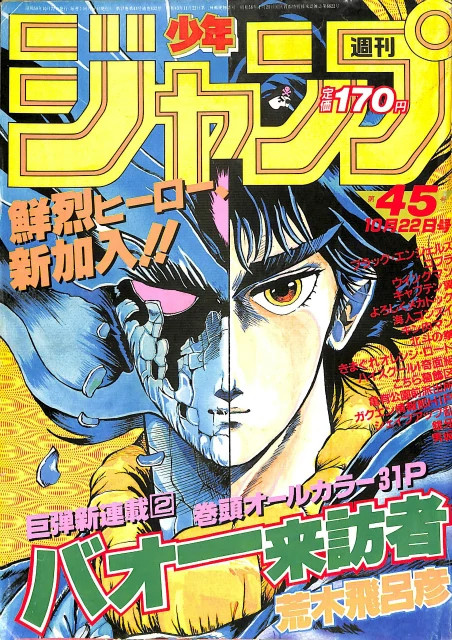 Three years after Poker Under Arms, Araki published his first serialized work, Cool Shock B.T., a story about a mystery solving magician. Most longtime Araki fans will probably remember his next work, Baoh, which debuted a year later in 1984. Baoh follows a similar storyline to early versions of Kamen Rider, featuring a hapless young man named Ikuro who finds himself implanted with a parasite known as BAOH by an evil organization. Ikuro finds that when he is in danger, Baoh manifests to protect him, giving him superhuman abilities and powers that he then uses to fight back against Doress and its evil plans.
JoJo viewers may note that the series occasionally has over the top depictions of violence, and Baoh seems to be the place where Araki first started to experiment with the extreme violence and fighting that he became known for later. Fans who played the fighting game JoJo's Bizarre Adventure: All Star Battle may even recognize Ikuro Hashizawa as a downloadable character, and older fans of anime and manga likely had their first encounter with Araki's works in English thanks to Viz's release of the manga in 1990, and an OVA series from 1989 that saw a re-release from AnimEigo in 2001.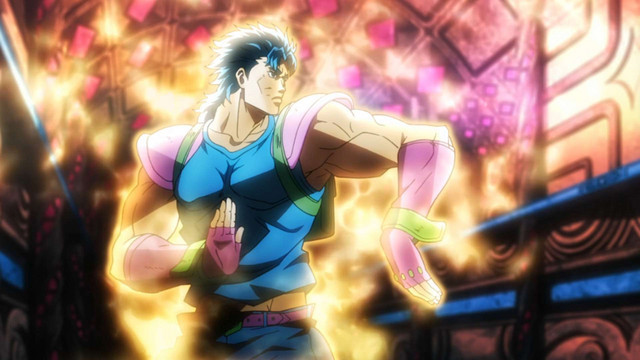 Of course, it would be impossible to talk about Araki without also talking about JoJo's Bizarre Adventure, which originally saw publication in 1987's first January issue of Weekly Shonen Jump. Since then, the series has gone on to sell over 100 million copies in Japan alone, and has been translated into many other languages, with new fans discovering the magic of Araki's work every day. With 124 volumes (and counting!) currently in print for the series, JoJo's Bizarre Adventure is also the seventh longest running manga of all time, and since Araki doesn't seem interested in slowing down any time soon, we can only expect him to work hard to keep that placement (or even go higher!). The manga also spawned numerous anime adaptations, novels, video games, and more that fans have been more than happy to gobble up at any opportunity.
One of the most amazing things about JoJo is the change in Araki's art that you can track over time, seeing how he continually refines his unique style over 32 years that the manga has been in publication. With more chapters being written all the time, we're sure that we'll continue seeing new and unique ways that Araki's style evolves over time, and hopefully that'll lead to more amazing anime adaptations of the series from David Production! If you've never taken the plunge, we recommend you start here and give the supernatural action adventure series a shot! JoJo's Bizarre Adventures follows various generations of the Joestar family, from their early days and beginnings to the rise of the evil DIO, to various related family members whose destinies were unknowingly intertwined with their ancestor's seemingly eternal struggle! JoJo's Bizarre Adventure is a blast, and I promise you'll find something to love about the series if you let it into your heart.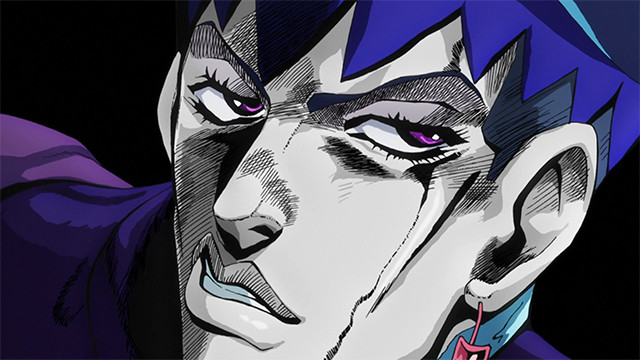 As one of the longest running manga artists in history, Araki has plenty of interesting ideas that don't always make it into his main series. Over the years, Araki has created numerous oneshots and spinoffs that explore some of his more creative ideas, even bringing in favorite JoJo characters in new situations, most notably Diamond is Unbreakable's Rohan Kishibe. Some of Araki's lesser-known works include The Lives of the Eccentrics, Under Execution Under Jailbreak (which features an interesting cameo by a ghost of a man who just wanted a quiet life), Dolce and His Master, and the various Rohan series, from Thus Spoke Kishibe Rohan, Rohan at the Louvre, and Rohan Kishibe Goes to Gucci. Quite a few of his non-mainline JoJo works are born from interesting partnerships, and the two Gucci manga that Araki wrote are testaments to this, having also been designed in tandem with Araki's art being displayed in various Gucci stores across the world, featuring JoJo characters dressed in the latest Gucci fashions. Rohan's trip the Louvre was created for an exhibit in the famous French museum in 2009 called The Louvre Invites the Comics, and even received a full-color, official printing in English in 2012!
In 2015, Araki even published a book of his thoughts and techniques for creating manga in Hirohiko Araki's Manga Technique, which was published in English by Viz as Manga in Theory and Practice: The Craft of Creating Manga. The book is a fascinating look into the thoughts and processes of Araki himself, discussing his various influences and his beliefs on how to create characters, stories, and creating a world of your own in manga. If you're a manga fan or aspiring creator yourself, you probably owe it to yourself to track down this book and read what one of the greatest manga authors has to say about the process!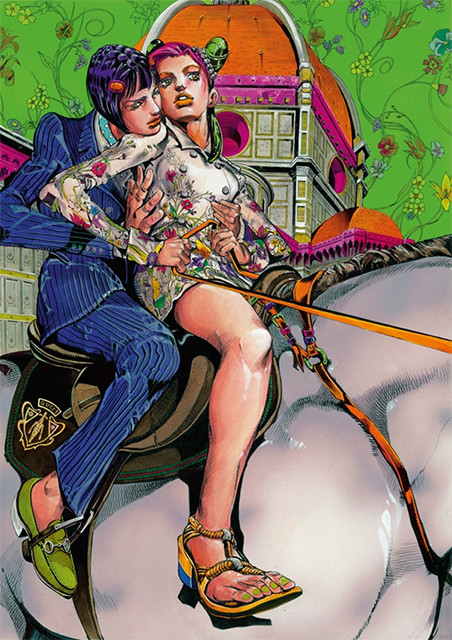 But what about when he's not drawing manga? Well, Araki has numerous loves and activities in his life, and many of his influences come not from other manga or anime, but from music, film, and art from around the world. Araki has a particular love of Italy, especially Italian food, art, and fashion, as evidenced from the numerous references to it he makes in his works. Araki even had an art exhibit in Florence to tie in with his partnership with Gucci. His love of Italian food extends to his own culinary skill, and the creator of Assassination Classroom, Matsui Yuusei, even wrote about the experience of being asked to eat Araki's cooking for a special film segment for Jump Live. Yuusei recounts that Araki's cooking is quite amazing, meaning that he's not just an amazing manga creator, but also a pretty amazing chef! We'll just say we're a bit jealous that we can't try Araki's amazing food, but at least we get to enjoy his other works. Yuusei notes something else about Araki that's a bit of a fan myth: he seems to never age! Araki's amazing health has led to the joke that he, too, wore the Stone Mask, but Araki just states that he eats a healthy diet and exercises constantly, as well as ensuring he doesn't overwork himself, as the keys to his seemingly mysterious eternal youth. His favorite exercises? Swimming, riding a bike, and walking to Japanese shrines!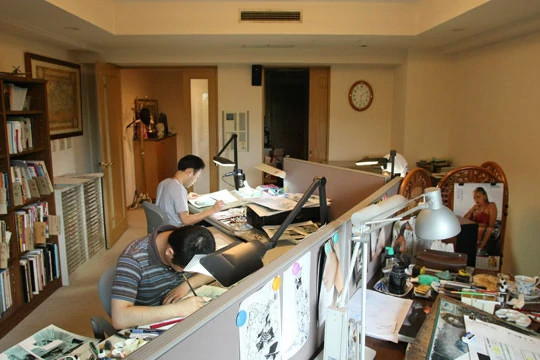 Araki's influences for his works come from various sources all over the globe, drawing particularly from his love of music. Araki maintains a massive music collection at his studio, and notes that he listens to various types of music to get inspired while creating and working on his manga, lending various names to characters from the music that he listens to while working. His love of art is also a source of inspiration for him, with artists Tony Viramontes, Antonio Lopez and Paul Gauguin as some of his most influential favorites.
Interestingly, Araki doesn't cite many manga as inspirational to his works, only mentioning Ai to Makoto, Ore wa Teppei, a manga about a boy who lived in the wild before finding out he was an heir to a fortune, and Babel II, which Araki notes as giving him the inspiration for combat with special rules and limitations that would become a hallmark of his Stand battles. Araki doesn't do all of his work alone, however, and over time developed his own stable of assistants that work with him at his studio, Lucky Land (careful viewers of JoJo's Bizarre Adventure may recognize the logo from cameos in opening and endings of the series). Lucky Land and its employees give Araki the ability to bounce ideas around, find new avenues of inspiration, and are key to his continued success.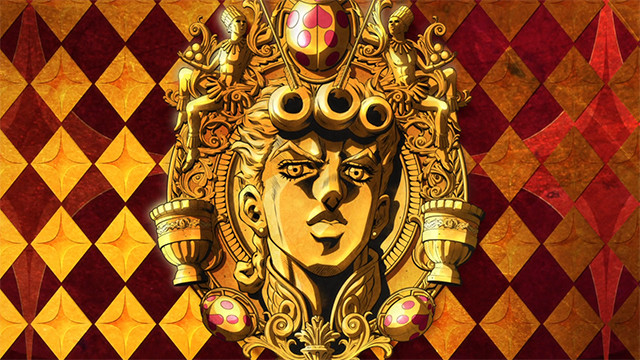 Delving into the lives of our favorite creators reveals some fascinating things, usually showing us that the people who inspire and entertain us with their creations come from such varied and interesting backgrounds! Araki certainly loves what he does, and we can only assume that he's going to continue creating amazing manga for readers for as long as he finds it enjoyable. And, if the rumors about his being a Stone Mask Vampire are true, that might be a really long time! Anyway, we hope that for his birthday, you've enjoyed reading all about him and his life, and we recommend topping off the celebration by ordering some of your favorite Italian food and marathoning some JoJo's Bizarre Adventure! Until next time, ari-ari-ari-ari-ari-ari-arrivederci!
Do you have any Araki Facts you want to share for his birthday? Who is your favorite JoJo character or Stand? Let us know in the comments!
----
Nicole is a features writer and editor for Crunchyroll. Known for punching dudes in Yakuza games on her Twitch channel while professing her love for Majima. She also has a blog, Figuratively Speaking. Follow her on Twitter: @ellyberries
Do you love writing? Do you love anime? If you have an idea for a features story, pitch it to Crunchyroll Features!