The Spring 2018 Renewal hits its penultimate entry with a series about cute girls creating comics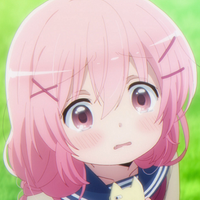 Ah, Spring, the season of youth, when young girls' thoughts turn to...drawing manga? Well, maybe not, but despite the tortured seasonal metaphors, the "Cruising the Crunchy-Catalog" Spring 2018 Renewal is in full swing as we look back at some of the series that made the anime season of one year ago special.
This week, we're thinking about inking, turning our minds to screentone, and trying to stay within the lines of comedy with a little dash of romance as we reminisce about Comic Girls.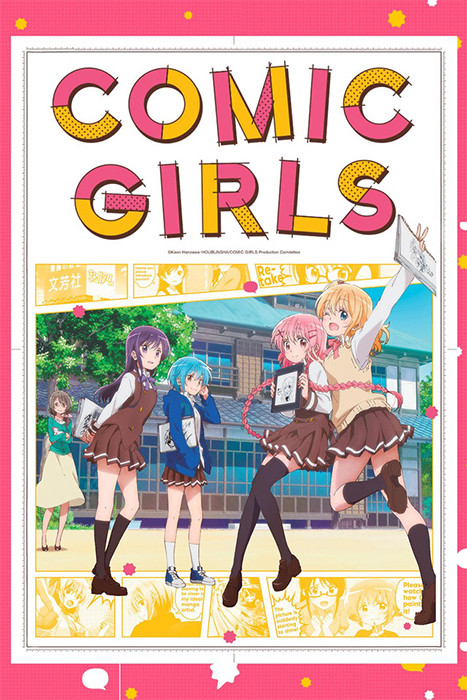 What's Comic Girls?
Based on the 4-panel comic by Kaori Hanzawa, Comic Girls is a 2018 TV anime with direction by Yoshinobu Tokumoto and animation production by Nexus. Crunchyroll describes the series as follows:
Moeta Kaoruko (Pen name: Kaos) is 15 years old, a high school student and 4-panel manga artist! After moving to a dorm especially for female manga artists, she meets shojo manga artist Koyume, teen romance manga artist Ruki, and shonen manga artist Tsubasa. Every day, they'll work all through the night trying to ink and finish their work! Her cute, funny life in a manga artist dorm is about to begin!
An everyday comedy starring adolescent protagonists, whether you enjoy Comic Girls largely depends on whether you can engage with the central conceit: that it's possible for a high school student to maintain both an academic career and professional career as a serialized manga author without crumbling into an over-stressed and under-educated bundle of neuroses.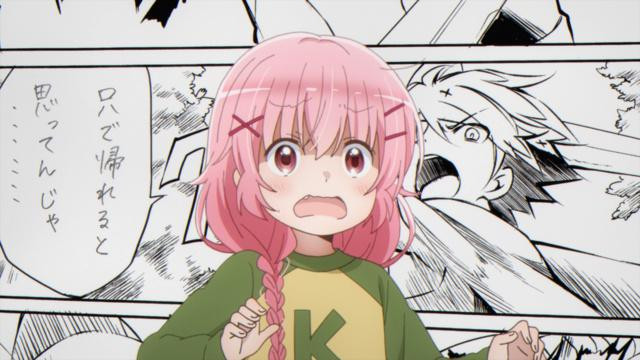 Comic Timing
The central charm of Comic Girls is how it lovingly pokes fun at the conventions of various manga genres, running the gamut from frilly romance comics to hot-blooded adventure comics to gruesome and gory horror comics. Each girl has her own specialty, although there's often an amusing gap between their artistic strengths and their real-life personalities and experiences.
One of the main running gags is that the heroine, Moeta Karuko (aka Kaos), is absolutely terrible at her job, generating mountains of rejected manuscripts and frequently frustrating her long-suffering editor with storyboards full of dubious choices. Her journey as an artist is beset with stumbling blocks that evoke both sympathy and despair, but Kaos is the sort of lovable loser for whom the audience wants to cheer.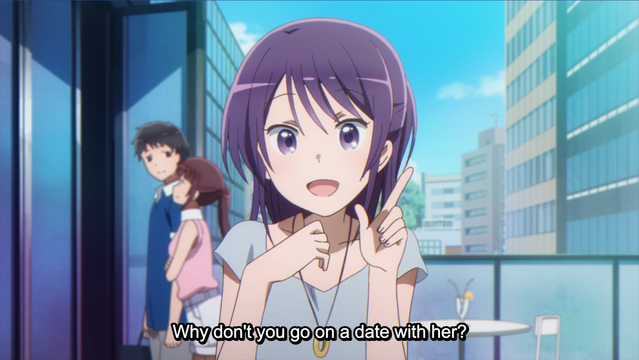 The Scent of Lilies
The original Comic Girls manga runs in Houbunsha's Manga Time Kirara Max, a seinen publication that aims for a demographic of men in their twenties and older. As a result, it's not terribly surprising that the Comic Girls anime has a bit of fan-service and a few fetishy scenarios, but mostly the show comes across as sweet rather than skeevy.
Like many anime where male characters are nowhere to be found, Comic Girls contains a hint of yuri (i.e. an often highly-stylized focus on romantic same-sex relationships between women), and the series also has a very sweet and positive depiction of Koyume, the shoujo romance author, coming to grips with her burgeoning attraction to her dormmate, Tsubasa.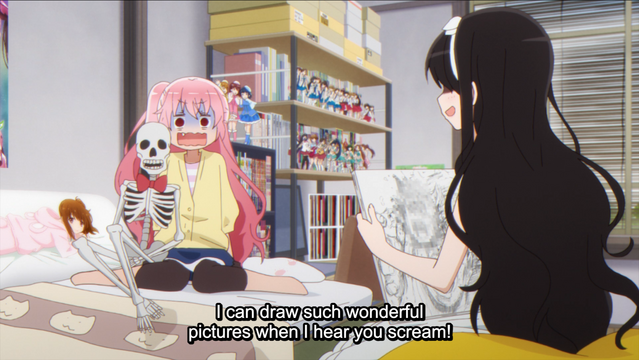 Art is Hell
While there's an element of fantasy to the premise of a manga dorm for high school girls, Comic Girls doesn't sugar coat it when it explores how much time and labor go into creating sequential art. Deadlines, physical exhaustion, and social isolation are a constant problem, and Comic Girls doesn't tiptoe around the idea that not everyone is cut out for a career as a professional artist. If you've ever nursed artistic aspirations, the scene where the girls cook sweet potatoes using their old, rejected artwork as kindling will hit you right in the heart.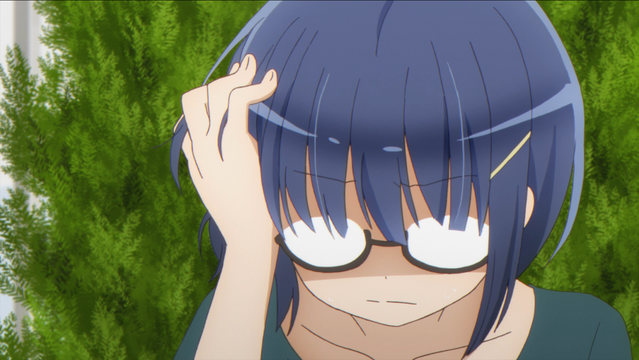 Why So Serial?
Crunchyroll currently streams Comic Girls in some 196 territories worldwide, and the series is available in the original Japanese language with subtitles in English, Spanish, French, Portuguese, Arabic, Italian, and Russian. Unfortunately, there is currently no home video release version of Comic Girls in North America, but if you'd like a little Kaos in your life, there is a Nendoroid of the main character.
Cute and tender, with strong comic timing, adorable characters, and a healthy respect for the troubles of trying to make a living in the harsh landscape of sequential art, Comic Girls is a good choice for fans of shows such as Monthly Girls' Nozaki-kun. If the series is available in your area, and if you're in the mood for an irreverent look at high school life through the lens of making manga, then please consider giving Comic Girls a try.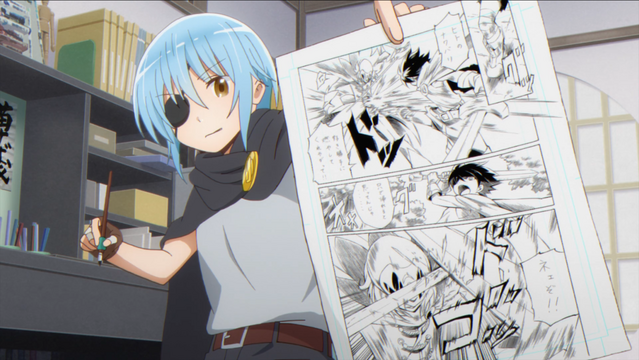 Thank you for joining us for this latest entry in the "Cruising the Crunchy-Catalog" Spring 2018 Renewal. Be sure to tune in next time for the concluding installment of the spring series, where before we dive into the dog days of summer, we'll shoot for the stars with a look at a completely serious and not at all tongue-in-cheek short form anime about intergalactic warfare.
Is there a series in Crunchyroll's catalog that you think needs some more love and attention? Please send in your suggestions via e-mail to [email protected] or post a Tweet to @gooberzilla. Your pick could inspire the next installment of "Cruising the Crunchy-Catalog"!

-----
Paul Chapman is the host of The Greatest Movie EVER! Podcast and GME! Anime Fun Time.
Do you love writing? Do you love anime? If you have an idea for a features story, pitch it to Crunchyroll Features!