Original manga pages, an open-form library, and larger-than-life heroes await you!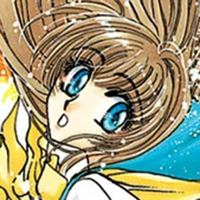 London's British Museum is home to many one-of-a-kind, legendary items. You're greeted by the Rosetta Stone (now encased in glass to protect it from curious hands) upon entering. The massive Great Court features a reading room at its center, previously home to both an enourmous library and a series of temporary exhibitions. You can wander amid ancient Egyptian relics, sculptures from the Parthenon, and samurai armor. In other words, it's not the sort of place you'd expect to come face-to-face with the Colossal Titan or a statue of Astro Boy. But for a little while this summer, those things and more are on the menu.
The British Museum's temporary Manga exhibit is the largest of its kind ever to exist outside Japan, and marks probably the one and only time you'll see a larger-than-life Asirpa from Golden Kamuy on the wall of the London Underground. At the museum itself, the exhibit can be accessed on the far side of the Great Court, next door (at the moment) to a temporary showing of Edvard Munch's The Scream. The juxtaposition of manga and "real art" has ruffled a few feathers since the exhibit's opening, but it takes only a few steps past the entrance to see that the world of manga is being treated with just as careful and caring a hand as any other piece at the museum.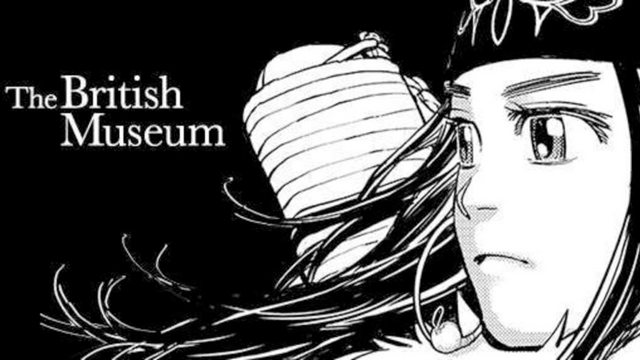 It's easy enough for a long-time anime and manga fan to dive right in, but the museum grants a slightly more comfortable foothold for patrons less familiar: Lewis Carroll's Alice in Wonderland. The beloved British story has become popular around the world—including and especially in Japan—making CLAMP's Miyuki-chan in Wonderland a fitting greeter.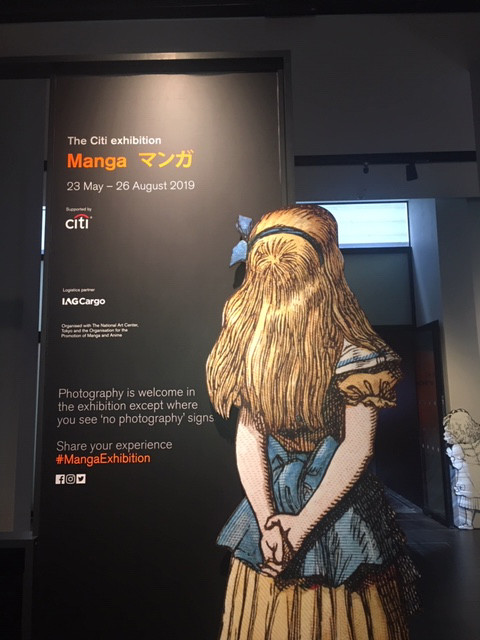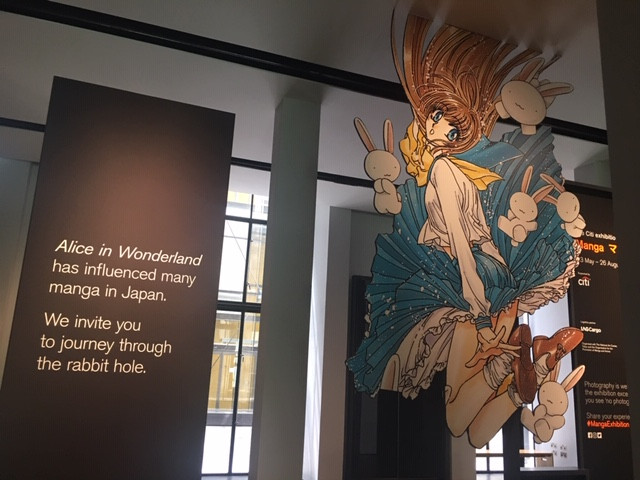 You're led farther through the space by Mimi, a rabbit mascot inspired by Japan's choju-jinbutsu-giga scrolls (themselves a precursor to manga). Visitors can follow her pawprints across the exhibit floor for a guided tour that begins with the business of manga, leads into a timeline of pre-manga sequential art followed by the history of manga itself, and culminates in a run-down of anime, manga culture, and fandom. Or you can eschew the rabbit footprints and wander around the open-form exhibit following whatever catches your eye... and there's a lot to catch your eye!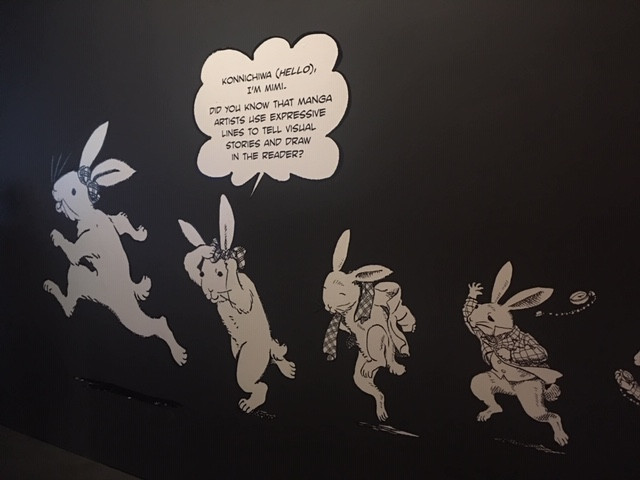 If you're an anime fan with favorite series and characters, entry into the open-form exhibit is an embarrassment of riches. Just standing in the entryway grants you glimpses of giant murals depicting popular characters, TV screens showing off interviews with manga luminaries, and a great big Colossal Titan head. Following in Mimi's footsteps takes you into a kiosk showing off information about the business of manga. Editors for major manga magazines talk about the process of putting an issue together in short video clips, with displays showing the stages of production for some of your favorite titles.
Just around the corner, the history lesson begins... and it goes way back. Everything from the aforementioned choju-jinbutsu-giga scrolls to political cartoons to boys' and girls' annuals from the early 20th century are grouped together, showing the slow and steady rise of sequential art in Japanese culture. Archival videos of Osamu Tezuka offer more context as you explore these rarities: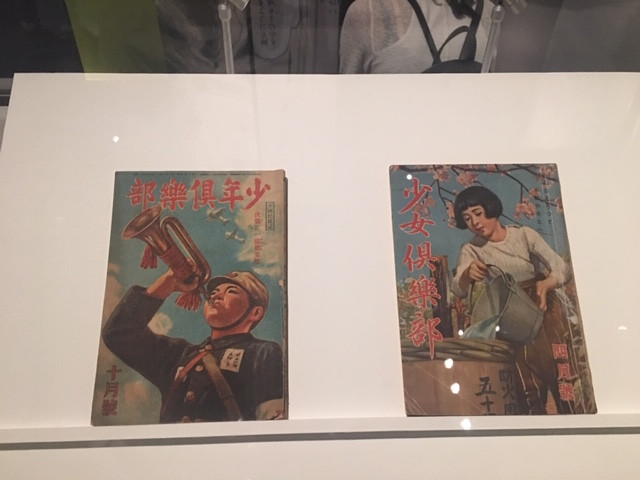 With the groundwork laid down, it's time for the main event: the manga themselves. The displays are generally chronological at the front, kicking off with Tezuka's work, and are eventually sorted by genre as visitors move farther down the line. Along the way, you'll get within inches of some of the most iconic pieces of art in manga history: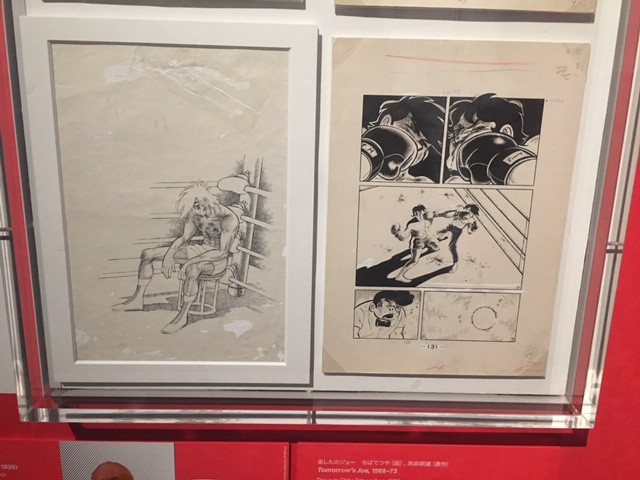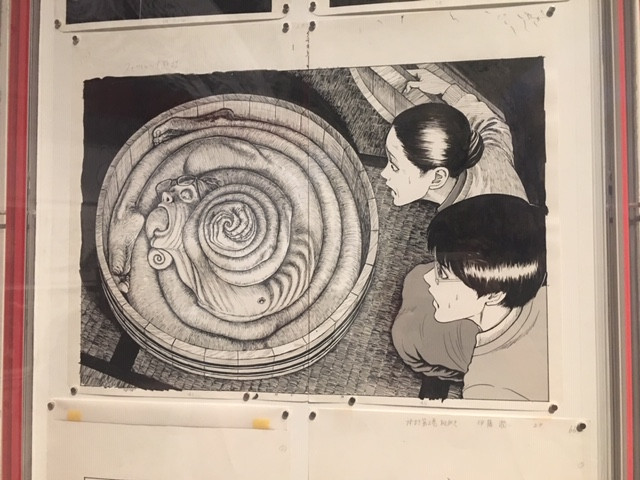 Scattered among the stands are TV screens playing clips from Dragon Ball, Sailor Moon, GeGeGe no Kitaro, and more. Statues of famous characters stand next to their manga displays, and the walls are lined with supersized art from beloved titles: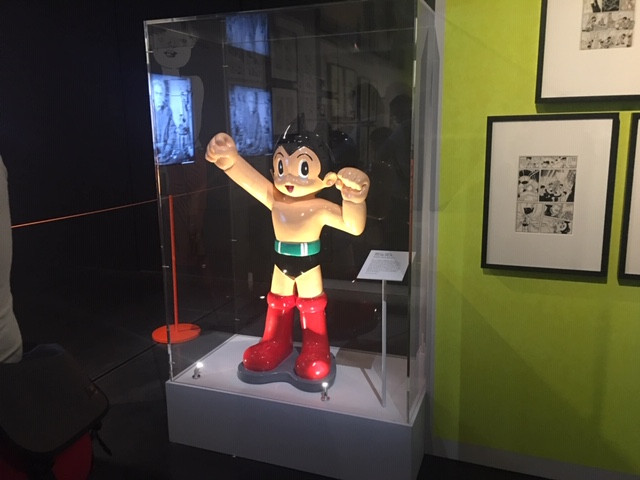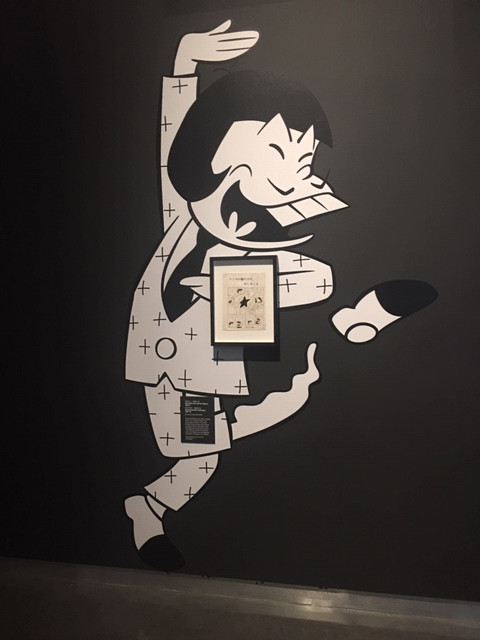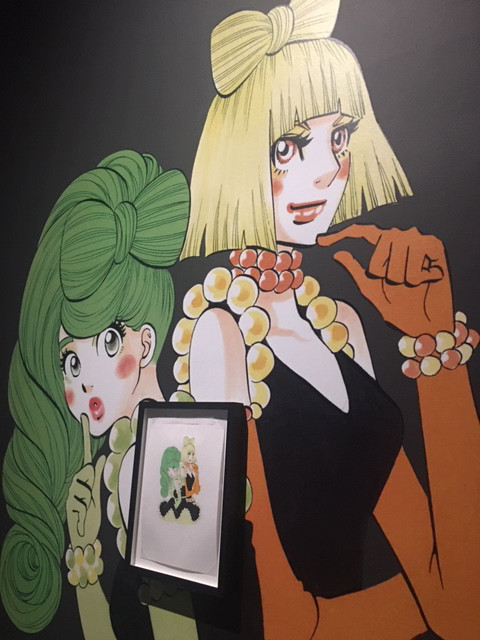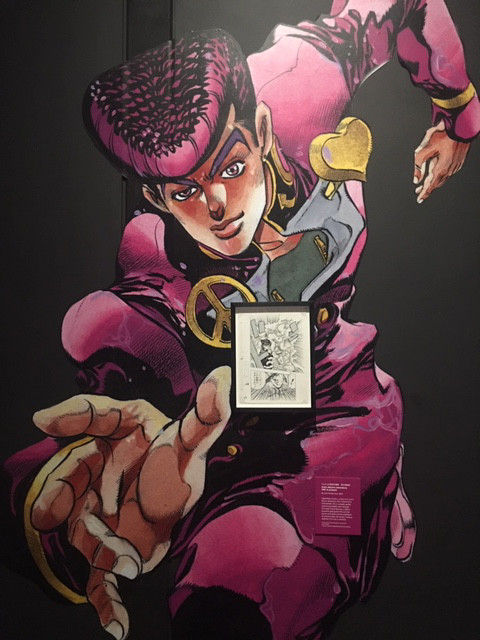 There's still a ways to go before the experience is done... but if you find yourself itching to pick up a familiar book at this point, there's a manga reading room right at the center of the exhibit! You can browse titles from across the decades, or zap a QR code to bring up Weekly Shonen Jump titles on your smartphone. Screens above the shelves show manga panels in motion.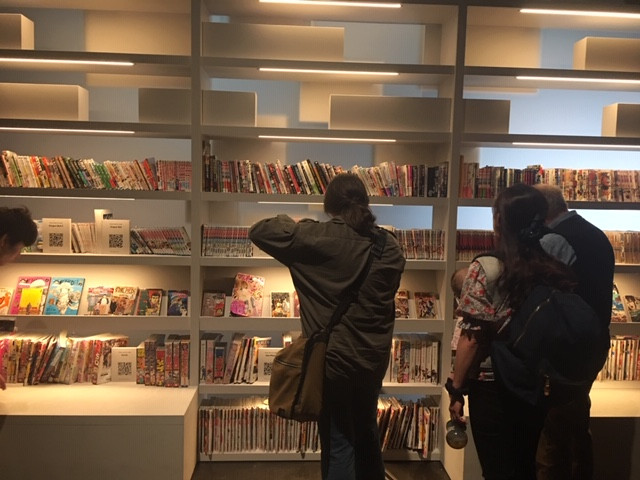 At this point, you've come into the more modern section of the exhibit. Massive screens towards the back show off scenes from Studio Ghibli anime, footage of cosplayers, and moments from Comic Market. Displays break modern manga down into some of its more prominent themes: action, horror, sci-fi, and boys' love, to name just a few. Some Crunchyroll titles like Naruto, Attack on Titan, and Golden Kamuy are displayed back here, if you want to get a closer look at some of your favorite series: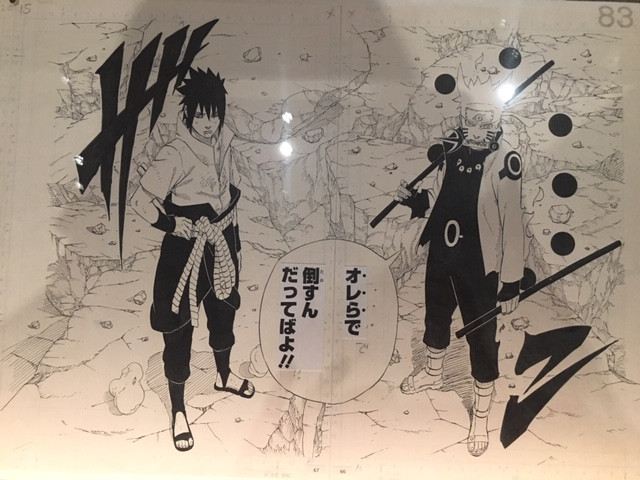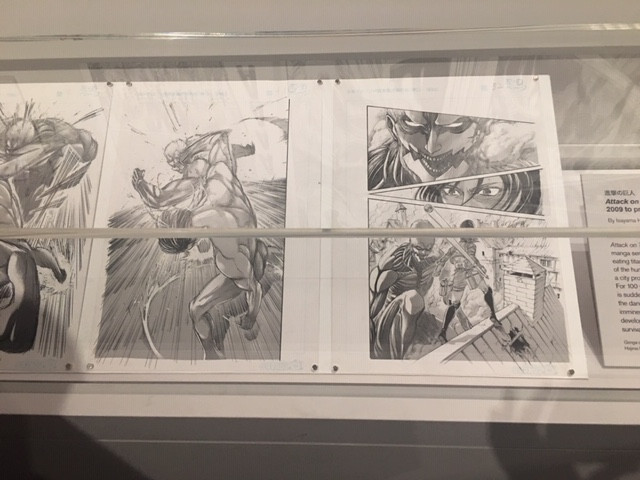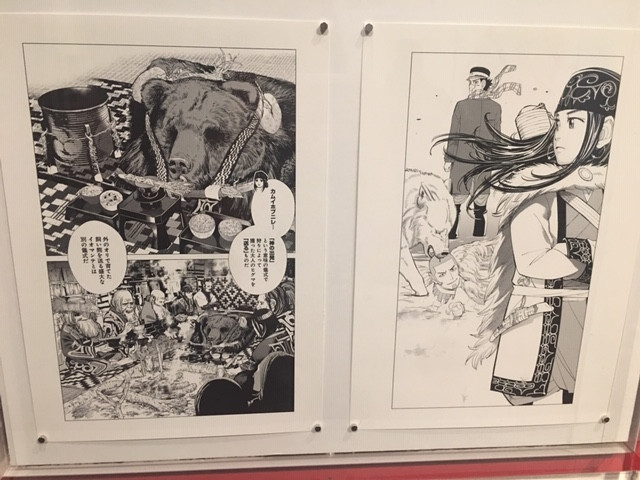 Standing tall in the back area of the exhibit is a smaller-sized version of My Family's Tradition, a sculpture by artist Rieko Akatsuka. The piece consists of enlarged katakana from manga by her father, Osomatsu-kun creator Fujio Akatsuka. Reading it from different angles will result in different onomatopoeia, meaning everyone who looks at it will come away with a slightly different impression of the piece: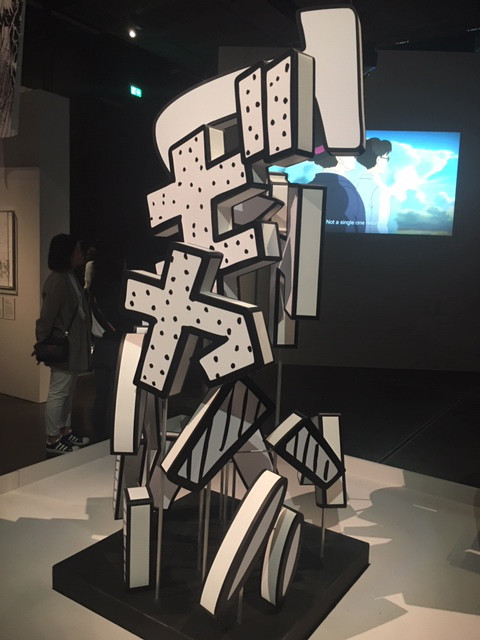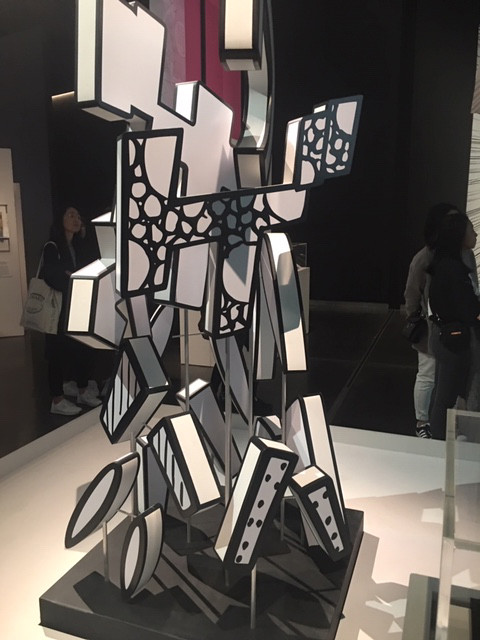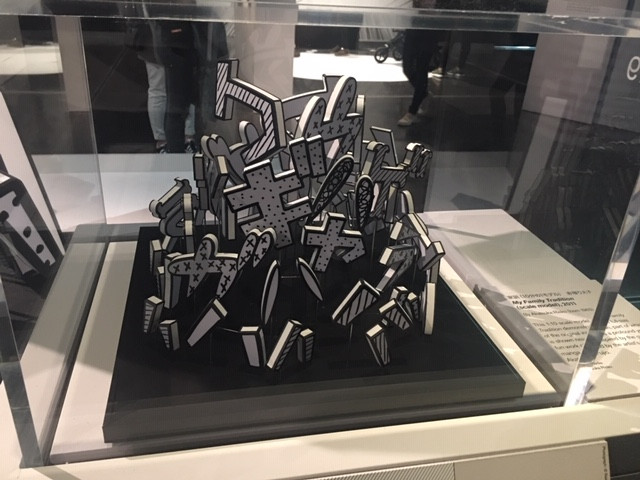 From here, you can get photos at a photo booth with manga effects, try on costumes, and then head out into the exhibit's gift shop. If you've ever wanted to buy Naruto keychains and Sailor Moon mugs from a major British institution, this is your chance.
This is, fortunately, an exhibit put together by people who obviously care about the material. There's educational value, but there are also moments of just plain fun and excitement: seeing a giant JoJo, for instance, or pausing for a minute to watch the original Dragon Ball opening play. Tying it all back to fan interaction is a fantastic reminder of how manga went from being inspired to inspiring, and the culture that's sprung up around it.
If you have any excuse to be in London before the end of August, it's definitely worth your time. There's an admission fee for non-members, but considering just how much content there is, it's worth the price.
>> Manga at the British Museum
Would you like to visit this exhibit? Do you study manga history? Let us know in the comments!
-----
Kara Dennison is a writer, editor, and interviewer with bylines at VRV, We Are Cult, Fanbyte, and many more. She is also the co-founder of Altrix Books and co-creator of the OEL light novel series Owl's Flower. Kara blogs at karadennison.com and tweets @RubyCosmos.
Do you love writing? Do you love anime? If you have an idea for a features story, pitch it to Crunchyroll Features!