We asked you to send over your anime collection photos, and we got A TON of 'em! Did yours make it in this week?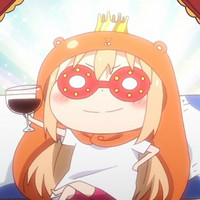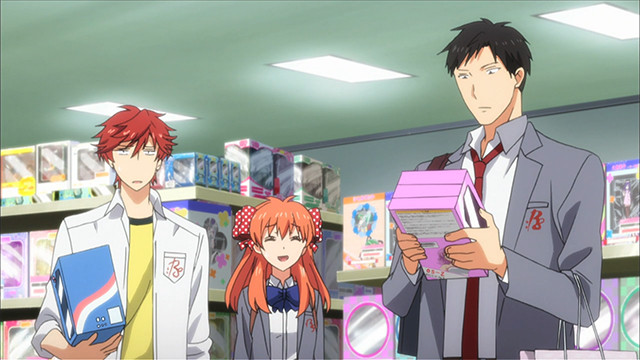 It's the start of the weekend, and y'all know what that means: it's Fan Shrine Friday time! But what exactly do we do in Fan Shrine Fridays? Why, we show off how much we love anime, manga and games by displaying glorious collections featuring characters and series we love! No collection is too small, really. So if you've got a collection that you're proud of, send a photo our way, and your collection could be featured in this segment! Plus, it's a real treat for me to see all your amazing photos filled with a whole bunch of cool stuff! Let's get this party started and check out some collections.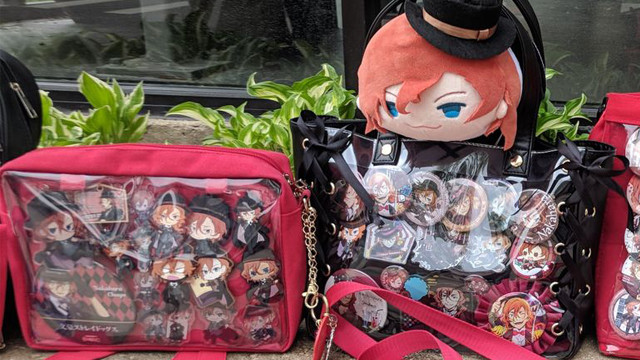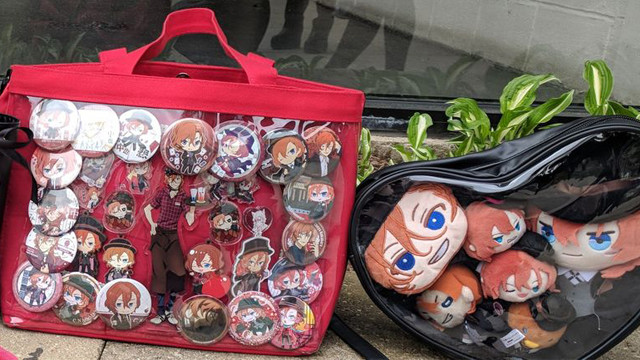 We're starting off with Asher's Chuuya ita bag collection! That's a lot of love for Bungo Stray Dogs' Chuuya! Ita bags are really a great way to display smaller goods like pins, can badges, straps, ribbons, to even plushies like we see in the second image. You can take a closer look at Asher's ita bags here.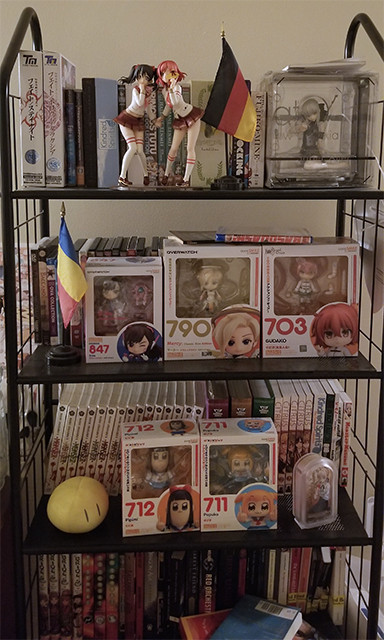 Next up, we have Mary's collection! I'm already digging this one, because she has Nendoroids from one of the BEST shows I've ever seen, Pop Team Epic. ...What? Some of you haven't seen it? Well, you best go watch it right now because it's GREAT! Besides the majestic Pop Team Epic Nendoroids, I spy some A Bride's Story manga volumes, which is another stellar series worth getting into. You can get a closer look at Mary's collection here.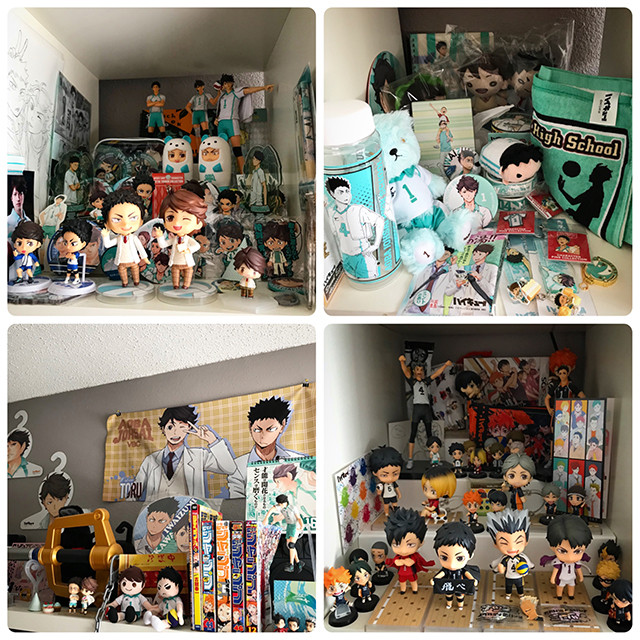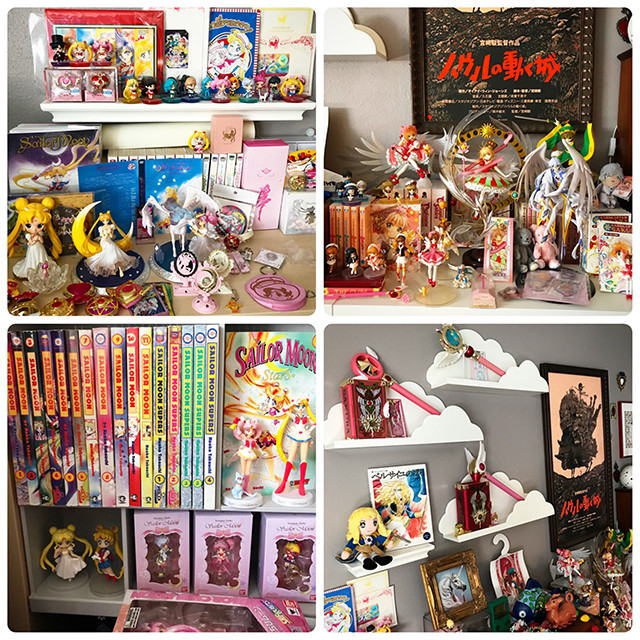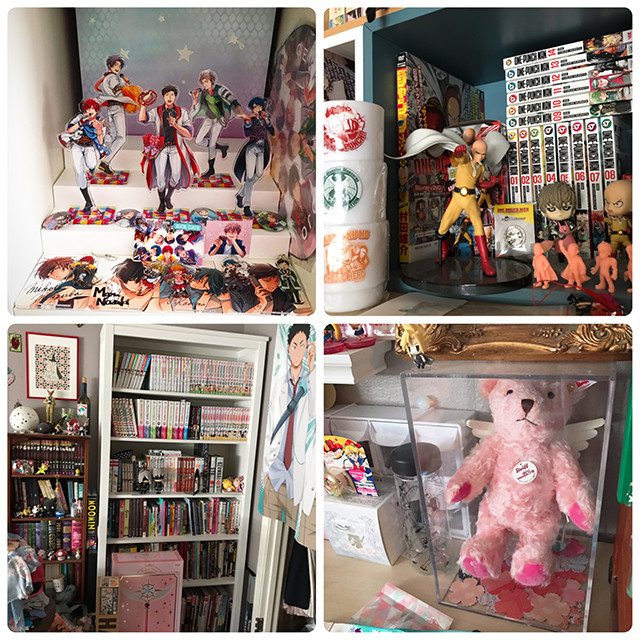 I absolutely ADORE collections being laid out like Kachi has done with theirs! Kachi mentions that their collection got to be this huge thanks a combo of working at a comic book store for 10 years and then moving on to working a tech job that lets them keep building the collection up. There's a lot of love for Haikyu!!, Sailor Moon, Cardcaptor Sakura, One-Punch Man and Monthly Girls' Nozaki-kun! I really just wanna... grab those Nozaki-kun idol standees right out the pictures; I had no idea those existed, and they're RAD! Also, how cute are those cloud wall shelves?! You can get a closer look at Kachi's collection here, here and here.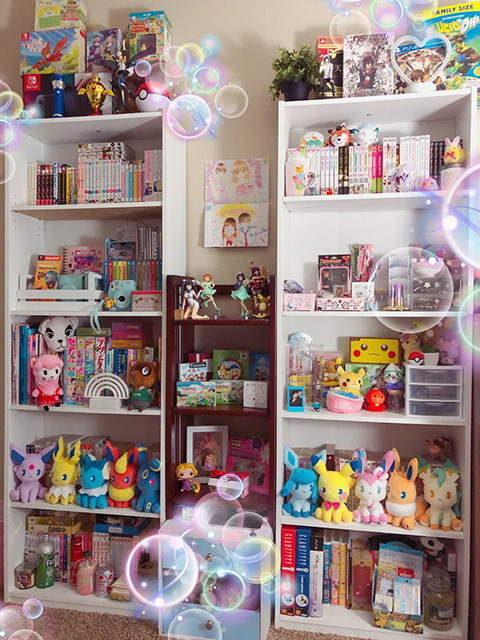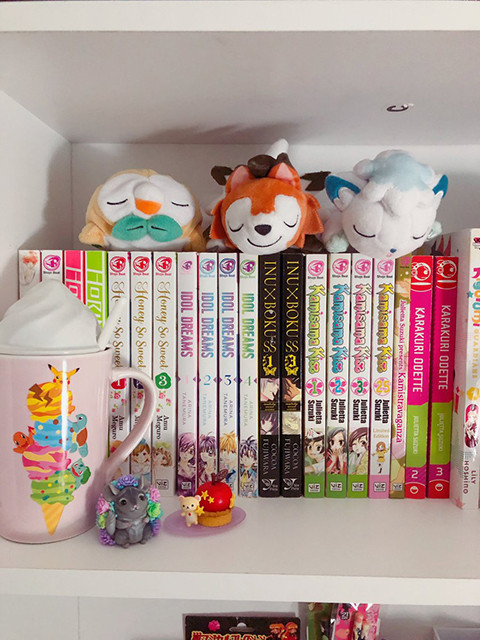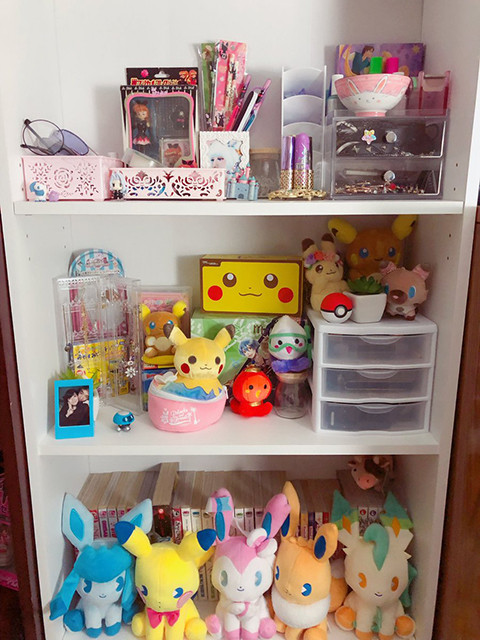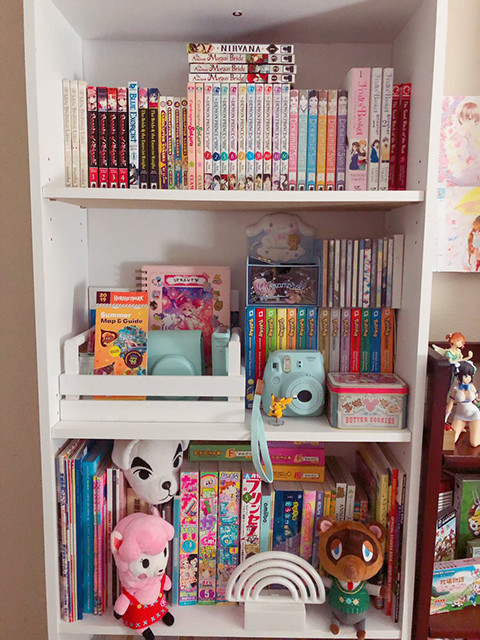 Another bright and colorful collection! This collection is from Twitter user @squirtlesprout, and it features a whole lot of adorable Pokémon plushies adorning the shelves! There's a selection of really good manga, like The Ancient Magus' Bride, Inu x Boku Secret Service, Kamisama Kiss, and plenty more. Let's not forget about those Animal Crossing plushies! (Who's excited for the new Animal Crossing coming to the Switch next year? It's all I'll probably be playing at that time!) You get a closer look at @squirtlesprout's collection here, here, here and here.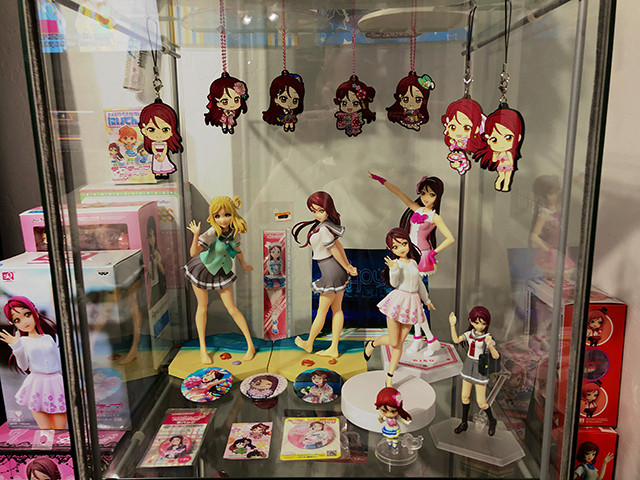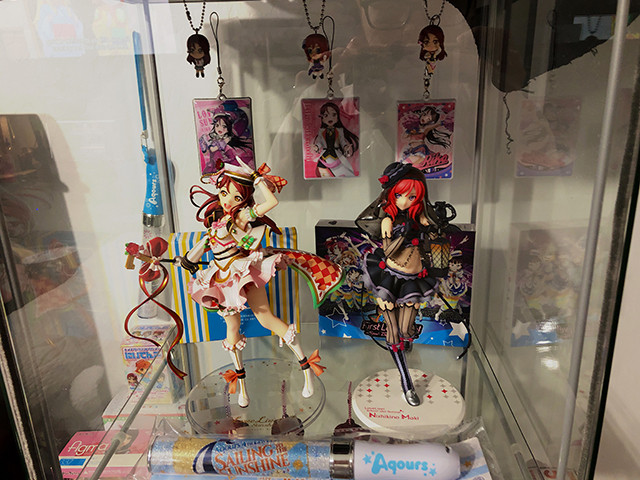 Love Live fans, this one's for you! Chase has a lovely collection centering around his fave characters, Riko and Maki! I really dig how Chase has the straps hanging from the top of each shelving! The pen light being on display as well is a nice touch. You can get a closer look at Chase's collection here, here and here.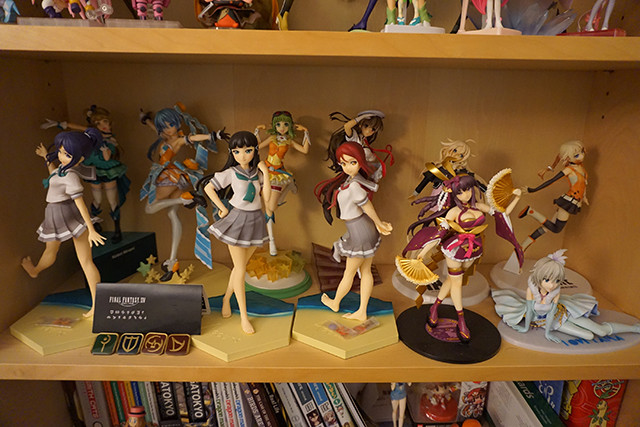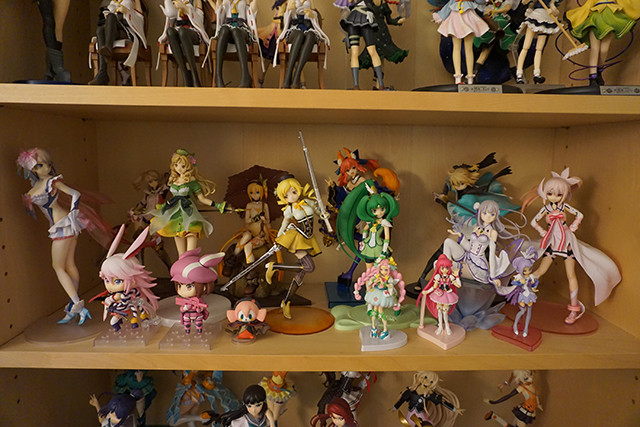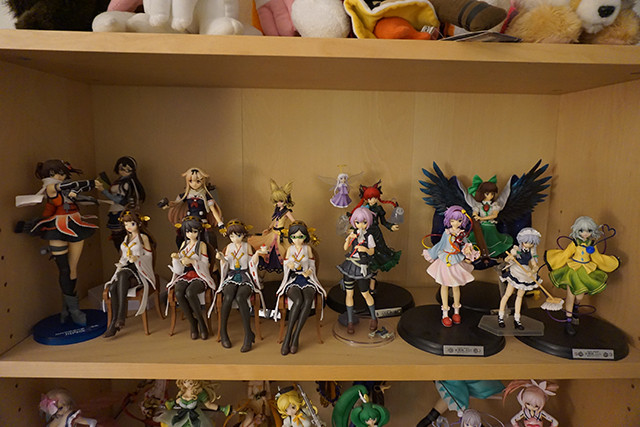 Bookcases are great to house anime and manga volumes, but what about a figure library? Hotaru's collection features characters from Love Live, Fate/Grand Order, Puella Magi Madoka Magica, Touhou Project, and more! If I saw a display like this at a friend's house, I couldn't help but to stop and look at all the pretty figures! Get a closer look at Hotaru's collection here, here and here.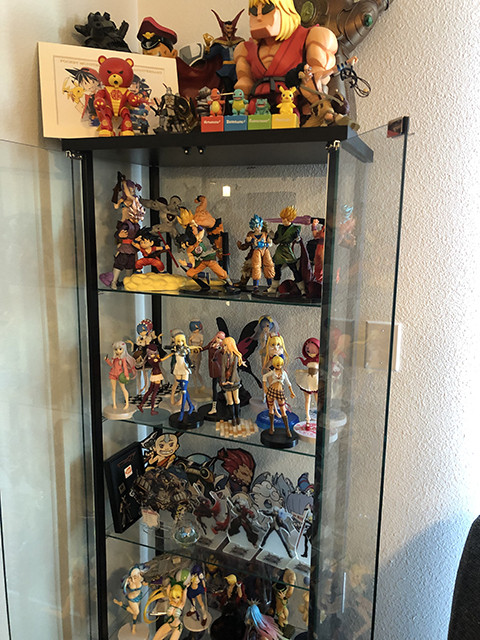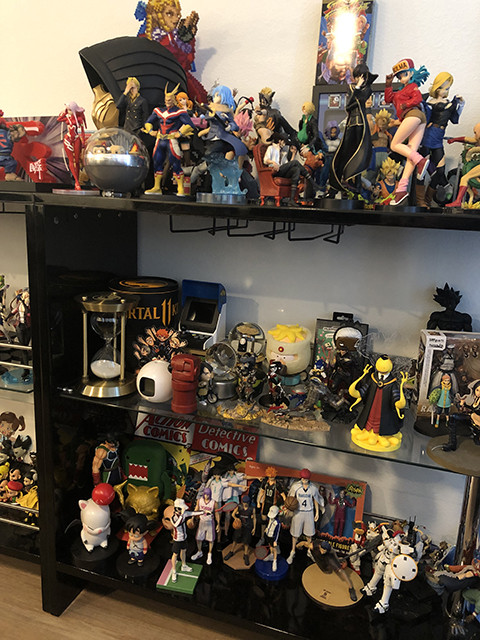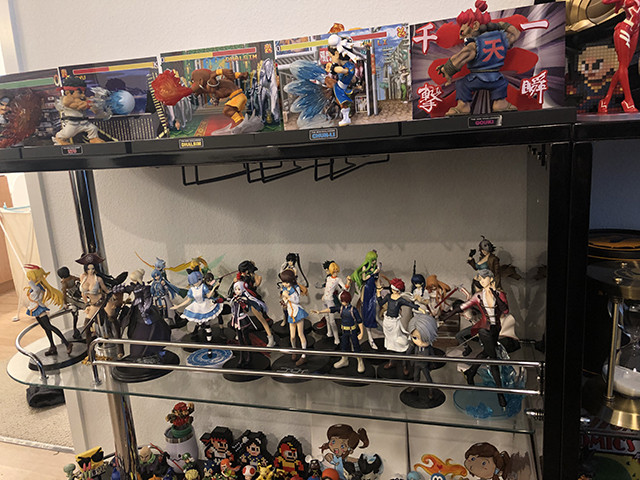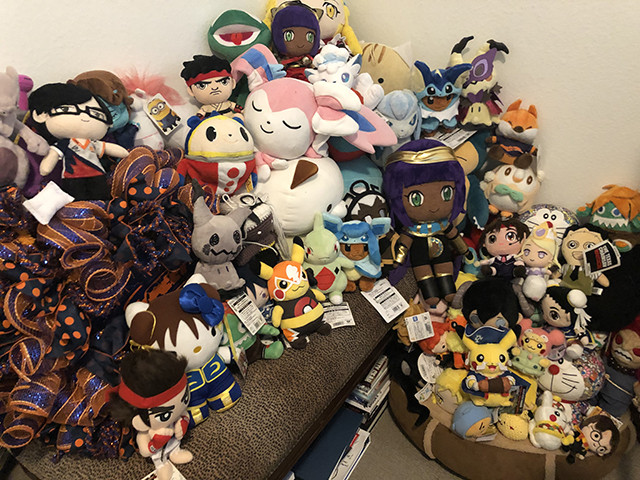 Next, we have an awesome figure and plush collection from FGC legend, Justin Wong! Yup, your eyes didn't decieve you; Justin sent us his anime shrine for all to see! And what a sight it is! First off, I would love to just dive into that pile of plushies (yes, my initial desire when I see a plush pile like this is to dive right into them. SEND ME MORE PLUSH COLLECTIONS, PLEASE!). His figure collection is pretty impressive, ranging from series like Kuroko's Basketball, to Dragon Ball, Yuri!!! on ICE, Re:ZERO, and of course, Street Fighter. I really dig the Street Fighter figure display, because it looks like the bases connect as the characters face each other! You can get a closer look at Justin's collection here, here, here and here.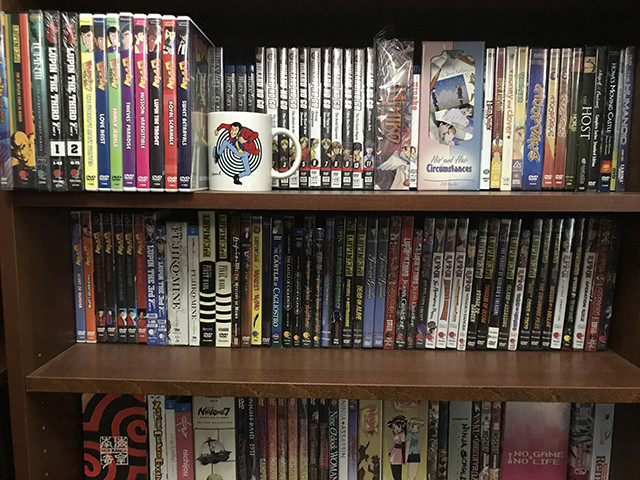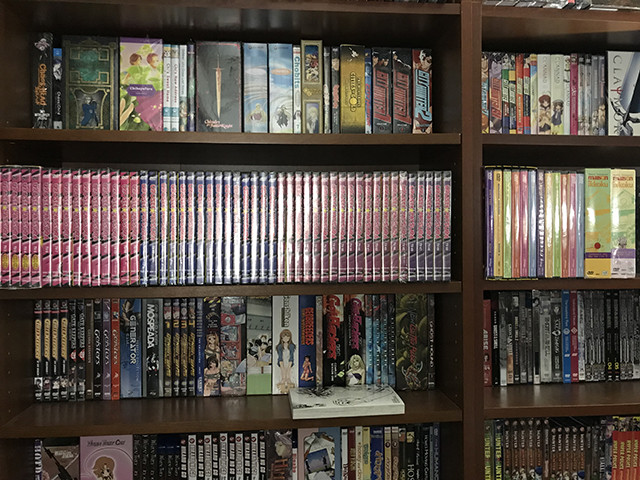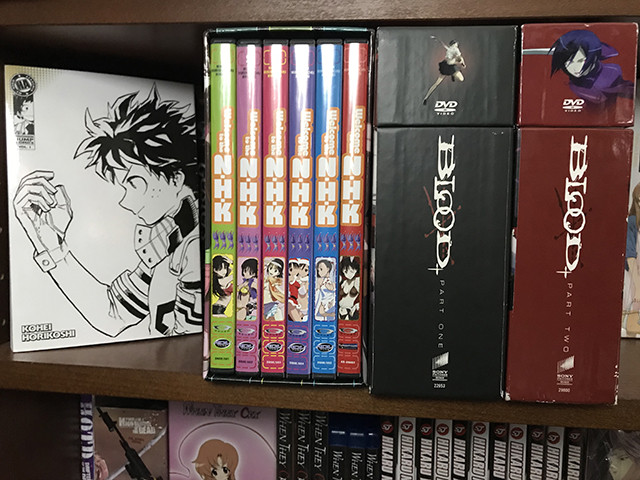 Let's wrap this up with a mammoth of a collection from Brad! His collection is almost like walking into an anime home video museum! Brad mentioned that he's been collecting anime for over 15 years with over 4,000 DVDs and BDs. Dang, that's A TON of anime to watch! This collection has something for everyone, but the thing that caught my eye was that there's some rare stuff I haven't really seen before, like that Galaxy Angel Rune volume, and that Cat's Eye set. Also, check out those Urusei Yatsura DVDs and Lupin the Third collection! This collection is truly marvelous! Check out way more from Brad's collection here, here, here, here, here and here. Can we visit this museum?
That wraps up this week's Fan Shrine Friday. I hope you enjoyed browsing through these collections as much as I did! Fan shrines show off just how unique everyone's love of anime can be, and we can't wait to show you the many more collections we've gotten so far, and the ones we have yet to see!
Want to be in the next Fan Shrine Friday feature? Show us your love for anime and manga and send over your collection photos by sending your selection of photos via e-mail to [email protected] titled "Fan Shrine Friday Photo Submission". Please don't tweet over your submissions, because I likely won't get to see all of those; I can better organize and track them via e-mail. We'll be showing 'em off every Friday, so if you think you have the best collection and you want it to be seen by fans from all over, this is your chance!
What did you think of this week's collections? Think you got the coolest anime/manga collection? Show us what you got by sending your collection photos to [email protected]!
----
Nicole is a features writer and editor for Crunchyroll. Known for punching dudes in Yakuza games on her Twitch channel while professing her love for Majima. She also has a blog, Figuratively Speaking. Follow her on Twitter: @ellyberries
Do you love writing? Do you love anime? If you have an idea for a features story, pitch it to Crunchyroll Features!