No pilgrimage is complete without a stop at this school idol-centric cafe!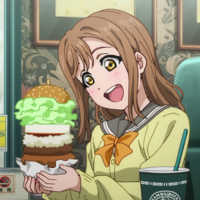 Nestled deep between the mountains and the sea, about an hour and a half by train from where a school idol group called μ's made history, lies the small town of Numazu, Japan. It was here where another group called Aqours attempted to make some history of their own by defying the declining national birth rate and saving Uranohoshi Girls' High School from locking its gates once and for all. Of course, the events of Love Live! and Love Live! Sunshine!! are merely fiction, and a trip down to Uranohoshi will lead you to Nagaisaki Junior High instead.
That doesn't deter the hundreds upon hundreds of passionate Love Live! fans who make the pilgrimage to Numazu every single year, however, and the local community has embraced them and their own newfound fame with open arms. The city is littered with Love Live! Sunshine!! themed shops and attractions wherever you go, and greeting you as soon as you enter through the station is the SUN! SUN! SUNSHINE Cafe, a collaboration between Yudai Festa and Love Live! in the heart of Numazu.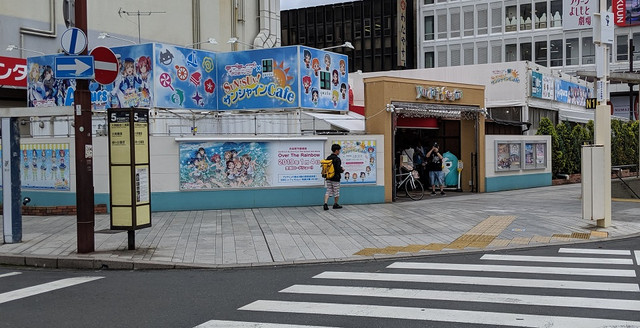 Like many other passionate Love Live! fans, I found myself making the pilgrimage down to Numazu following Aqours's recent live concert in Saitama. While not my first time in Japan, it was my first time making the trek down to the increasingly popular countryside fishing town to pay my respects to the series that has meant so much to me. After spending the night and seeing the sights, I capped off my journey with lunch at the SUN! SUN! Sunshine Cafe, and I'm here to share the experience I had with all of you!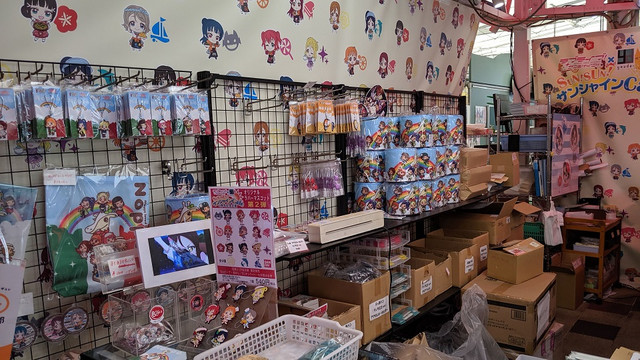 The first thing you'll be greeted with after walking in is a line, or at least I was. The weeks surrounding any live event see the area crawling with Love Live! fans (like myself), so a bit of a wait only two days after the most recent concert was to be expected. To pass the time, patrons can browse the walls and walls of merchandise for sale and try their luck at the many gachapon machines available.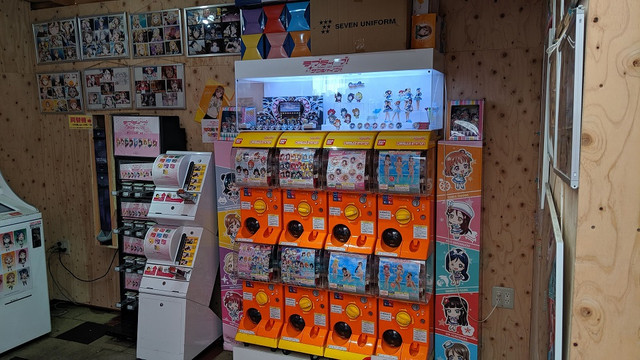 There was even a replica bus stop sign for Uranohoshi Girls' High School designed to look like the many bus stop signs scattered around Numazu. The bus there and back doesn't appear to run all too frequently, and as someone who actually attempted the hike up to its real life counterpart on foot, you probably don't wanna miss its last stop!
A couple menus had also been set up for us to look at while we waited. The current selection all appeared to be themed around the Over the Rainbow movie that premiered back in January, with the special monthly selection themed around the birthday girl Mari Ohara. Happy shiny birthday, Mari!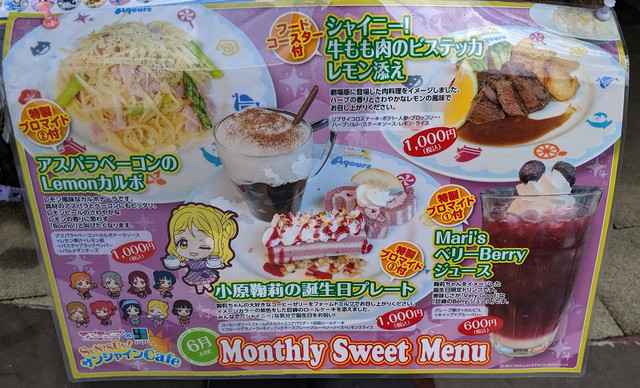 Because I was there PURELY for business and had come alone SOLELY to focus on my review, when it came time for me to be seated they let me choose one of many single-seating desks in keeping with a classroom theme they had going inside. Luckily for me, the Dia-themed desk was open, so I selected it without hesitation (this will be a running theme.)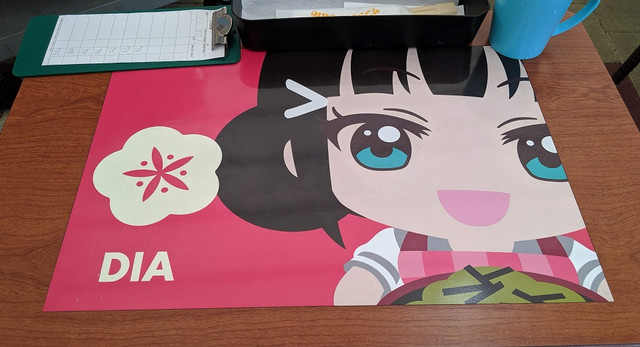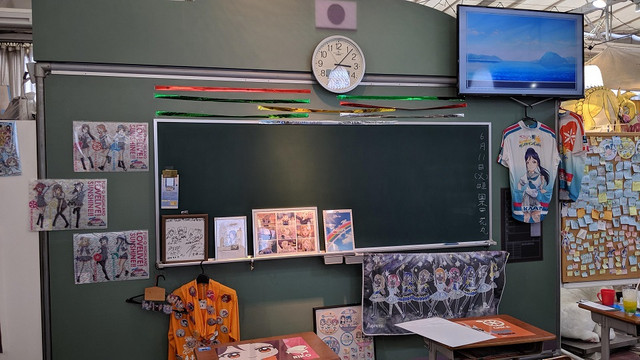 While I felt some form of obligation to order off the special monthly menu given its timeliness, the Over the Rainbow pizza looked way too intriguing to pass up. And while Mari's birthday berry drink did look delicious, I HAD to go with the Dia-themed drink off the regular menu.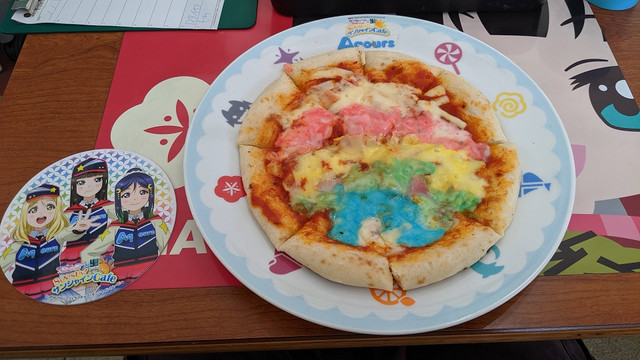 The pizza arrived first on an Aqours-themed plate with one of the three possible random coasters being handed out with entrees. As you can see, it didn't quite come out looking as advertised, but then again, what does? Neon-colored cheeses aside, it tasted like a pretty standard personal pizza with a nice amount of what I believe was ham baked in. I was pretty hungry and scarfed the pizza down fairly quickly. It's nowhere near the best pizza I've ever had, but hey, it tasted alright. I've had far, far worse pizza in my lifetime, though maybe not quite at the steep price of 800 yen.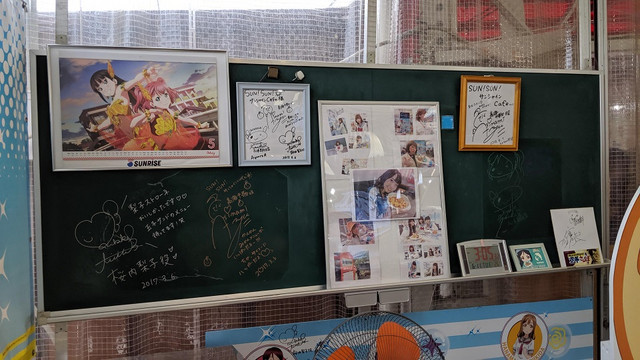 Curiously, I still hadn't received my drink yet and instead had to make do with the cup of water they had given to me when I ordered. I had heard from someone who had been to the cafe before that there were more staff working when they had been there a few months prior. Increased traffic from the live and fewer staff members working definitely explains the long wait times, and as someone who also works in a restaurant, I can surely sympathize.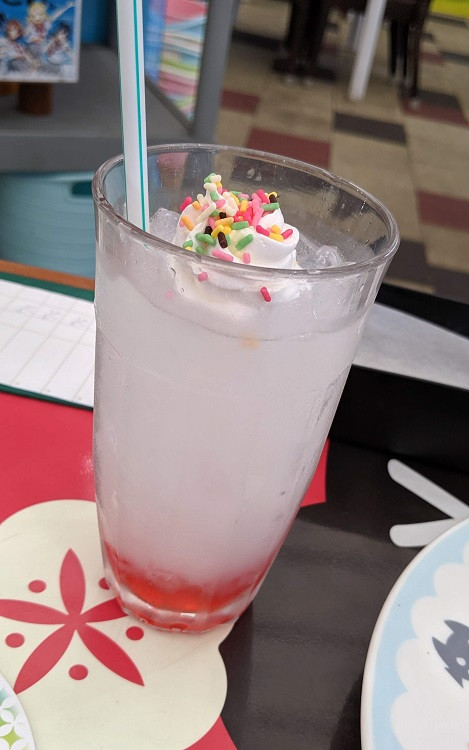 When the drink did come, though, it didn't disappoint. A simple mix of Calpis and wild berries gave the drink a sweet, refreshing taste with Dia's signature red and white character colors. I wasn't lucky enough to get Dia's coaster with it, but Riko's was a nice consolation prize.
With my entree finished and drink in front of me, it was time to take my menu back out and order dessert. Considering the live I had just attended was called Next SPARKLING, I decided to order the parfait of the same name. Unfortunately, it seems as though everyone else had the same idea as me. I was sadly informed that they had completely sold out, so I instead ordered the Brightest Melody parfait.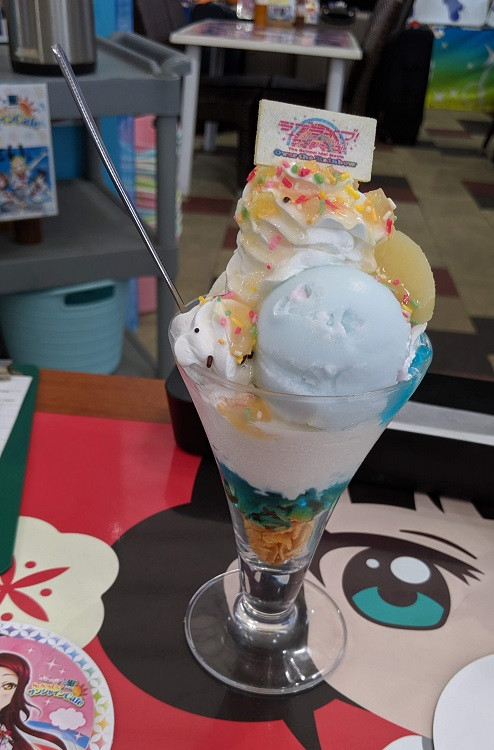 It didn't take long for the waiter to return with my parfait, which easily became the best part of my meal. Themed around the blue and white Brightest Melody costumes from the movie, this delicious parfait blended mint jelly, vanilla ice cream, whipped cream, sprinkles, corn flakes, and a slice of peach together into a delicious combination. It felt as though my tastebuds were tingling with every bite, and while ¥1000 might seem like a steep price, I thought it was worth every single yen with or without the special Saint Snow coaster included.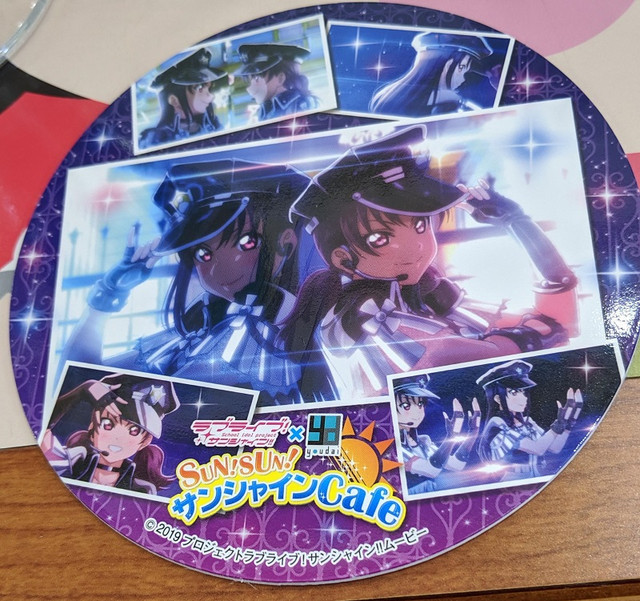 After finishing my parfait, I decided to take a closer look around at all the decorations before leaving. The space wasn't very big to begin with, but that didn't stop them from cramming as much merchandise as they could in there. In addition to the classroom decorations, the walls were lined with glass cases full of everything from figures to nesoberis to plates signed by all the voice actresses.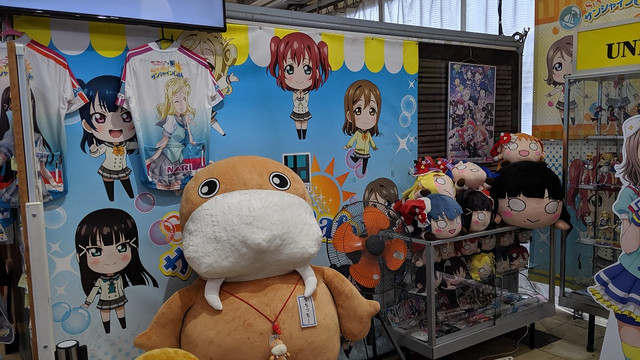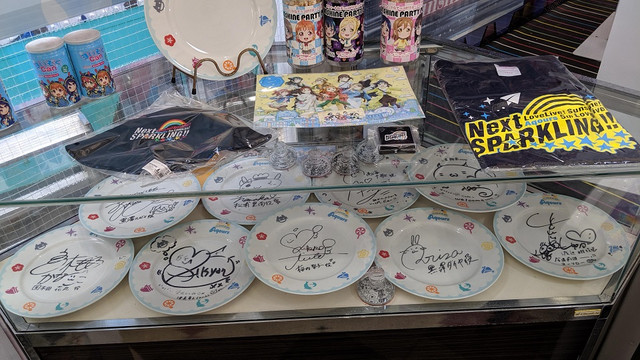 A few dozen cardboard stands were also there, some of which had also been autographed. I particularly liked the giant paper mache sculptures of the third years that had been erected. The most impressive decorations in there, however, were easily the replica of Mari's gold statue from season two and the model of her famous stewshine from season one beside it.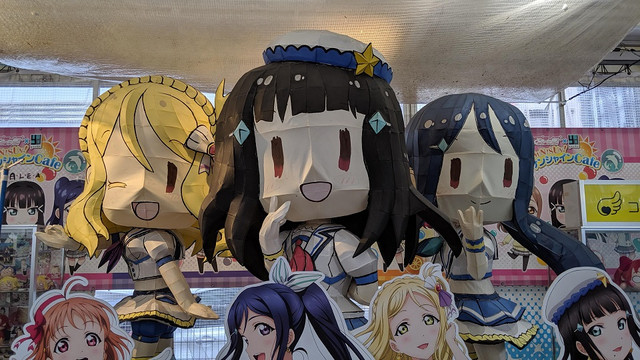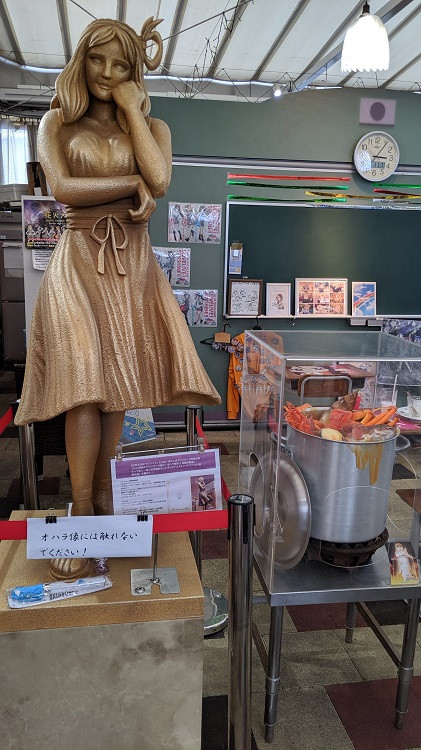 By now it was getting late and I had a train to catch out of Numazu. Before I finally said goodbye, though, I had to buy just a little more merchandise for the road. I ended up with a blindbox rubber keychain from the special cafe collaboration design line. I opened the package as I left, hoping for one more Dia charm to go with all the rest on my keychain. No such luck at that, but the result was satisfyingly fitting. A cheerful Mari greeted me with a plate full of her special birthday pasta in hand, and I certainly couldn't complain about that. I guess you could say my entire experience at the SUN! SUN! Sunshine Cafe was not quite getting what I wanted but being happy about it regardless.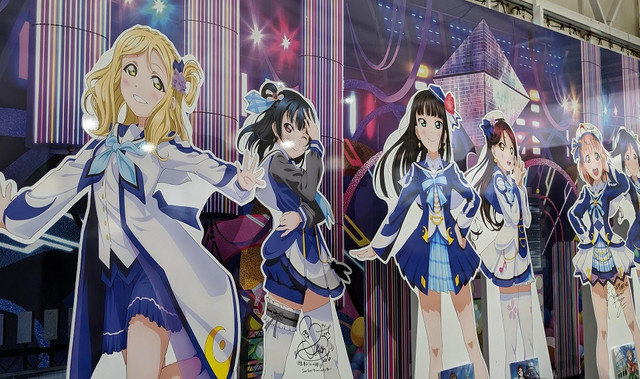 Sure, the food hadn't quite lived up to expectations and the wait was somewhat inconvenient, but I still managed to have a great time there. I'd spent my lunch inside a dining room lovingly filled with memorabilia from my favorite show, after all, reliving emotional memories from my favorite performances as they played on-screen in front of me. It was a love letter to a show I've invested so much of my own time and energy into and a perfect capstone to my Love Live! Sunshine!! pilgrimage. With nothing left for me to do, I picked up my bags and wished the quaint city of Numazu farewell, hoping that we'd someday meet again.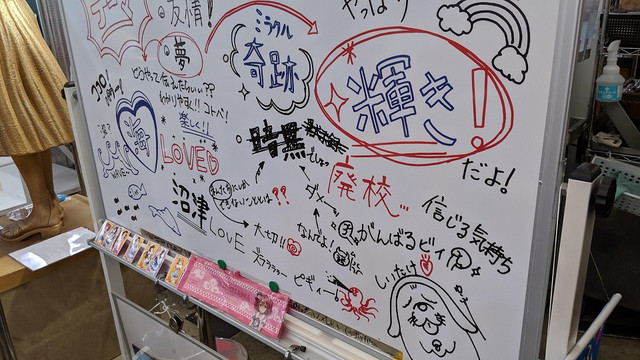 What kind of Love Live-themed dish would YOU make if you had to design one for a cafe? Let us know in the comments below!


-----
Danni Wilmoth is a Features writer for Crunchyroll and co-host of the video game podcast Indiecent. You can find more words from her on Twitter @NanamisEgg.
Do you love writing? Do you love anime? If you have an idea for a features story, pitch it to Crunchyroll Features!