Things have...gone too far. *heavy silence*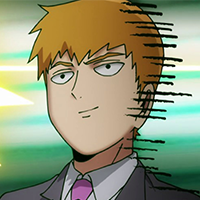 Ok, so, I may have hit my peak on the Black Bull cookies from last week, because this week...this week I present you with an utter TRAGEDY. I had these grand designs...I was going to be the next STAR in YouTube baking with my incredible anime slice and bake cookies. I would revolutionize anime consumption (literally) as we know it! I could open a bakery, I could sell my incredible works of art! It would be FANTASTIC!!!!
Or so I thought.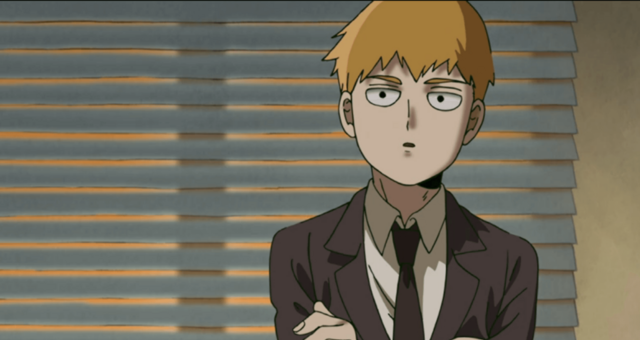 Let's just put it this way...Reigen Arataka from Mob Psycho 100 deals with a lot of spirits, and may even get cursed once or twice. He scams people, is a bit of a con artist, and does some loveable, if questionable, things. No matter what, though, he doesn't deserve THIS: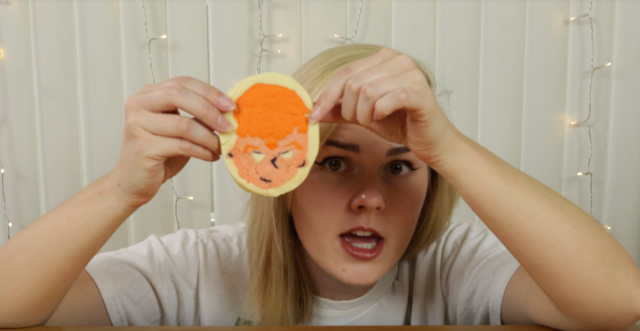 I swear, I tried really hard. I really wanted Reigen to look good. I already made a Mob curry and a Dimple dessert, so I felt Reigen needed his own snack. Alas, this slice and bake attempt really, really went south. I mean...just look at that hair. Those EYES. I think this is going to be the end of my slice and bake days, at least for now. I may focus more on simple projects in the future, like Naofumi's shield. For the moment, I just want you to watch this video and bear with me as things go terribly, terribly wrong.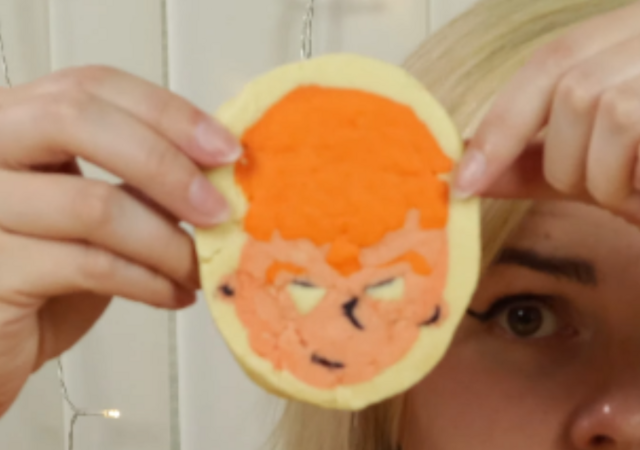 Needless to say, I need to take a break with these cookies. Watch the video, if only for the most disappointing cookie slicing you've ever seen in your natural life. I bit off more than I could chew with these, so I wouldn't recommend making them. But you COULD. If you were going to throw yourself a cursed Mob Psycho 100 watch party.
Let me know what you think in the comments below!
---
---
Ingredients for the Slice and Bake Cookies
3/4 cup room temperature butter

1 1/4 cup confectioner's sugar

1 tsp vanilla

pinch of salt

3 egg yolks, room temp

2 1/4 cup cake flour

black food dye

orange food dye

peach food dye

egg wash (1 egg white whisked with 1 tbsp water)
---
To Make the Slice and Bake Cookies
1. Whisk butter until soft and goopy, like mayo. Stir in powdered sugar, then vanilla, salt, and egg yolks. Stir in cake flour in two increments, and then turn out onto a counter and knead together into a disc. Set aside in fridge until ready to use, or immediately separate into the proper colors and dye, working it in with your fingers.
2. At this point, follow the tutorial. If dough gets too soft, put in fridge or freezer to help firm up. After each step, freeze dough you were working on to help maintain the shape and integrity of the design.
---
I hope you enjoyed this post! Check in next week for another recipe, and to check out more anime food recipes, visit my blog. If you have any questions or comments, leave them below! I recently got a Twitter, so you can follow me at @yumpenguinsnack if you would like, and DEFINITELY feel free to send me food requests! My Tumblr is yumpenguinsnacks.tumblr.com. Find me on Youtube for more video tutorials! Enjoy the food, and if you decide to recreate this dish, show me pics! :D
What other famous anime dishes would you like to see Emily make on COOKING WITH ANIME? Let us know in the comments!

--------
Do you love writing? Do you love anime? If you have an idea for a features story, pitch it to Crunchyroll Features!