We went to the Death Note and Bakuman co-creator's exhibition in Tokyo to take some notes.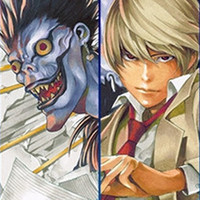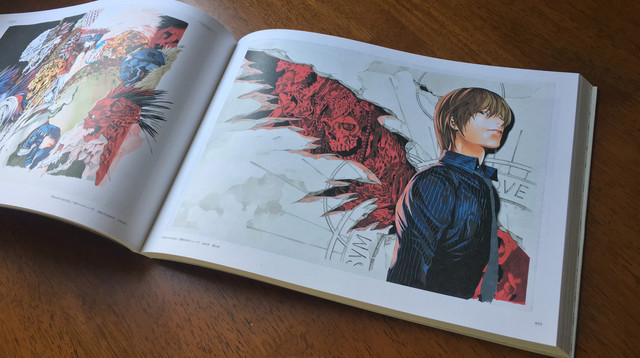 Death Note manga illustrator Takeshi Obata is currently holding an exhibition of his works at 3331 Arts Chiyoda until August 12. We sent our Japan Correspondent, Daryl Harding, to have a look at the exhibition and paint a picture of what he saw.
---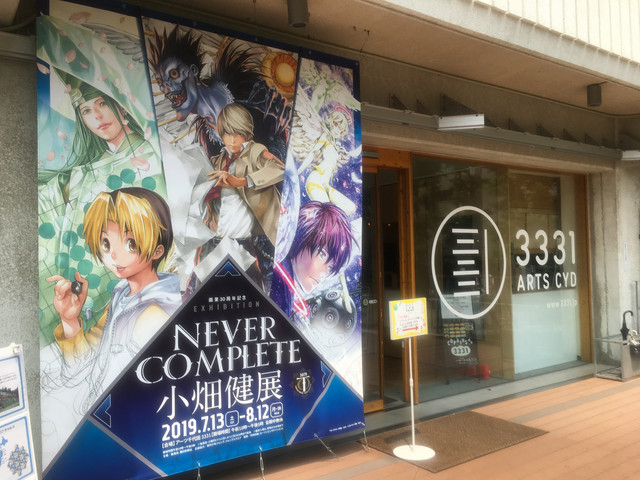 On an unusually hot summer's day in Tokyo, I trekked over to "Artist Activity 30th Anniversary Takeshi Obata Exhibition NEVER COMPLETE" near Akihabara and Ueno. I've loved Obata's work ever since I first picked up a volume of Death Note after watching the anime series on TV in Australia. His and his creative partner's work on Bakuman is what first got me interested in the "behind-the-scenes" aspect of anime and manga production; it was also the first manga I read to completion, and the first anime series I reviewed when the first episode aired.
My love for Obata directly connects to my passion for anime, manga and overall Japanese pop culture, so being able to see his original works up close and personal was a real treat. Though, I didn't realise how much of a treat it would be. Note that photography wasn't allowed in the actual exhibition, but the exlusive book available at the shop was and has all the pieces that were on display as well as an exclusive interview with Obata himself.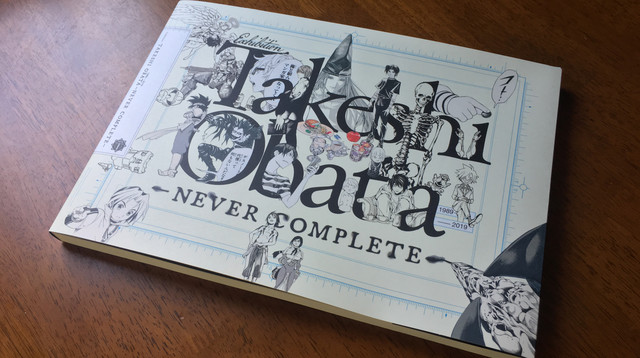 As reported, the exhibition is split into three parts: Manga, Illustrations, and Never Complete. These three parts took up all of the bottom floor of the creative arts centre and took at least two hours to get through.
MANGA
Manga was the biggest section of the exhibition. Original manga pages from Hikaru no Go, Death Note and Bakuman were on display, showcasing the first chapters of the series' and key moments that resonated with fans.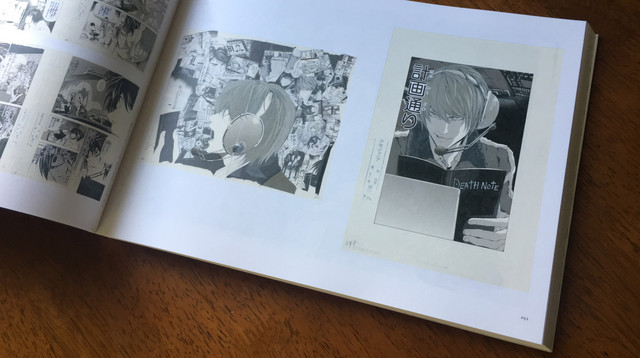 What made these original pages interesting were that they were the actual original versions that were hand-drawn, not a scanned copy. This meant you were able to see any of the imperfections in the pages, like when white out was used to fix kanji mistakes in Death Note or how Obata uses a light touch of yellow as an accent, even though the pages would be scanned into Shonen Jump as black and white.
It was great being able to see the layered version of chapters I've loved so much, as well as high quality versions of colour pages and covers. The best part of the Manga section was the pages being held in a glass frame where you could see the front—the "finished" side—and the back of a page. This was really interesting because Obata sketched out panels on the back of the paper, and by using a light board—much like how anime is made—he traced over his draft version. Being able to see both sides really drew you into Obata's frame of mind while he was drawing these decade old series.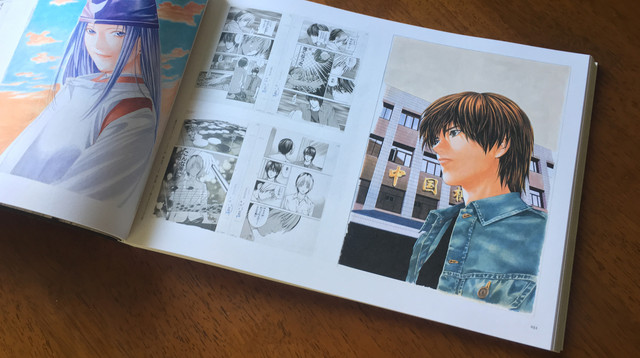 ILLUSTRATIONS
Compared to the Manga area, the last two parts of the exhibition are sizably smaller in scale, but still as interesting. The Illustrations area was just a room showcasing finished art that Obata has done throughout his career. These ranged from art from series Obata has worked on, like All You Need Is Kill, Cyborg Jii-chan G and Blue Dragon Ral Grad, to images from his artbook titled Blanc et Noir, to even collaborations with other series, like Blue Exorcist.
What I found interesting was seeing how Obata's style has progressed through the years. You can see a clear shift in how he draws his characters after Death Note and Bakuman. This was most prominent in artwork from Hikaru no Go; where the room had art from when the series was serialised, than some special art from between when Death Note and Bakuman were being serialised, and then finally some art that was drawn in late 2018. While you could clearly understand that the art was supposed to represent Hikaru no Go, it felt more like fan art from another artist rather than being drawn by the original manga illustrator.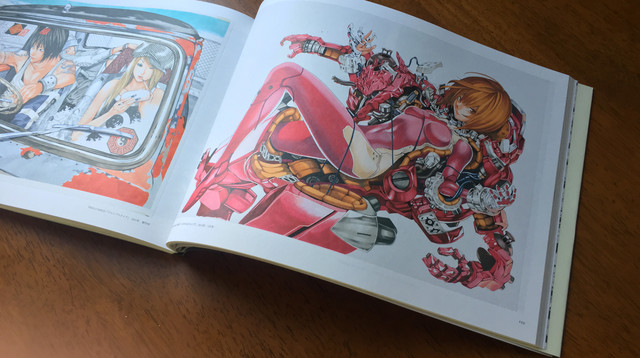 NEVER COMPLETE
The Never Complete area was the most intriguing part of the exhibition and by far the smallest area. On one wall was a collage of sketches, doodles, and rough ideas from Platinum End that slowly transitioned into more concrete concept art for the series, into finally morphing into panels from the manga. It was an interesting concept, but was completely overshadowed by the other area of this section.
\#小畑健展 開催中/
本日も10時より開場!リクエストをもとに先生から頂いたメッセージはこちら!
本日は20時まで開場延長しています(最終入場は、閉場の30分前まで)。
皆さまのご来場をお待ちしております!#小畑健展 #ヒカルの碁 pic.twitter.com/tCqp6dGtbC

— 小畑健展 NEVER COMPLETE (@obata_ten) August 3, 2019
I saw that Obata did a live drawing session on the first day of the exhibition, which was streamed on the Jump SQ YouTube channel. What I didn't realise was that he was doing multiple drawing sessions over the exhibition, including the day I was there.
In front of me was Obata, set up in a tiny workspace behind a barricade, just drawing away. It was uncomfortably intimate, like I was looking upon someone's life. I was entranced by him pencilling in lines and using his G-pen, but felt wrong just watching him work in complete silence. It was Obata, the man, the myth, the legend, just drawing another page of Platinum End in front of my eyes. It was amazing. I couldn't understand how he was able to work like that, I hate it when I have someone over my shoulder looking at me work, let alone 50 admirers shuffling about trying to get as close a look as possible.
\#小畑健 先生が本展会場にてライブドローイング/
現在、小畑先生が会場で執筆中です。この様子はYoutubeで配信されていますのでぜひご覧ください!#小畑健展https://t.co/gz6V88Oy2h

— 小畑健展 NEVER COMPLETE (@obata_ten) July 16, 2019
All round, if you're a fan of Obata's works, or a fan of at least one of the major works on display, you'll be able to get something out of the exhibition. For me, being able to dive into the mind of my favourite manga creator was something else, and seeing him draw in front of me, that's an experience I'll hold close to my heart for a long time.
---
The Artist Activity 30th Anniversary Takeshi Obata Exhibition NEVER COMPLETE is currently running until August 12 at 3331 Arts Chiyoda in Tokyo, from there it'll be at Niigata Anime Manga Museum from September 14 to November 10 and finally finish up at Daimaru Museum in Osaka in spring of 2020.
Are you a fan of Takeshi Obata's works? Which ones are your favorites? Let us know in the comments!

----
Daryl Harding is a Japan Correspondent for Crunchyroll News. He also runs the YouTube channel about Japan stuff called TheDoctorDazza, tweets at @DoctorDazza and posts photo of his travels on Instagram.