ELEVEN ARTS and Fathom Events' limited screening resurrects Satoshi Kon's love letter to Japanese cinema.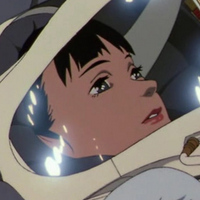 Four years after director Satoshi Kon bent minds and shocked audiences with Perfect Blue, he created what would become the "sister movie" to his cinematic directorial debut. Millennium Actress once again delved into the background of the Japanese entertainment industry, following an actress through not only her debut, but her entire career. Like Perfect Blue, it tackled issues of identity and agency; and like Perfect Blue, it featured a heavily fixated fan at the core of the film's action.
But unlike its sister film, Millennium Actress takes even the darkest of these concepts and weaves them into a story that becomes, at its heart, a romance. On the surface, it appears to be the unrequited love between a woman and her long-lost object of affection, or between a man and the actress he worships. Under all the layers, though, this is a very different type of love: a love of stories, especially one's own story; and of the chase after something (or someone) you love.
© 2001 Millennium Actress Production Committee
Our heroine is Chiyoko Fujiwara, a fictional film actress based loosely on Japanese film stars Setsuko Hara and Hideko Takamine. As a young girl, she gives shelter to a revolutionary on the run, who leaves her with nothing but a key and a few words about meeting again someday. In order to chase him down, she accepts the offer of a talent agent and begins starring in films.
The "man with the key" isn't the only person with an interest in Chiyoko. Genya Tachibana, a TV interviewer who appears to have more than a passing professional interest in her career, has managed to score an interview with the now-reclusive actress in her twilight years. Accompanied by his cameraman, he travels to her home to get the story of her career in the wake of her home movie studio shutting down.
Of course, this is a Satoshi Kon movie, so it's going to be anything but a normal interview.
© 2001 Millennium Actress Production Committee
Chiyoko's story weaves in and out of her filmography in true Satoshi Kon style, with Genya stepping into helpful or heroic roles as she fights her way through the history of Japanese cinema. Our interviewer steps right into roles as needed, while hapless cameraman Kyoji just keeps filming despite having no idea what's going on. As the story progresses, scenes echo back, gaining new meaning with each revelation.
Though Chiyoko seems to be at the mercy of everyone and everything around her—her mother, her director, the officer who seems to find her wherever she goes, even her own fixation on finding the man with the key—she still rules her own life. That becomes abundantly clear as, through her memories, every role she plays becomes her and serves her life, rather than her life coming second to her career. She is not her characters: her characters are her. And the one person remaining who wants to hear her story grants her the ability to make that definition.
Kon absolutely accomplished what he set out to do, morphing elements of Perfect Blue into an entirely new story. While Perfect Blue shows us a woman fighting for control of her life, Millennium Actress shows us a woman celebrating a life lived, in retrospect, on her own terms. In Perfect Blue, the meshing of reality and film indicates Mima's increasing mental instability; in Millennium Actress, it is a sign of Chiyoko's strength of identity, her goals and desires always a driving force no matter where her career took her. And where Perfect Blue depicts fans as obsessive and dangerous, Millennium Actress makes them allies.
© 2001 Millennium Actress Production Committee
There's a lot to celebrate about Millennium Actress, both in general and in this particular release. It was the first time Kon collaborated with composer Susumu Hirasawa, who would go on to work with him on three more anime projects. Fans of Paprika and Paranoia Agent, as well as works from other creators like Berserk, will recognize Hirasawa's unique sound. It also went on to be a highly celebrated film, taking home awards and nominations in its debut year.
The release hitting theaters this month is remastered and features a brand new English dub cast. Listen for Telltale Games regular Erin Yvette as Chiyoko in flashback, with Cindy Robinson (who also dubbed the title character in Paprika) as Chiyoko in the present day. Laura Post, previously Ragyo Kiryuin in Kill la Kill, is back to cause more trouble as Chiyoko's acting rival Eiko, while Benjamin Diskin of Spectacular Spider-Man is scene-stealing as Genya's understandably confused cameraman.
© 2001 Millennium Actress Production Committee
Even if you're a long-time fan who's seen the film many times before, you'll want to stick around afterwards. The Fathom Events screening will feature an exclusive interview with film producers Taro Maki and Masao Maruyama. The pair will talk about the late Satoshi Kon and his legacy, as well as what it was like working on the film.
Join Chiyoko's journey—again or for the first time—when Millennium Actress hits theaters on August 13 and 19. Tickets can be purchased at fathomevents.com.
-----
Kara Dennison is a writer, editor, and interviewer with bylines at VRV, We Are Cult,Fanbyte, and many more. She is also the co-founder of Altrix Books and co-creator of the OEL light novel series Owl's Flower. Kara blogs at karadennison.com and tweets @RubyCosmos.